My journey of hiking began somewhere in 1990's filled with so much fun & thrilling stories. And the best story was an accidental night hiking that was totally unplanned & was a result of a really simple day trail. We began hiking in day, lost in jungle and after a long night hike, could see the light of the day! But believe me that was a good starting point for my journey to night hiking, and over years I have done & guided numerous night trails!
Yah! Hiking at night, definitely adds a third dimension to hiking. 3D!
The Night Sky shows you a truly beautiful glimpse of the universe, millions of stars also walk along-with you, simply amazing, can't be expressed in words, all you have to do is experience it! feel it!!
Its the time when you move to the darkness … totally away from the city light pollution, accompanied by the jungle sounds, just you and the nature. If you have chosen the right time of the year, & the weather is favorable, you aught to get some unforgettable life moments of getting along the milky way making some wild friends too.
Its the time, being yourself .. Walking around the darkness of rolling hills in the mountains, and the spot lights from moon will guide your way. Wow! while the clouds create shadows across the trail, you get some thrilling experience listening to the horror ghost stories as you hike.
And for a amateur photographers, there is lot to learn about night photography! Go ahead and feel free to experiment, no one can stop you from getting some great shots of life.
Generally if you have good DSLR camera, running on a slow shutter with small portable tripod does a great job. I have done it many times but rescently stopped carrying the heavy DSLR and started using my iPhone instead! Believe me the iPhone night shots are really unbelievable.
But all said done, night hiking needs some careful planning and pre-study of the trail. Make sure you know the terrain or at least have some guide who knows the area very well. Get on with proper hiking gears (like proper shoes) and read my complete night hiking guide till end.
Night Hiking the First timer guide
If you are beginner, and planning your first night hiking, then keep it simple.
Select a well marked trail, choose the path you are familiar and done before, specially this is important when you are not accompanied by experienced guide.
Remember at the beginning of post I told you about my first night hiking experience, which was purely an accident!
I went on hiking with my collage friends, it was really very well known trail but hitch was that it was through a jungle, where the trails many times tend to misguide you. If you get one turn wrong, you keep on going in circles through routes created by jungle creatures. Same thing happened with me.
The hiking trail went well till my group reached the destination which was a mountain cave. After self cooking and getting a nap, my group leader decided to take a shortcut to the highway! and here was the first mistake, leaving the known marked trail. And the result was that we kept wandering till midnight but could not locate the way back to highway.
Finally after cursing each other and many fights, we reached to a point of cliff! Where it was simply impossible & risky to continue. So we all decided to dwell there (We did not carry any camping equipment's like tent etc, so it was just resting on the backpacks). And finally in the morning it was way back to the highway! Wow!!
Lessons learnt are Do Not ever try something new which you don't know!
So doing it first time "Keep it Simple"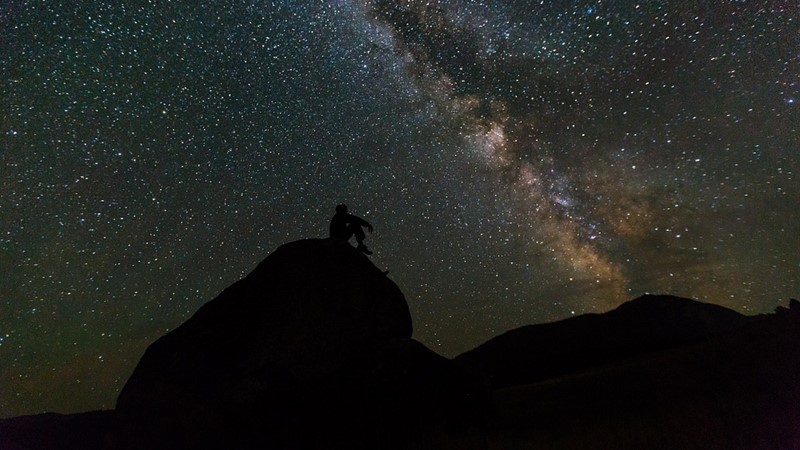 Know the terrain
Although any proven day-trail can be covered during night, my suggestion for beginners would be to select terrain something like light-colored rocks or white soil or reflective surfaces – meadows or  sand dunes or trails which are above the treeline… which are brighter to see in night, and fairly easier to navigate. The trail would brighten up in moonlight as well as you will enjoy the surroundings.
In the beginning also avoid lakeside trails, since often you can get into sliding trouble or encounter with reptiles.
Once you are familiar with the darkness of night, then you can graduate to the dark forests, where you might encounter darkness with wilderness, and spot some nocturnal animals too!
Best way is to pre-study the animals generally spotted in the area and know their common habits, this will not only make you safe but also you will be able to enjoy them fully. I have even seen bears in one of hike, but don't worry, keep safe distance or in extreme case making loud noise will deter most of the large animals.
Tip : Do not use Flash for animal photography at night! Camera flashlight can scare animals resulting into unexpected & unpredictable behavior! SAFETY first.
Beware of reptiles! Pre-study of area where you are going is must in this aspect, since reptiles can result into loss of life if not looked properly. A snake bite may be fatal, so better to be aware and careful. Wear ankle shoe is best way to prevent snake bites.
Reference Reading : What American State Doesn't Have Poisonous Snakes?
Get in a group
Solo night hiking is not recommended by me due to mainly safety reasons.
While you hike solo during daytime, you have many chances & options to get help from people or at least try to be visible, but while the darkness grows, it becomes difficult to locate or be located to others. In case something goes wrong, solo walk can really put you in some difficult situation.
So be in a group is surely a good idea. Group of minimum 4 to 5 could be a good starting point, 8 to 10 being ideal as per me. This makes sure that some or the other will have some experience, and in case of any difficulty, someone can stay back while others can head down to get some help.
Tip : Make sure at least one member of your group knows the trail or has completed it in daytime.
Discipline is the key
While the day hikes allow you to play a mischief, nights are not good for it. A small mistake can get you to the bottom of valley in seconds. So be careful, no more mischief please.
Get into single line, move slow and steady.
Decide who will lead the trail and who will be the last person, both have responsibility to make sure that no member goes out of the group. Counting in between stops will help making sure that no-one is lost the path.
Remember that shadows work and even the familiar terrain becomes more challenging during nights.
Roots can pop-up & the rocks can easily tip you down, no surprise that you will get a twist in your ankle!
So go slow, enjoy the nature around, keep looking for wild animals and gaze the sky … just enjoy.
Choosing right time of the year and month
First and foremost is check the weather report, even you will not drop idea of hiking, at least you are prepared with things like rain or cold weather.
Summer season is best for night hiking, when the daytime hike is burning hot & exhaustive, night hike makes it cool pleasant experience. Of-course I am not saying winter is no-go, but at least for beginners best time is to start your night adventure in the summer.
Second thing is timing of the month, best is to select a weekend when the nights are nearing to the full moon. Once you are away from city lights, you will be amazed to see how powerful the moonlight is. You will just feel like a LED lamp glowing in the sky, the trail will be clearly visible.
Is it must to hike on No-moon day?
Every rule has an exception, so although the best time for hiking at night is full moon day, as an exception to this rule is getting for hiking on no moon day! Well it is mostly done when you wish to see the fireflies or specially do a sky gazing program. Depending upon which part of the countryside you are, there are chances to see this nature marvel, fireflies, maybe in millions sometimes. So at least once in lifetime plan for such a place for hiking at night and may be camping too.
Okay coming back to what happens if you face darkness even on full moon night?
As a fallback, like in case you encounter clouds blocking the moonlight or walking thorough woods, you need something known as assisted lighting.
But remember, before you start using assisted lighting, do not start using lights suddenly or if at all you want to start using it, begin at lowest possible brightness settings. Since your eyes have already adapted to the darkness and your night vision is amplified, sudden light can cause harm or temporary give you feeling of blindness.
So do use the assisted lighting wisely.
In face landscape, wildlife and starry skies are seen better in the darkness, when you have naturally amplified vision.
Assisted lighting
While you need artificial light in absence of natural light, due to clouds or passing through dense trees, you may need assisted lighting like Flashlight or Headlight.
So a source of artificial light will help you in times when you suspect something like a snake passing by or an unexpected changes in the trail you saw before.
To begin with simply carry a Flashlight and a Headlight.
Flashlight helps while you walk and Headlight would help you if you are climbing a patch of rocks and needs your hands free.
Let me tell you about the common misconception that you need high power flashlight which throws light a mile distance! Nooo … You are already away from city lights, so instead carrying big powerful flashlight, I suggest you to carry a good mid-range LED flashlight which is light in weight and can stay with you during overnight hiking. This would me more than sufficient in total darkness.
So while you buy Headlight and Flashlight, do not test its brightness in a day light of store! best way is to go in dark patch to check how it feels.
If you ask me, currently I am using a Flashlight from Audew, which lasts for 10 to 35 hours (depending upon the brightness selection). Luckily its fully waterproof, got SOS function, mosquito repellent and can charge my mobile too (if needed)
For your quick reference I am giving you the Amazon product page link for Audew Flashlight.
Best way to start using flashlight or headlight is with Red light. Since human eyes are less sensitive to the longer wavelengths of red light, switching it on after walking through dark (and when your eyes are not ready for any harsh light) Red light will ensure that your night vision is not affected.
If at all needed you can switch on to the lowest brightness (Which means you should look for headlamp or flashlight with multiple brightness settings).
The last thing that can be looked upon for the flashlight is USB port for charging your mobile, that can be really a lifesaver sometimes, specially in difficult situations.
Know your backpack
As against a day-hike where you can keep exploring your backpack for things you need. During night it becomes difficult to do the same thing. I mean search what you need.
So best way is to know what and where you have packed things. Memorize locations of what and where you have packed for. And the mostly used items like the water bottle and snacks (I love carrying chocolates) should be kept such that its easy and quick to reach.
Why to unnecessary keep the backpack down in the dark to let something crawling inside!
Wearing cloths in layers!
You may feel that hiking in summer means you do not need any winter wear at all! But believe me, when you are quite away from city pollution, and hiking on the top of mountain, after 2 am, wind will make you chill even in summer.
Specially when you walk for hours and stop for some rest, you are hungry and eat something … And then you will really feel the chill. I am sure when you experience it first time, you will definitely remember me and my suggestions.
So make sure that you are wearing in layers, so when its too cold on mountain top, wear the next layer of warm clothing. At any point of time you should be in position to get warm or get protected from rain.
Also check if there are mosquitoes around, some specific parts of jungle does have presence of mosquitoes. In that case wearing cloths covering legs and hands is extremely necessary. And if you are going to camp at the mountains, then make sure to get some mosquito repellent, either cream or some technology gadget like the one I am using, the Audew Flashlight which can also function as mosquito repellent with its orange light emitting at wavelength of 580nm
Stay Safe
Its absolutely necessary that you inform your family and friends about location and complete hiking plan. If possible use share location facility (if the network permits) which will keep your family informed about your geo-location.
Use proper hiking gears, nothing great but select shoes that are meant for hiking, even good quality sport shoes will do the job as long at the base grip rubber is intact.
Carry a good condition backpack, at least make sure that it does not give away on the half-way!
Get good protein snacks, carry sufficient amount of water. I recommend carrying about 2-3 liters of water per person, this has helped me at times.
Some small but important things to be a part of your back pack are, a pocket knife, a first-aid kit, and a whistle. These three things are worth a million dollars in case of emergency. And something like a SOS light may be a lifesaver.
Don't : Never ever booze during night hiking, I am totally against getting on liquor and seen hikers in serious trouble due to this! its totally NO-GO.
Use latest technology but keep backup too!
At times when I started hiking, not super gdadgets were available and mainly dependency was on tradition ways of either using a compass or the stone marks left by other hikers on the way.
But now a days technology has changes have brought things in common mans reach.
Simple use of mobile device with its GPS can guide you through most of the trails totally FREE of cost, even you can record the trail so that in case you miss the way, just reverse the recorded track and it will playback to guide you to the original point. I use a app called as ASMAND on my mobile which is FREE and contains downloaded maps.
Second most used App is regarding the sky watching, this app also uses the GPS and guides  / tells you about the constitution, so you need not have an expert with you for sky gazing.
Third thing is using a built in compass, again this also is built into most of the modern mobile phones.
Backup or fallback arrangement: Keep a Swiss knife, traditional compass, life-straw, whistle in your backpack.
Be prepared, Stay attentive, and always respect your surroundings.
Have a fun, enjoy the sounds of nature and beauty of sky.
Come on … Tell me which is your most favorite trail at night?
Night Hiking Guide : Mystical Stars & My Magical Tips!