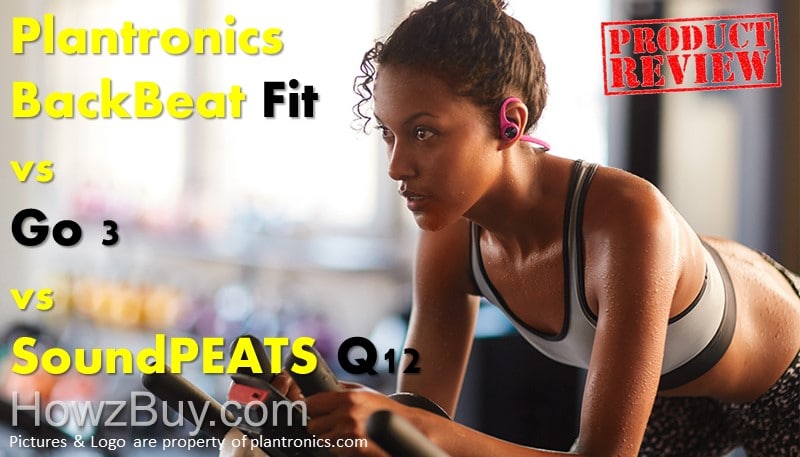 Well finding a good Running headphone or Running earbuds is as difficult as to decide to do Running as exercise 😛
So in the quest of finding the best Running headphones I landed up shortlisting the three, Plantronics BackBeat Fit vs Plantronics BackBeat Go 3 vs SoundPEATS Q12 Bluetooth Earbuds / Headphones.
Reason being starting from Plantronics BackBeat Fit is the weight and its waterproofing capability (Precisely saying IP57 Water resistant capability)
Challenge to find the best:
Remember on this earth you will not be able to find out best Running headphones which are good looking, light weight, sounds great, feel comfortable and lastly costs a penny !!! No Way !!!
So coming back to the subject I tried to find out the best selling running headsets as well as tried to find which are the closest alternatives in terms of price-point. Again more points were the waterproof rating since Running can be done in light showers and headphones shall sustain the same. One more point is the battery backup, no use if you need to recharge the battery frequently.
As usual I shall begin with comparison table of specifications, please note that for SoundPEATS Q12 Bluetooth Earbuds all detailed specs are not available online, so some fields are left empty 🙁
Model name
Plantronics
BackBeat Fit
Plantronics
Backbeat Go 3
SoundPEATS
Q12
Color options
Power Blue, Sport Gray, Fit Fuchsia, Stealth Green, Black Core, Red, Blue, Green
Cobalt Black, Copper Gray, Copper Orange
 Black, Red
Bluetooth Version
v3.0
 A2DP 1.2, AVRCP v1.5, Wideband audio HFP v1.7, HSP v1.1
v4.1
BT range
 33 feet
BT Pairing
Easy and Quick compatible with either Android or iOS
Frequency Response
50 Hz – 20 kHz
20 Hz – 20 kHz
 NA
Speaker sensitivity
105 dBspl/mW@1kHz
104 dBspl/mW @1kHz
NA
Audio Format
A2DP Stereo
NA
Codec
HQ Custom SBC Codec
 NA
Play time
8 hours
6.5 hours
charging case = total of 13 hours power
5-6 hours
Standby time
336 hours; deep sleep mode (hibernation)
??
150 hours
Sound
Extremely loud
but weak Bass
Apt-X technology provides great clarity, deep bass impregnates just enough
Safety for running, Cycling
Allows ambient sound best for Runner, Cycling, Biking etc where safety is more important
Blocks out ambient sound using the eartips
Durability
Rugged, long lasting design
Good design, solid feel, will last long
Good design, rugged
Usage
The cord that wraps around your neck bounces a little bit
Sealed vs unsealed
Unsealed, they don't have silicone tips you insert into your ear canal to block external noise, beneficial for Runners or Cyclists for traffic listening or Parents who want to always listen to their children
Standard way, supplied with three sizes of soft, removable tips.
Ear fit during use
Good fit, Never comes out of ears during exercise.
After use
During no-use, these headphones may drop down (not secured)
If you wear them around your neck but not in your ears, they stay put – no risk of loss
Controls
The Play/Pause is readily accessible on the left ear, you can also long-press to go to a previous track or double-tap to skip ahead to the next track.
Excellent to operate being on Cycle or Running.
Good ones, big, intuitive, can be operated while Cycling
Play/Pause/ adjust volume / change tracks controls on headphone, you can also answer the call with press of a inline control button
Voice indications
Small icon shows on smart phone to indicate battery level – A voice tells you battery levels (High, Low, Recharge).
 NA?
Water Resistance

IP57 rating


(Water resistant)
Not water resistant
Not water resistant
Sweet proof
Yes, sweatproof nano-coating
Liquipel Nano coating
Application
snowboarding, biking, running, workouts, swimming
 Gym, Workouts
Microphone to make phone calls
integrated microphones and support one-touch voice dialing
integrated microphone, one touch call receipt (CVC 6.0 noise reduction technology)
Extra mile
App to update the BackBeat Fit's firmware, and even find them if you loose them
Battery Type
Lithium ion
80mAH Lithium Ion
Battery Charging Time
BackBeat Fit keeps running for about 8 hours
2-2.5 hours to recharge15-minute quick-charge provides an hour of play to get you through the day's challenge.
portable charging case (select models)
1-2 hours charging time
Accessories
Provided with neoprene case that acts as an armband to hold your smartphone during workouts, When you're done with your workout, you can store the earbuds in the case
 Charging case provided
(you need to buy it)
Weight
24 grams
19 grams
15 grams
Best Buy Price

Best Buy

Best Buy

Best Buy
So mostly I have tried to cover all the comparison points which will guide you to decide upon which one is good one for you.
Considering Plantronics is one of the best headset manufacturer, I expect more from them.
All the headsets of Plantronics are quick for pairing so as the Fit and go 3.
Plantronics backbeat fit charging : They are capable to be fully charged in couple of hours, same is true for Go3 and Q12 too.
All are equipped with microphones to get calls on the go,
Headset range which is one of the important criteria, but remember as on now technology of Bluetooth allows standard range of 33 feet which is applicable for all the above three headsets, only the difference being use of Low energy bluetooth technology which enhances battery life, that means you will be able to use the headphones for linger duration.
one of the most powerful point of plantronics backbeat fit is the Water Resistance rating which is IP57 rating, which will allow you to use them without any fear in light showers while running or cycling outdoors.
plantronics backbeat fit battery life, is much better than rest two as well as its deep sleep mode allows hibernation mode which lasts for months together !!
one more thing came to my mind of plantronics backbeat fit battery replacement, however my internet research showed me that it is virtually impossible for layman to change the battery, and changing the battery is difficult task .. so just forget about it 🙁
Coming back to the subject:
While I compared all Plantronics BackBeat Fit vs Go 3 vs SoundPEATS Q12 Bluetooth headphones, I found that at similar price range, compared to the basic function of using them for Running exercise, BackBeat Fit are the best ones.
So my recommendation will be to go for  Plantronics BackBeat Fit