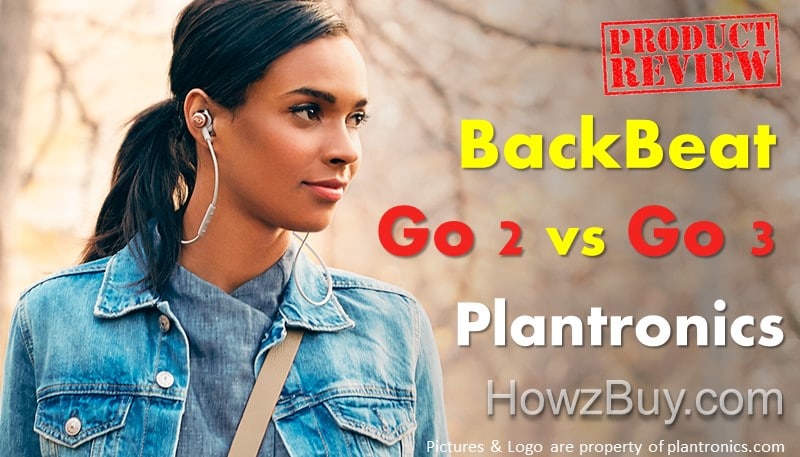 Needless to say that Plantronics BackBeat GO 3 is an upgraded version of the prior Go 2 which was launched in 2013.
Obviously I was expecting some drastic changes in the new upgrade, however starting from the Sound signature nothing has much changed !!
What has changed in the GO 3 then ?
Color options are more compared to the GO 2 version
The remote has remained the same!
The Sound signature has remained the same!
Surprisingly where I was expecting some change i.e. the water proofing, nothing has changed, they are only Sweat proof as before 🙁
Yes .. something has improved i.e. the battery life .. which has been improved from 4.5 hours (in GO 2) to 6.5 hours (in GO 3) . .wow that is good jump at least
The pairing remains moreover same and easy like GO 2
Another thing to note down is the shape of GO 3 has improved .. my understanding is this is in Ergonomics point of view, the new ones will fit better and more comfortable w.r.t. the predecessor GO 2.
Like old design where a straight bud went into the ear, GO 3 has a curved earbud which lodges its smallest part into the ear canal, and a bigger main unit sits in the larger outer part of the ear.
Resulting onto improved ergonomic design helping to put them longer during more vigorous activity, really they are now more comfortable to wear in the long run.
Next is the charging case … which is also improved in terms of its size & capacity (I think so), with added indication on battery level of headset as well as charging case …
Again where I was expecting improvement like Multipoint support which is more common now a days is still missing in the ungraded GO 3 🙁 .. not sure what is need for an upgrade then ?
Added is the voice support .. where you will get an idea over remaining battery life etc… yes its feature enhancement indeed!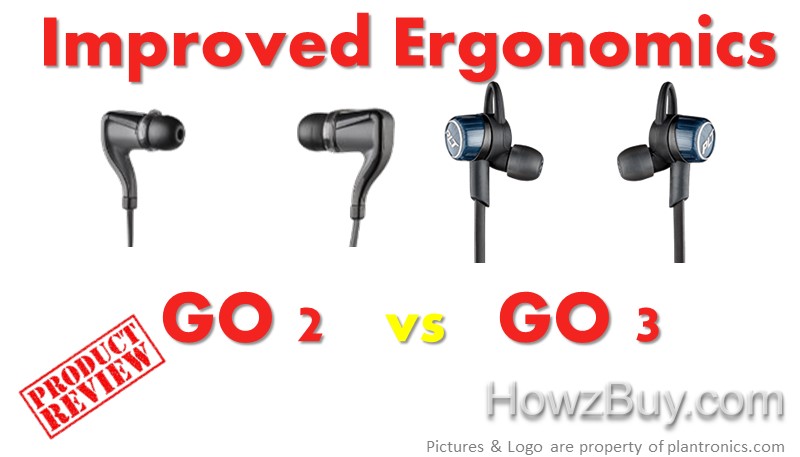 Backbeat Go 2
Backbeat Go 3
Color options
Black, White
Cobalt Black, Copper Gray, Copper Orange
Bluetooth Version
v2.1 + EDR
??
BT range
33 feet
BT Pairing
Easy and Quick compatible with either Android or iOS
Frequency Response
20 Hz – 20 kHz
Speaker sensitivity
104 dBspl/mW @1kHz
Audio Format
A2DP Stereo
Codec
HQ Custom SBC Codec
Play time
4.5 hours
6.5 hours
charging case = total of 13 hours power
Standby time
240 hours; deep sleep mode up to 180 days (6 months)
??
Sound
Signature remained same
Safety for running, Cycling
Blocks out ambient sound using the eartips
Durability
Good design, solid feel, will last long
Sealed vs unsealed
Standard way, supplied with three sizes of soft, removable tips.
Controls
Good ones, big, intuitive, can be operated while Cycling
Voice indications
Small icon shows on smart phone to indicate battery level – A voice tells you battery levels (High, Low, Recharge).
Water Resistance
Not water resistant
Sweet proof
Yes, sweatproof nano-coating
Microphone to make phone calls
integrated microphones and support one-touch voice dialing
Battery Type
Lithium ion
Battery Charging Time
BackBeat Go 2 keeps running for about 8 hours
2-2.5 hours to recharge
portable charging case (select models)
Weight
14 grams
19 grams
Best Buy offer

Best Buy

Best Buy
The closest competition to these headsets are JBL Reflect Mini and Skullcandy XTfree which are selling at slightly lower prices as on July 2017.
Whats the bottom line?
Looking at all the improvement attempt made to make Plantronics BackBeat GO 3 better than its predecessor, improved battery life & improved ergonomics does not impress me well w.r.t. the price paid ..there are many missing points like Multipoint support, water proofing,  in this pricepoint I would rather go for my favorite Jaybird X3 by spending a few dollars more 🙂