From Smartphones and tablets to cameras, Dash Cam, or Drones, they all need microsd card for storage. Just any old microsd card wont be enough, especially if you capturing HD photos or Hd, 2K-4k video's. You will definitely need a high performance microsd card to capture and transfer your data at maximum speed. That's why today I'm reviewing Samsung Evo Select MicroSDXC card. This is the best microsd card to buy in 2017.
Why ???
Well….. before I explain that, let's check out specs of Samsung Evo Select Microsdxc card.
Key Features

64GB Capacity

UHS-I Speed Grade 3 (U3) & Class 10

Up to 100MB/s & 60MB/s read & write speeds

Durable design protects your memories


( 

4-Proof Protection )
Affordable Price
There is a wide range of microsd cards available with different read & write speed. Recording video or capturing
high-definition photos require a constant minimum write speed. So there will be no frame drop while capturing
video for a smooth playback.
It is very important to have a latest microsd card, if you have a latest smartphone or camera. As High
Performance memory card is the key to get the best out of your device. This new speed standard will also facilitate faster write & read times in high-megapixel DSLR cameras as well as high-bitrate audio & vide recording devices. There was a time when High performance microsd cards were very expensive, but today they're pretty cheap.
Samsung Evo Select is a 

UHS-I Speed Grade 3 (U3) & Class 10 micro SDXC card
What that means ???
Micro SDXC stands for Secure Digital eXtended Capacity. The micro SDXC card can support from 32 GB up to a potential 2 TB GB of space. Like the other micro SD cards, Samsung EVO Select has a standard size of 11mm by 15mm. But it has high Read Speed of Up to 100MB/s & Write Speed of Up to 90MB/s. SDXC uses exFAT file system and most devices built after 2010 should be SDXC compatible.
I'm not going to bore you with meaningless technical descriptions or benchmarks of Samsung EVO Select. And what all those logos & codes means. Instead here is a quick overview of what it really means in simple words.
MicroSDXC Format    – It has a capacity of more than 32GB and up to 2 TB (although at the time of writing , 128 GB is the largest available card), and can only be used in devices that support SDXC.
Class 10 Speed Class   – The Speed Class shows the minimum write speed of a memory card per second, which is At least 10 MBps.
U3 UHS Speed Class   –  UHS Speed Class shows the minimum write speed for microSD cards that support the UHS-I bus speeds, which is At least 30 MBps.
When do Numbers Really Matter ???
The performance really matters when you're shooting video or capturing High Definition photos on your GoPro or any other camera. Sequential write & read speed matters when shooting photos and video directly to the card,  it ensures less buffer time. Specially capturing an Event or sport, Firework & wildlife photography, so you don't have to miss that perfect moment. Perfect for 4K UHD video recording.  Samsung EVO Select.
Now days, even smartphone need a quality microsd card so that it can match the best performance it has to offer. As taking HDR, Time-laps or Slow-motion video required minimum sustained write speed. So there will be less delay in taking a shot & more shots in succession.  Samsung EVO Select.
I take a lot of photos, store lot of music, movies, TV series. But just 16 or 32 GB  of inbuilt storage isn't enough for me. But thanks to Samsung Evo Select microSD XC UHS-I Card, which packs a massive 32 GB up to 128 GB of storage, which is more than enough for many users like me. Samsung EVO Select.
You can use Samsung Evo Select MicroSDXC card as external memory card or you can use it to add more space to internal memory. Android features adoptable storage option so you can merge your Samsung EVO Select microsd as internal storage. Any smartphone that runs Android 6.0 Marshmallow or newer can use this feature. It'll give you speedy loading times for games or applications and get lag free performance. So you don't have to swap your phone to a newer one . Samsung EVO Select.
But wait there's more, Samsung Evo Select has 4-Proof Protection for you
Backed by 4-proof protection, the Samsung EVO Select microsd card keeps your data safe against water, extreme temperatures, and other harsh conditions. The Samsung EVO Select memory cards can withstand up to 72 hours in seawater. It can survive in extreme temperatures, airport X-ray machines and magnetic fields which is equivalent to an MRI scanner. So you don't have to worry about loosing your precious data & memories. Samsung also provides a 10-year limited warranty on Samsung Evo Select MicroSDXC card. Samsung EVO Select.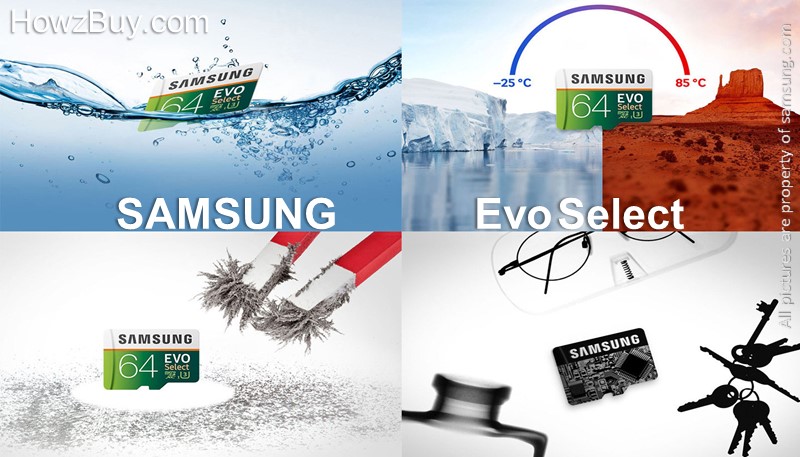 Should I buy the Samsung Evo Select ??
If you want to buy new microsd card for your smartphone, tablet, camera or for expanded laptop storage, Samsung Evo Select is definitely the best microsd card you can buy right now. Even if you are using old Microsd card for your smartphone or camera, I would recommend to buy Samsung Evo Select. As it will ensure your device's performance will be top-notch. Samsung Evo Select cards are very cheap but there is no compromise when it comes to performance. It is available in 32Gb, 64GB & 128Gb option, which will be more than enough for anyone's need. Samsung Evo Select is definitely my pic for 2017.
Samsung Evo Select – Buy Now From Amazon

32 GB
64 GB
128 GB
Good Read