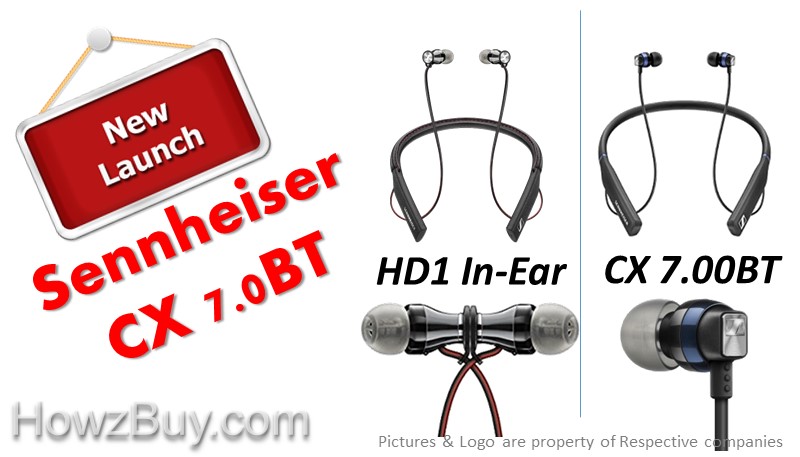 Sennheiser's both HD1 In-Ear & CX 7.00BT Wireless In-Ear Bluetooth Headphones are priced in the same range of $140 (as on Jan 2018) and hence it is important to know the difference in between both the headphones.
Lets start by looking at the features and differences in between these headphones, which will make your selection easy and quick
Features shared in common between both Sennheiser HD1 In-Ear & CX 7.00BT
Design:
Both are around-the-neck type design & ergonomically fit.
HD1 In-ear features soft stitched sheepskin nappa leather neckband offering all-day listening comfort.
Bluetooth 4.1:
Both features BT 4.1 wireless technology with NFC one touch pairing and Qualcomm apt-X support delivering True hi-fi sound
Battery Life:
Both can support Music playtime of @10 hour within single charge of 1.5 hours.
Multi-connect: 2 devices at a time


Both features, multi-connection with up to 2 devices simultaneously (phones and computers) with 3-way calling capability

Ear Tips:


Packed with 4 different sizes in ear adapters providing an excellent attenuation of ambient noise
Look at the table below which shows technical specs comparison and you will find that there are minor differences but nothing to be notable as such which will make your but decision any different.
What's the difference in Sennheiser HD1 In-Ear vs CX 7.00BT ?
Sennheiser Specs comparison table


Sennheiser HD1 In-Ear

CX 7.00BT

Best buy price offer
Best Buy
Best Buy
Bluetooth Version
Bluetooth 4.1, NFC
AptX support
Qualcomm apt-X and AAC (Advanced Audio Coding) delivering enhanced Hi-Fi sound quality
AptX Low Latency technology keeps audio perfectly in sync with visual when watching videos
Frequency Response
15 – 22,000 Hz
17 – 21,000 Hz
built-in integrated microphone
built-in microphone
Buttons
three-button remote control for music playback
 NFC
NFC one touch pairing
Voice prompts
Yes, notify you of the pairing status and low battery
Multiconnect
simultaneously connect two devices
Ear Tips
Four different sized ear adapters Set (XS, S, M, L)
Music Playback time
10 hours of playback
Quick Charging
1.5 hours of charging time
extremely lightweight
1.86 oz (53 grams)
1.69 oz (48 grams)
Sennheiser Latest launch
2 year global warranty
Then what is so different in between Sennheiser HD1 In-Ear vs CX 7.00BT which can make purchases ?
Yes, so coming to the last section making a call on buying one of them, nothing is much difference with only few grams of weight difference (see table above)
So the major difference is in the styling of two headphones,
HD1 in-ear features soft stitched sheepskin nappa leather neckband offering all-day listening comfort. Now this is where the style comes into picture, persons who likes to have stitch pattern seen as a style quotient may choose these ones.
Another difference is again in the ear-tip style, I have specifically highlighted the same in the picture at the beginning of this post, Shape of CX 7.0BT is like a barrel whereas HD1 in-ear shapes similar to a dumbbell !
CX 7.0BT has rectangular logo at the end of earbuds, as against round shape for the HD1 in-ear.
So call is yours, my opinion is look at the style and buy any one of them.
Cheers!!