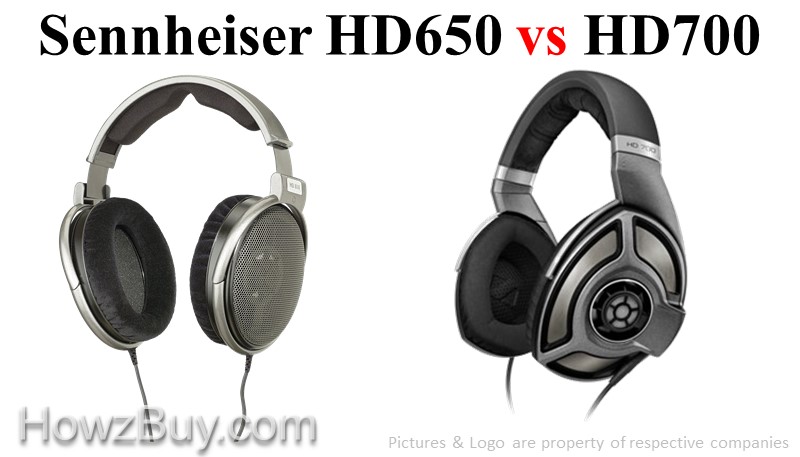 Sennheiser is a brand name created over years … and if you look at the mid-Fi range of headphones by them, I can see HD650 and HD700 as close range fighters for the position .. HD700 being an upgrade over HD650.
Both of these are Over-ear headphones and having open back design with more spacious and transparent sound. These are known to be the most comfortable headphones in the market today with best of best features ……
Let's see what my study tells story of tthat.…
What are the Similarities and  Differences in Sennheiser HD700 and HD650?
Design:
Both the Sennheiser HD650 and HD700 use an open-back design, and hence they allow more ambient noise to get in while listening the music, but deliver what audiophiles often describe as a more natural sound. Obviously you ought to listen them in a quiet environment.
The silvery section on the ear pads back are made of fine steel mesh, curved design with perfectly smooth surface. The mesh covers each opening in the largely plastic frame. This is somewhat similar to the HD800 , although the rear grill is much smaller here. Behind the grill they have placed the 40 mm powerful driver.
(Internet research shows that there are some complaints that the silver mesh material on the cups gets easily damaged).
Comparatively speaking with a solid plastic exterior and removable reinforced aluminum extenders and removable cables ,the HD 650 gets tough over the HD700.
Comfort:
Both are circumaural headphones that use ear pads topped with extremely fine velour. The Sennheiser HD700 is more comfortable than HD650 as well as superior. With its soft cushion ear pads, deep cups with light clamp which  just disappears, assisted with an extremely comfortable headband with thick and soft cushioning HD700 is far superior in comfort
(However please remember that these are not outdoors headphones and needs quiet environment during listening)
HD650 is comfortable but this is too smooth, so smooth that they will make you fall a sleep ?
Sound Quality:
The HD700 headphones  have excellent, clean and transparent  audio and more dynamic sound. Superbly musical that makes good for all day listening. They have more detailed  as well as sharp vocals. Also bass is super tight.  The additional treble makes the HD700 brighter than the HD650.
HD650 has accurate and precise  bass response but less neutral than the HD600 many people prefer this. The HD650's treble is far better while the HD700's is a bit peaky and takes time to adjust to .You will be able to hear the tone of different textures in frequency of musical instruments. But make sure your audio source is of good quality.
Weight:
Sennheiser HD650 is 250grams lighter than HD700…!
Sensitivity:
The Sensitivity in Headphones means how effectively headphones converts an electrical signal into an acoustical signal. It indicate how loud the headphones will be for a given level from the source. So the high sensitivity headphones coupled with a high power headphone amplifier will force a low volume setting, and then can result in more noise. if you increase the volume them it makes too loud to use.
So  with low sensitivity headphones are better to use up to 1 to 2 hours .  HD650 having 103dB sensitivity as compared to HD700 105dB.
Easy to drive:
The HD700 have 6.3 mm jack which mend you just can't plug them into your MP3 player directly. (maybe you use an adapter)
As we tested these headphones they are not particularly hard to drive. At 150 ohm impedance, they are easier to handle than the 300 ohm Sennheiser HD650.
HD650 has a higher impedance and hence will require a dedicated amplifier to power them up.
So, What is an impedance in headphones?
Wait…Let me explain..
Here I will try to explain an impedance in terms of high impedance and low impedance.
Most headphones with low impedance (less than 25 ohms approximately.) require little power to deliver high audio levels. For example, low impedance headphones will work well with equipment with weak amplification like portable music players, phones and other portable devices.
Headphones with higher impedance (25 ohms and over approximately.) demand more power to deliver high audio levels. As result, they are protected from damage caused overloading. They can also used with a wider range of audio equipment's.
Now, here I have enlisted all the features & specs in the table given below…so you will have quick idea about good and bad points of  both .….
Let's See:
Sennheiser HD650 Vs Sennheiser HD700 Headphones Specs Comparison Table:
Features
Sennheiser HD650
Sennheiser HD700
Type
Open back
Fit
Circumaural
Impedance
300 Ohm
150 Ohm
Frequency response
10 – 39.5 kHz
10 – 42000 Hz
Sensitivity
103 dB
105 dB
Replaceable cable
Yes
Cable length
9.8′
Plug size
1/4″ (1/8″ Adapter Included)
1/4″
Driver Size
40 mm
Weight
260 grams
270 grams
Material
Velour ear pads
Plastic, micro fiber ear cushions, specialty steel mesh
Color
Grey and black metal flake fini
Grey and black
Best Buy Offer

Best Buy HD650

Best Buy HD700
Some Knowledge sharing on Solid State VS Tube Amp:
Here, I will try to explain which headphones is suitable with particular amp.
Solid State amplifiers are lighter and less expensive than the tube amplifiers and it can produce far more output than a tube amp of similar size. They also offer faster transient response times and a clean, transparent sound.
However, for most situation a hybrid amp will work well because by using the setting you can achieve either a clean solid state sound or a warm tube sound .
We have observed that HD700 is mostly appropriate with the Solid State amp. But for some reasons HD650 felt defunct with Asus Essence One Muses edition. like something was missing.
You want more comfort go for HD700 :
You want clear and  transparent sound, with a tighter bass + more treble as well as better transients and speed, better sound-stage and a more airy sound.
As compared, in all of the above features the HD700 is definitely better than the HD 650 but not too good.
Actually with Sonarworks  it will sound a bit more natural,  I would say poor overall. And  the HD 650 is consistently closer in terms of the above. So I suggest the HD 700 is felt better without Sonarworks..
you want sweeter sound go for HD 650: 
HD650 has a more musical sound that is lusher, sweeter, smoother, as well as better for extended listening and I think the HD 650 scales better . The HD650 is more amp dependent. So the HD 650 with Sonarworks this experience may be different for you .
Also, The HD 650 sounds more natural and real with Sonarworks.
So I prefer the HD 650 headphones over the HD700, but you know its my individual preference. The HD 650 sounds more natural and good . But technically speaking the HD700 is supposed to be more efficient headphone!
If you see the market trend most of the people prefer the HD 700 over the HD 650 and HD 800 !!
Finally. Is the HD 700 a true upgrade to the HD 650?
Yes, HD700 us surely an upgrade … I will ask Why not.. ??
The sound signature of both the headphones is not exactly the same.
The HD700 definitely has an edge due to its technical prowess. As well as combined with the much better comfort and also its price is reasonable. Without any doubt.
So I suggest the HD 700 over the HD 650 that well worth your money.
Hope this helps !!
Cheers !!!