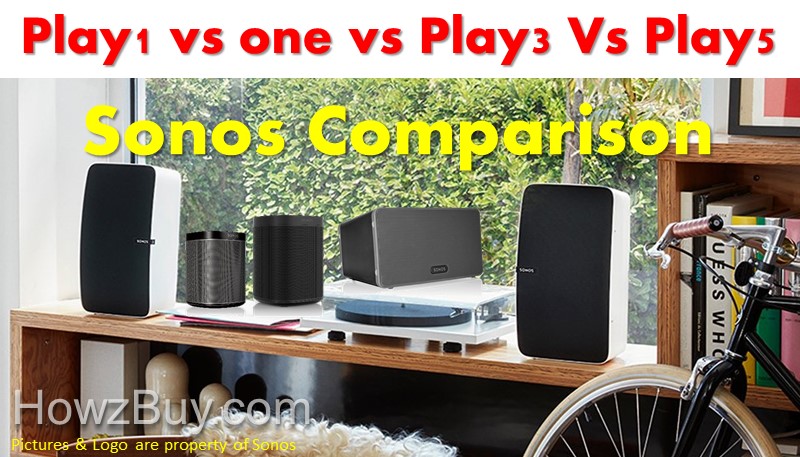 Gone those days with single speaker connected to your mobile via BlueTooth or a 3.5mm jack … Trend is now to have Multi-room speakers which are connected to home WiFi setup now only delivering extraordinary sound but also listening to your commands delivering Spotify, Apple Music or Amazon Music Unlimited.
So coming to the main subject of selecting right Multi-Room speakers, you have many options in market today .. Denon, Samsung, LG, Bluesound … Alexa, Google Home .. and many more…
Guidance on Sonos Multi-room speaker selection:
In this post however I shall be comparing speakers from Sonos multi-room line up .. At the end of this post you will be able to understand major features and differences in Sonos Play1 vs Sonos one vs Play3 vs Play 5
The streaming audio company Sonos makes a range of wireless speakers for your home …………!! I have learned that all Sonos speaker is the same but they have different elegant features and sound that no other speakers to have. Sonos speakers are built to work with other Sonos speaker, but remember they do not come cheap, starting prices are around $200 for the least expensive and smallest model. We will see if it's really worth spending that amount J
Fill the spaces with Sonos:
With every Sonos model you can buy and filling all remaining space with the boxes i.e Sonos Speakers .There is an additive effect the more speakers you connect to your home wi-fi and the richer your home audio becomes.
Sonos Play1 ,Sonos One, Sonos Play3 and Sonos Play5 Features:
 Easy setup via Wi-Fi network  wirelessly:
Sonos is also incredibly easy to setup through Wi-Fi .just simply select your home Wi-Fi network and type password that's it. If any problem with this so you can set it another way just plug it into router using Ethernet cable and enjoy your favorite music anywhere. The Sonos App guides you through the process of starting a new system.
Fits anywhere and Humidity resistant:
All these are humidity resistant which means you can enjoy your favorite songs in  bathrooms and outdoor patios .. of course you will need a Wi-Fi connectivity and power source.
(.Just remember these are not waterproof or weather resistant, so placing in patios can be done under a shelter protecting them from direct exposures)
All are small in sizes therefore able to fit in tiny spaces like bookshelves ,on counter in kitchen or any snug space where you would  like listen  a music.. they are wall mountable adding to flexibility you have.
No Batteries and Bluetooth:
Sonos don't having batteries and not Bluetooth, So the music never stops even if you get a phone call. You can unplug and then move it from room to room, or even outside where your Wi-Fi can reach to deliver music … Also the app will help you tune their sound to each space like Kitchen or Bathroom or Backyard.
Excellent volume and voice Control features:
In all Sonos models you can control the volume and music tracks by touch sensors. It is perfect for when your phone is out of reach. And in advanced versions of Sonos one you can start and control your music with your voice.
Build Quality and connectivity:
All Speakers having commonly two colors black or white, smooth finishing with durable metallic grille and its top and bottom plastic look and feel great. Play 5 is having multiple orientation, while you place it horizontal it is in stereo and vertical it's in mono. The feet on three sides make it safe for placing on any surface. Sonos speakers only have 2.4GHz Wi-Fi 802.11 a/b/g which means that they can't connect on the sometimes faster or cleaner 5GHz frequency which is commonly used today.
Sonos to TV Connection:
To connect Sonos to TV  download the Sonos controller on the device .Place the Playbar or Playbase in the appropriate location and supply power .Connect the supplied optical audio cable from the digital audio input of your TV to the audio input of the Playbar or Playbase.
Excellent Audio Quality:
All the Sonos speakers delivers deep, crystal clear sound. Surprisingly rich and room filling sound. These having Two class–D amplifiers which are perfectly tuned. One tweeter to creates a crisp , clear  and high frequency response .All these are work as Sonos home theatre rear Speakers .In Play 5 you will hear separate instrument and voice detail  due to six class-D amplifiers with six dedicated drivers which gives deep clear and stereophonic sound with zero distortion. In Play5   three woofers delivers big and precise bass response without echoes and packs a punch as compare to play1 and One.
Extra feature like complete privacy:
                   Sonos one is designed with extra security. In Sonos One Speakers having the hard-wire connection which ensures no one is listening when you want privacy. An illuminated LED indicator light which indicates if your speakers microphone is active or turned off. However Play 1 and Play 5 does not have this feature.
You must use the Sonos App mostly:
Sonos has done best job updating its speakers with new features through its app. In the Play 5, Play 1 and One the Sonos app provides complete control over the music. This app helps you to quick search through all services to play your favorite music, send it to any rooms and control the volume and other settings. If your friend have Sonos app they can do the same.
Line-in:
Line-in which means Plug in any audio device – from your record player to another phone and listen your favorite music on your play1 or plya5. Another one is you can send the songs from Play 5 or Play 1 to any other Sonos speaker in your home.
Spotify on Alexa :
Spotify can accessed using Alexa voice control on the Sonos One the speaker with Amazon's voice assistant built in. If you have one of these speakers you can set Spotify as your default music service in the Alexa App. Sonos is slowly freeing services from its app, allowing you to directly broadcast to any speaker within the normal spotify. Tidal and Padora app for instance. It's new Hands free Alexa integration is a lots of fun. Alexa can tell you about the weather, can find recipes and answer simple questions. The Sonos One is also the first third-party Alexa device that lets you use voice control to stream Spotify.
Let's Compare:
Sonos Play1 vs Sonos one vs Play3 vs Play5 Compact Wireless Speaker Comparison & review
Wi-Fi Speakers
Sonos Play 1
Sonos One
Sonos Play3
Sonos Play5
Best Buy
Best Buy
Best Buy
Best Buy
Color
  Black and White
Dimensions
161.45 x 119.7 x 119.7mm
 161.45 x 119.7 x 119.7mm
132 x 268 x 160mm
203 x 364 x 154mm
Weight
1.85kg
1.85kg
2.6kg
 6.36kg
Construction
Durable metallic grille and edges are covered with plastic
Multiple Orientations
No
Yes
Wall mountable
Yes
No
Voice control
Needs an echo or echo dot
Built in voice control
Needs an echo or echo dot
With help of touch sensors
Hardware
Two class-D amplifiers, tweeter and one mid woofer
Three Class-D amplifiers, along with a tweeter, two mid-range drivers and a bass radiator
Six class –D amplifiers ,three tweeters and three woofers
Bluetooth
No
Microphone
Not available
Six far field Michrophone
Not available
Line In
No
Yes
Manufacturers
Sonos
Special feature
Multi-room Functionality
Humidity resistant
Yes, i.e you can use them for the bathroom or backyard
Security
 NA
LED Indicators to indicate when speaker is on Or off and designed with extra security
NA
Wi-Fi Speakers 
Sonos Play 1
Sonos One
Sonos Play3
Sonos Play5
Best Buy
Best Buy
Best Buy
Best Buy
Executive Summary and Recommendation for buying Sonos Speakers 
Play 1: Little Bunny
Excellent little bunny for your home … obviously by spending little more amount you can upgrade to Play 3 providing orientation choice as well as extra powerful sound
Sonos One: Little Bunny and Smart too J
With latest upgrades this speaker has an added advantage of being Smart over Play 1, so it can listen to and have integrated voice control plus capacitive touch controls. So with this you will be able to enjoy Alexa voice control features J I think spending little more $ is worth with so much advantages …
Play 3: For Bigger Rooms
If you have house with bigger rooms then Play 3 will be the choice for you. It can fill in more sound .. add an extra flavor when you connect more speakers and get orientation right ..
Play 5: Big Sound, Best Quality
If you are passionate to get the best always .. best sound .. best quality .. and ready to spend dollars .. then this is the right choice for you .. go ahead and get this biggest and best of Sonos … needless to say that you get everything from this …