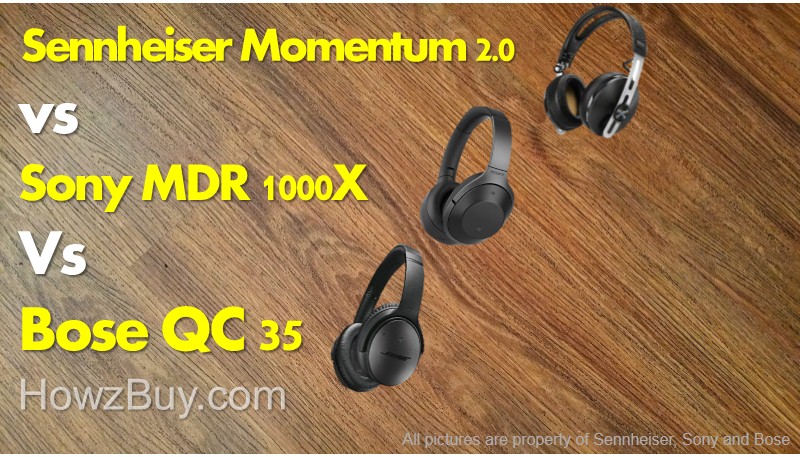 Here we go again….
Another competition between Bose qc35, Sennheiser momentum 2.0 Wireless and Sony MDR 1000x. It's an exceptionally fierce competition, but while there are some definite similarities between them – they're noise cancelling headphones with microphones, a 20-hour battery life and their own codec that promises High-resolution audio when paired with any of the brand's music players.
Noise cancelling headphones have always had issues with sound quality but the new Bose QC35 go a long way to solving past problems.
All three NC headphones have shown they're up to the challenge of producing a pair of headphones that can occupy pride of place in your limited carry-on luggage. It's Great timing too, as phones like the iPhone and the Moto Z start losing their headphone jacks!
The question is – which will go with those phones, if you had to pick just one? so I am here with the Bose, Sony and the Sennheiser against each other on key buying parameters to answer this for you. So let's have a look at these headphones and see if its worth the money.
How to pick the right Bluetooth headphones


We all are unique, we all have different qualities so like us Bluetooth headphones aren't built the same way. one comes with great battery so other comes with great sound. While each and every one of the Bluetooth headphone companies will tell that its the best BT headphone but are they the perfect pair for you?Before you start scratching your head away reading through reviews for each and every Bluetooth headphone that you can find, set up certain ground rules for what you expect the headphones to be used for. Rather than just taking the manufacturer's word for it, here are a few suggestions you should personally consider before buying the right Bluetooth headphones for yourself. 
Sony MDR 1000x vs Sennheiser momentum 2.0 vs Bose QC35 Review & Comparison
Spec's Comparison
Bose QC35 specs

Sennheiser momentum 2.0 specs

 Sony MDR 1000x specs

General Features
Weight
 309g without wires
 234g without wires
~275g(without Cable)
Size
 3.1 x 6.7 x 7.1 inches
 3.7 x 7.4 x 9.9 inches
6.3 x 4.5 x 9.5 inches
Dynamic Type
 Closed System
 Closed System
Closed, Dynamic
Volume Control
 Multi-function buttons
Touch Sensor
Diaphragm

Leather
Nylon
Silicone
Stainless Steel

Alcantara
Soft Leather
Stainless Steel

Aluminium-Coated LCP
Frequency Response
 20 Hz – 20000 Hz
16 Hz – 22000 Hz
4 Hz ~ 40,000 Hz
Sensitivities(dB/mW)
 101 dB/mW(1 kHz)(when connecting via the headphone cable with the unit turned on)
 113dB/mW(1 kHz)(when connecting via the headphone cable with the unit turned on)
103dB/mW(1 kHz)(when connecting via the headphone cable with the unit turned on)
Magnet
 Neodymium
Impednace(Ohm)
 73 

Ohm(when connecting via the headphone cable with the unit turned on)

 passive:28 Ohm(when connecting via the headphone cable with the unit turned on)

active: 480 Ohm

46 ohm (1 kHz) (when connecting via the headphone cable with the unit turned on),
14 ohm (1 kHz) (when connecting via the headphone cable with the unit turned off)
Bluetooth Functionality
 4.1
  4.0 + EDR
Bluetooth/NFC
Cord Length
(1.2m) straight audio cable
 Headphone cable 1.4m
Headphone cable (approx. 1.5 m, silver-coated OFC strands, gold-plated stereo mini plug)
Usage Time
20-hour battery life
Max. 22 hours(NC ON)
Max. 20 hours(NC ON), Max. 22 hours(NC OFF)
Charge Time
 2.10 Hrs
 3 Hrs
4 Hrs
App Support
Bose Connect
captune
Wearing Style
  Circumaural
Microphone
Yes
Direction of In-Line Mic
  All Direction
Color Options
 Black & Silver
 Black, Ivory
Black
What's in the Box

QC35 headphones
Airline adapter
AUX audio cable for wired connection
USB cable
Carrying case

Wireless Headphones
1.4 m Audio Cable
3.5 mm Low-profile Angled Plug
USB Charging Cable
In-flight Adapter
Carry Case
User Manual

Carrying case
Plug adaptor for in-flight use
Headphone cable (approx. 1.5 m, silver-coated OFC strands, gold-plated stereo mini plug)
USB Cable
User Manual

 Manufacturer
 Bose Corporation
 Sennheiser
 Sony
Discount, Prices & Offers
BOSE QC35
Best Buy USA
Sennheiser momentum 2.0
Best Buy

USA

Sony MDR 1000x
Best Buy

USA

Best Buy

Germany, UK

Best Buy

Germany, UK

Best Buy

Germany, UK
Let's see whats inside the Headphones.
Luxurious Design And Comfort :
Bose QC35's outer shell of the ear cups is made of metal, while the frame and headband are of a thick plastic. They're covered in a beautiful faux-leather that manages to stay quite cool, even in muggy weather. The Sennheiser Momentum 2.0 has significantly larger cups and pads. Even if you have fairly large ears.The construction of Sony MDR-1000X is primarily plastic but it feels tough rather than tacky. There's polished metal in the headband, and the ear cups and ear pads are wrapped in a very believable synthetic leather that feels lovely and attractive.Compared to the Bose QC35's basic plastic construction, the Sony MDR-1000X look and feel far more luxurious.
Winner: Sony
Features :
Looks like Sony leading the charts, this is where Bose and Sennheiser start to show their Qualities. Bose is ready with noise cancellation feature. In comparison, Sennheiser is compatible with the higher-quality aptX codec But it's the Sony that pulls ahead with useful features that work consistently – you get a touch panel and merely cupping the right earcup cuts out the audio so you can quickly listen to what the stewardess is asking you on the flight, without having to take them off. The MDR-1000X additionally supports LDAC, a Sony-proprietary codec that claims to transmit up to 3x data than Bluetooth for higher quality sound, but it only works with Sony's Xperia smartphones and some of their Walkman digital players.


Winner

:

 

Sony

Noise Canselling :
Bose QC35 headphones traditionally offer the best active noise cancellation (ANC). When you turned on ANC, pretty much all sounds disappear to leave you alone with your thoughts.  With low-frequency machine drones Bose's noise cancelling works best. Sennheiser headphones are Expensive but you can't turn noise-cancellation off (it's always on when you use Bluetooth).Like all ANC headphones, the Sony MDR-1000X are better at handling constant noise at low frequencies I've tried them on next to road works and moving buses and my music was never interrupted. These headphones only struggled with wind noise. Like the Bose QC35, the Sony's ANC tech is so effective that it feels like the headphones are actively pushing silence into your head.
Winner: Bose
Sound Quality :
Bose QuietComfort 35 uses a digital equalizer that automatically tweaks the sound on the fly so that one aspect doesn't overpower at any volume. The bass is meaty but remains under control. In all, the QC35 offer great sound considering they're streaming over Bluetooth. Still, it's a shame that they're not compatible with aptX, a codec that allows for higher-quality audio streaming over Bluetooth. That said, the QuietComfort 35 come with a 2.5mm jack in the left cup and a 2.5mm to 3.5mm cable to attach via wire when needed and you get two-pronged aeroplane adapter too. Sennheiser Momentum 2.0 Wireless's bass and sub-bass are great, with plenty of power but also very good control. The Sennheiser Momentum 2.0 treble is well defined with just a touch of bite.The Sony MDR-1000X are easily the best noise-cancelling headphones. Tonal balance is good. These headphones don't suggest any particular part of the frequency range, which makes them very versatile. The treble is crisp without grating or hardening up. That Sony has managed to make such well-rounded headphones – despite loading them with extraneous tech – is very impressive. You don't get the controls, though, as the touch-sensitive pad only works with Bluetooth. You can use your 3.5mm headphone cable when you run out of power to carry on listening.


Winner

:

 

Sony

Voice Quality :
The Bose QC35 aren't only headphones; you can use them as a headset too.  You'll be able to pick up a call and talk to your friends (or Siri, if you're an iPhone user) with all the benefit of noise cancelling. I could hear the voice on the other end of the line perfectly – and vice versa. The QuietComfort 35 use their awesome noise cancelling to clear up your voice too, so calls are a clear as a bell.The Momentum headphones sound almost as good on phone calls as they do playing music.In the Sony MDR-1000X you just need to touch the pad on the earcup, as when activating mute. So it has hitting a key to pickup the call, another press to hangup. it has Electret Condenser Microphone. you can Talk without taking your headphones off.


Winner

:

 

Bose

Battery Life :
Bose claims the QuietComfort 35 can survive for 20 hours on a single charge, which I found played out in real life.so its good competitor of Sony MDR-1000X and Sennheiser Momentum 2.0. the QC35 don't turn off automatically when you stop listening. It takes about two hours to fully recharge the built-in battery of the QC35 via a Micro USB port.Battery life of Sony MDR-1000X is rated at 20 hours and a cord is included so you can listen in wired mode. You don't need power to use it as a corded headphone (that means if the battery dies, you can still get sound out of it), but it sounds better as a powered headphone in wired mode. Sennheiser claims that, with ANC and Bluetooth enabled, the Sennheiser Momentum 2.0 Wireless can last up to 22 hours. However, both the Bose QuietComfort 35 and the Sony MDR-1000X are come with same rated runtimes.


Winner

:

 

Sony

Which Headphone Should (Shouldn't) Buy
You have two things to consider when reading this guide: noise cancellation and  Battery life.
Normally, NC headphones have been great at what they are intended to do, block out noise, but as a headphone producing sound they have always been pretty mediocre.  The Bose QC35 mark a huge jump forward for us in the sound department.The Sony MDR-1000X's are a big step up in performance Not only do they look smart and block out distraction, they have pack a ton of technology, keep a strong connection, and deliver a beautiful sound with 20-22 Hrs battery life. superior noise canceling and audio quality are more important to you than cozy and dynamic pairing, then these new MDR-1000X headphones from Sony have your back. I am going towards the Sony MDR-1000X for being the most well-rounded and full-featured pair of wireless noise cancelling headphones on the market right now.Sony MDR 1000x
Best Buy

USA


Best Buy

Germany, UK
Never charge a product with batteries overnight while you are sleeping. Always follow the manufacturer's instructions and use the charger from the manufacturer that is designed specifically for your device.