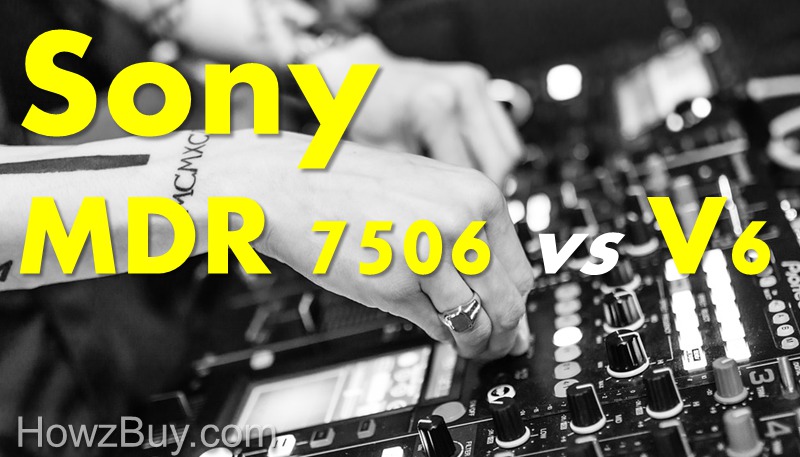 Years ago Sony released MDR 7506 Professional Large Diaphragm Headphones designed Specially for Recording & Mixing Engineers who needs to focus on any Noise & Distortions in the Recording & Mixing process. Obviously the Bass is toned down with mid and upper mid-range tonal balance enhanced for clarity…. Subsequently MDR V6 made available with certain enhancements to handle more Frequency Range in the Low as well as Higher frequency range.
Conceptually both Both Sony MDR 7506 & MDR V6 have the overall same Sony sound signature. The build including 40 mm drivers backed up by Neodymium magnets, these over ear type designs are almost similar.
Both Sony MDR 7506 & MDR V6 headphones are preferred by Live DJ's due to the fact that the prominent mid-range tones helps to focus them on quality suppressing down the crowd noise and environment disturbances.
Impedance
Both of these headphones have the same impedance, which means they both require the same amount of power to produce a certain volume level.
Frequency Response
The Sony MDR V6 can deliver a larger frequency range of pitches with a lower bass and higher treble output. Although human ears can only hear around 20 Hz – 20 kHz, purpose of giving this extra range is purely assist the Expert Sound Engineers.
Lets have a look at Technical specs & features comparison of Sony MDR 7506 & MDR V6, appropriate colors being used to show the differentiation.
Sony MDR 7506 vs MDR V6 Review Specs & Features Comparison
Sony  Professional Large Diaphragm Headphone
Sony MDR7506
Sony MDRV6
Price
Check Latest Price
Check Latest Price
Colour options
Black
Professional Stereo Headphones
Ideal for sound monitoring in recording studios, radio, film production, video, electronic news gathering
Feel of Sound
Less pronounced bass with prominently enhanced mid and upper mid-range with tonal balance
Less pronounced bass with Mid and upper mid-range more clarity. Handles more low to high frequency zones compared to MDR7506
Cups
Over-ear design
Drivers
40 mm drivers
Magnet Type
Neodymium
Impedance
63 Ohms
Sensitivity
106 dB/mW
Frequency response
10 Hz – 20 kHz
5 Hz – 30 kHz
Power Handling Capacity
1000mW
Noise cancelling
No
Sweat Proof
No
Cord
 Professional-quality OFC (oxygen free copper) cord
9.8-feet cord ends (not detachable)
Plug
Gold, Stereo Unimatch plug 1/4″ and 1/8″
Portability
Folds up for storage
Weight
8.1 ounces
10.6 ounces
Warranty
90 days Limited Warranty
Sony  Professional Large Diaphragm Headphone
Sony MDR7506
Sony MDRV6
Price
Check Latest Price
Check Latest Price
My favorite is Sony MDRV6  which is capable to dive the Lowest & Highest possible frequency ranges, delivering impressive Sony signature sound, highly responsive to fast transients, excessive deep bass elements, and vocals too.