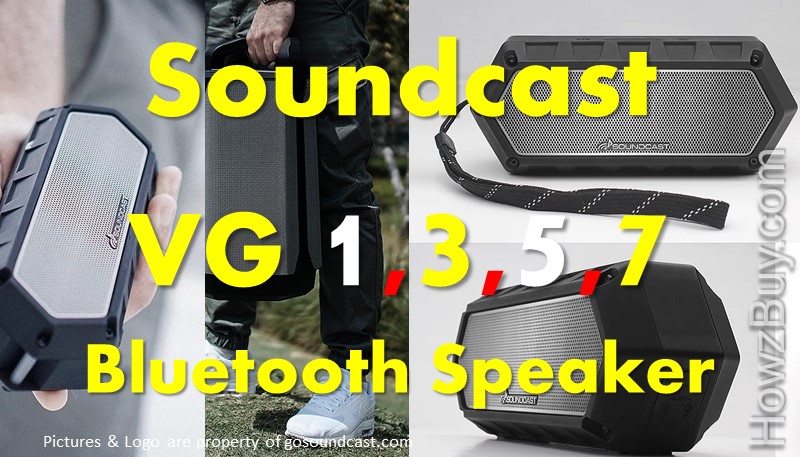 Yes, the Soundcast VGX Series has been expanding with the Launch of VG7 Ourdoor Bluetooth Self Powered Speaker!
In this post I shall talk over VG1 which is right now selling on Amazon and VG7 which will be available in a short-while. Also I will tough upon the unseen models VG3 & VG5.
Story of VG1 growing till VG7:
Soundcast began their journey with a Highly Portable Handheld Bluetooth Speaker VG1 which was completely Waterproof (IP67 Rated) and Super-outdoor performer … They worked on VG3, VG5 and lastly VG7 where the Speaker Size keeps on growing as the Number grows !!
VG3, VG5 & VG7 Common Features Touched Upon:
VG3, VG5 & VG7 Speakers will be supporting Bluetooth 4.2, NFC smartphone pairing, aptX and AAC codecs, and Qualcomm's True Wireless Stereo, which allows you to pair two identical speakers and operate them as a left/right stereo pair.
The VG3, VG5, and VG7 also have On-The-Top capacitive touch controls including Play/Pause, Volume and MUTE.
These VGX speakers will also be capable of DTS's Play-Fi multi-room audio ecosystem.
Now that the in-between models have not seen the light of the day, lets talk here only on VG1 & VG7 Speakers!
Soundcast VG1 vs VG3 vs VG5 vs VG7 Bluetooth Speaker Review
VGX Series Compared

SOUNDCAST VG1

SOUNDCAST VG7

Qualcomm® TrueWireless™ Stereo (TWS) Circuitry

Drivers
 Two aluminum-cone drivers with butyl rubber surrounds with weighted bass radiator deliver rich, clear audio with a real bass response you can hear.
+
rear-firing passive woofer
Four 3″ Discretely Enclosed full-range drivers in a stereo 360º array with high
SPL Neodymium motor design, aluminum cones and butyl
rubber surrounds
+
7″ long-throw woofer in a downward-firing configuration with high efficiency BL ferrite motor design for increased battery life + high-performance IMPP cone with butyl rubber surroundSubwoofer Amp – 30W RMS, Class-D
Stereo Amp – 15 X 2 RMS, Class-D
 True Wireless Stereo (TWS).
Sync two VG1 speakers together for dedicated left and right stereo playback with Bluetooth True Wireless Stereo (TWS).
Pair Two VG7 Units for TWS
(TrueWireless™ Stereo) Configuration
Frequency Response
76Hz-20KHz
 55-20kHz +/-3dB
Wateroproof
Fully Waterproof IP67 Rated
Weather Resistant Enclosure
Bluetooth
Built-in Bluetooth 4.2 technology with 6 memory slots

Stream High-Def Audio via
Bluetooth® with aptX and AAC

Built-in Bluetooth 4.2 technology with 8 memory slots

NFC auto device pairing (with Bluetooth)
Stream High-Def Audio via Bluetooth®
(+NFC Pairing) with aptX™ and AAC

Bluetooth protocol
A2DP, AVRCP, HFP, HSP
Proprietary 24-bit DSP
Transmission Codec
Qualcomm® aptX™, AAC,
SBC
Bluetooth hi-def AAC and aptX™ codecs
Controls
On-Board Play/Pause
and Volume Controls
On-Board Track and Volume Controls
External Auxillary Connection
Aux input 1/8″ (3.5mm) mini jack
Voice commands
Siri Compatible
??
Speakerphone
Yes, Auto muting
Battery
Lithium-ion polymer battery, 3.7V
2900mAh
Rechargeable internal battery with external AC power supply
Play audio via battery or while plugged into AC power
DC power via optional 12VDC power adapter
Power bank to charge USB devices
Music Play Time
 Up to 15 hours Playtime depending on
volume
??
Charging time
 3.5 hour (depending on source)
??
Charge input
5VDC 1A
DC power via optional 12VDC power adapter
In the Box
Soundcast VG1
Accessory Bag
USB Cable
1/8″ (3.5mm) Audio Cable
Lanyard
User Guide
Soundcast VG7
Mini jack cable
DC 12V 60W power supply
USB Cable
Battery pack
Clip adapters (UK, EU, AU)
User Guide
Size (H x W x D)
 2.9" x 2.3" x 6.8"
Diameter: 11″ x Height: 18.9″
Weight
1 lbs
 21 lbs
 SOUNDCAST VG1
 SOUNDCAST VG7
 USA
Best Buy USA
 Best Buy USA
Germany, UK
Best Buy Germany, UK
Best Buy Germany, UK
Lets talk about VG1
Sound Quality: delivers Clear and Solid Highs and Midtones, Cost-point implies better delivery though
Basic purpose of any Speaker is to deliver good Music quality, hence I shall start review with Quality of sound it delivers …. So well it delivers Clear and Solid Highs and Midtones.
With rear-firing passive woofer, it does deliver weighted BASS. However at highest volume it does distorts a bit.
Speakerphone : Yes, with built-in-microphone, you will be able to use it as Speakerphone. Functionally it meets the expectations here.
Aesthetics: Tough & Retro Combination
Its built with a Rubberized black casing with Silver metal grilles, plus the depressions at the sides gives is somewhat old feel.
The Soundcast logo Grill also gives Retro look like an old radio … Also one more thing is that this shape / depressions make it easy to grip with wet hands, I think this is biggest advantages…. Well it depends upon personal taste if you like it ..
Portability:
With handheld size, its easy to get inside your backpack for Outdoor Camping or Hiking trail.
Waterproof & Dustproof: Great for Outdoor and Poolside Party 
IP67 Rating assures its survival even with full immersion up to a metre of water for 30 minutes
Control Panel: Minimalist panel
Control panel consists of a combined Power+Pairing button, a Play+Pause button and Volume Up/Down buttons. [Missing are Track Forward/Reverse Buttons!]


A LED to indicate power and pairing. 

Battery: Stays long for 15 hours
Lithium-ion 2900mAh polymer battery sustains Music Playtime till 15 hours (can vary as per the Volume levels) which is very good for outdoors, you need not hunt for recharging it over the Weekend trip on Saturdays and Sundays.
Final words for VG1
With Price for about $150 (at the time of writing this post), this Bluetooth Speaker looks to be somewhat costlier to me! The kind of money you are spending versus the returns are slightly lower. However its a matter of personal taste for the Quality of Sound and Looks.
Lets Talk about VG7
Sound Quality:
[Not tasted so far, but comments are based on Technical Specs]
Firstly the drivers are located in all four directions, providing coverage of 360º, Assisted by the 7″ Sub-woofer in downward firing config, this shall surely deliver rich bass that's what I expect.
Over and above this there is a Qualcomm® TrueWireless™ Stereo (TWS) Circuitry inside. Proprietary 24-bit DSP must be taking care of the complete frequency range from  55Hz to 20kHz (Pretty wide coverage from Vocals to in-depth lows)
Aesthetics: Tough & Retro Combination
Again it maintains the military tough looks with Boxy design, Simple basic color combiniton, the Black and White era.
 Portability:
A big handle at the top allows you to life and carry, good for outdoor as long as you have a Powerpoint available, and reaching to the destination in your car 😛
Waterproof & Dustproof?
Its not clear though the IPX rating for this speaker, specs only indicates "Weather Resistant Enclosure"
Battery:
Again on this front, number of hours are not specified and available / tested.. so will be able to comment once actual evaluation happens.
Final words on VG7:
I am sure that the Soundcast VG7 with Astonishing sound quality will make your Chest Tump with its POWERFUL BASS while you use two of them talking to each other pumping air into your ears 🙂
So lets wait for the sample to arrive to you (or me) soon!
Cheers!!