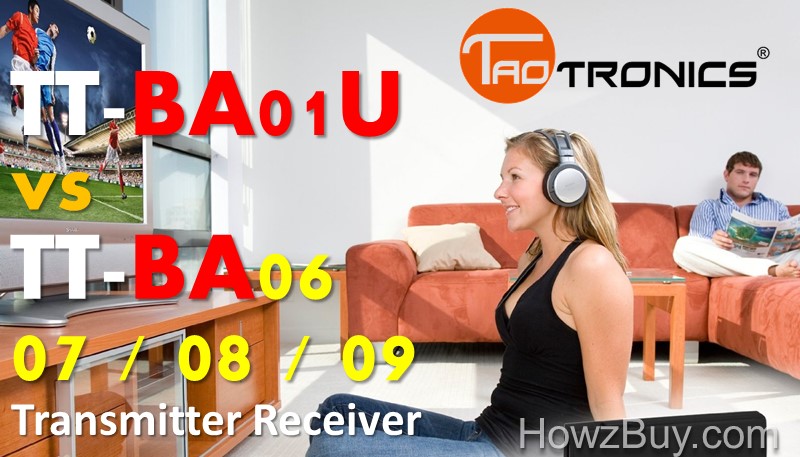 Although most of the latest TV Sets are BlueTooth enabled, 90% of the people still have TV sets at home which don't have BT compatibility !! So what do you do ? You just can't change the expensive TV set for wanting Bluetooth capability, So simply use these Nano Sized Gadgets aka Bluetooth transmitters from TaoTronics, with plug-and-play type setups allow any laymen to get Bluetooth capability immediately after purchase.
So How Do You Add Bluetooth to your Old Expensive TV-set ?
Buy Bluetooth adapter
Connect it to the sound output ports on a TV
Charge it or Power it with USB port
Pair with your BT Headset or Audio System
You are ready to go
Features of BlueTooth Adopters (Transmitter or / and Receivers)
Use of Bluetooth Transmitter (TT-BA01U & TT-BA06) – Adds Bluetooth capability to your None-Bluetooth audio source device like TV, iPod, CD player, PC, MP3/MP4
You can connect to audio output devices, such as TV, iPod, PC, Kindle Fire etc. then pair with Bluetooth receivers such as Bluetooth stereo, headsets, headphones and speakers to enjoy exclusive late night shows, all without disturbing your loved ones while they sleep.
High-Fidelity HiFi Output
High performance Bluetooth 4.0/4.1 streams pure, CD-like quality sound. Widely compatible with most of Bluetooth receivers, including earphones, speakers and others. Plug and Play via USB or AUX Input, Charging while Playing for TV & iPod
Bluetooth Transmitter & Receiver (TT-BA07 / TT-BA08 / TT-BA09)
Transmitter transforms 3.5 mm audio-out media devices into a Bluetooth device capable of streaming Bluetooth audio
Receiver lets non-Bluetooth devices like car or home stereos receive high quality audio.

TaoTronics TT-BA01U vs TT-BA06 vs TT-BA07 vs TT-BA08 vs TT-BA09 BT Transmitter Receiver Comparison
TaoTronics Wireless Portable Bluetooth Transmitter
TT-BA01U

Best Seller

TT-BA06
TT-BA07
TT-BA08
TT-BA09
Prices are daily updated on this website
Especially For
TV Transmitter
TV and High-Fidelity Music Transmitter
Bluetooth 2-in-1 Transmitter and Receiver Adapter
Bluetooth 2-in-1 Transmitter and Receiver with Music Control
Bluetooth Digital Optical & 3.5mm Transmitter and Receiver
Bluetooth Transmitter
Yes
Bluetooth Receiver
No
Yes
Range
33 feet (10 meter)
Bluetooth Version
 Bluetooth V2.1 with EDR, Class II
Bluetooth

4.0

with EDR, Class II
Bluetooth 4.1
Bluetooth Profile
 A2DP, AVRCP
A2DP
A2DP stereo music transmission and reception
A2DP / ACRCP
A2DP / ACRCP
Audio Jack
3.5 mm / RCA
Digital Optical & 3.5mm / RCA
Audio Codec

No

aptX
SBC / aptX
Yes
Connect to Two Devices Simultaneously (Multipoint)

No

Yes (Two Bluetooth headphones or speakers can pair at once so children can watch in silence and give parents a needed break.)
Volume + / –

No

In Receiver Mode

No

Music Play / Pause

No

In Receiver Mode
During receiver mode you have full control of the music including play / pausing, track selection, and volume control with buttons on the adapter controls. The adapter can connect to traditional device like wired headphones or speakers so they can receive Bluetooth music direct from phones and tablets.
Always Standby
Yes

No

Yes
Charging Power
DC 5V USB Charging through Micro-USB Port
Working time
6~7 hours after full charge
10 hours after full charge
20 hours after full charge
15 hours after full charge
Standby Time
140 hours
160 hours
Charging time
2 hours
1 hour
2 hours
Battery
Rechargable Li-Polymer
160 mA
350mAh
Rechargable Li-Polymer
Pair with smartphone or tablet in Receiver Mode

No

Yes
Pairing Compatibility
Yes, Pairs with Bluetooth Speaker / Headset / Receiver
Size
2.4 x 0.87 x 0.39 inches
1.7 x 1.3 x 0.35 inches
1.79 x 1.28 x 0.37 inches
1.89 × 1.89 × 0.33 inches
2.4 x 2.4 x 0.8 inches
Weight
0.5 oz / 13 g
0.5 oz / 13 g
0.48 oz / 13.8 g
0.91 oz. / 25.8 g
1.4 oz / 39.6 g
Wireless Portable Bluetooth Transmitter
TT-BA01U
TT-BA06
TT-BA07
TT-BA08
TT-BA09
Prices are daily updated on this website