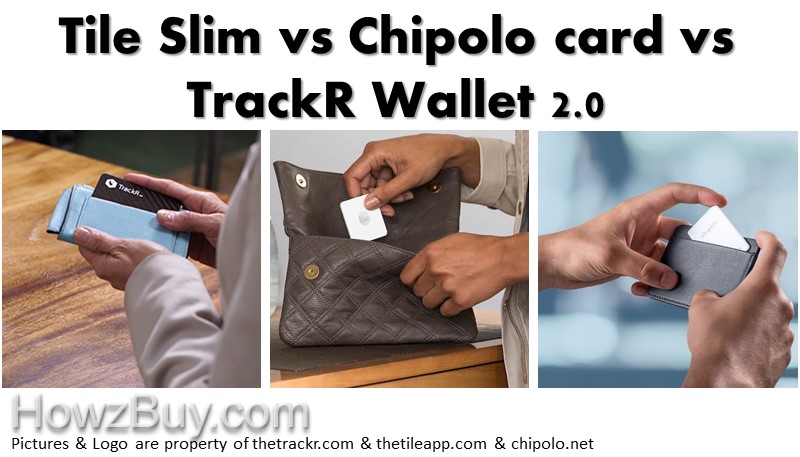 Thinner & Louder Next Gen Wallet Finders:
Yes, you rightly heard about latest launches!
The next generation of Bluetooth wallet or key finders are becoming more and more thin and loud .. thin that too with increased Bluetooth finding range!
Latest Launches Announced for Chipolo card & TrackR Wallet 2.0
So with latest news of launch of the thinnest and loudest Bluetooth wallet finder, we decided to check the claims by different highest selling wallet finder gadget companies like Tile, Chipolo & TrackR and compare them for dimensions and features.
Update as on 19 Oct 2017 on official TrackR Website – "We decided not to release TrackR wallet 2.0"
What is this Bluetooth tracker Device?
Bluetooth trackers or Wallet Finders or Key Finders are small battery powered gadgets which can be attached or put inside your wallets, purses and passports, hybrid wallet-cases for smartphones, tablets, and Kindles.
These gadgets help you keeping track of item and ring the wallet finder from your smartphone (Android or iOs)
Items can be tracked by ringing them from a distance of about 100 to 200 feet (Depending upon the device and range) or if lost it can be tracked from crowd GPS network. (Note that Tile has largest subscriber base as on now for Crowd GPS)
So lets begin with comparison chart of dimensions and features of these trackers.
Tile Slim vs Chipolo card vs TrackR Wallet 2.0 : Thinnest & Loudest ?
 Wallet Finders
Tile Slim
Chipolo CARD
TrackR Wallet 2.0
Size (mm)
54 x 54 x 2.4 mm
37 x 68  x 2.15 mm
54 x 85.5 x 2 mm
Area needed mm2
2916 mm square
2516 mm square
4617 mm square
Color
White and matte silver
White
Dark gray
Bluetooth Range

Up to 100 ft

Up to 200 ft

Up to 100 ft

Volume
82 dB
95 dB
max 92 dB ??
Not sure about specs
Water and Dust Resistance


Know more

IP57 Rated.
Water resistant to 1m for up to 30 minutes.
IPX5 Rated
splash proof
?? Specs not available ??
Battery

Non replaceable battery

Replaceable batteries

 1-year battery (with Renewal program)

6 months

Weight
9.3g
?? Specs not available
?? Specs not available
Best Buy offers

Best Buy USA, UK

pre-order now 
pre-order now
Which is Thinnest BT finder?
First thing to note is that with new launches, Tile Slim will be no longer the thinnest bluetooth key finder !
Although in terms of thickness TrackR Wallet 2.0 claims to have only 2 mm thickness, technically it is the thinnest BT finder as on Aug 2017.
However if you compare in terms of thickness as well as area of tracker, Chipolo CARD scores highest, its thin as well as smallest in terms of area.
Bluetooth Range
Second thing is that Chipolo CARD boasts to have double the Bluetooth range compared to Tile and TrackR, which terns out to be 200 feet.
Battery
First thing is that only TrackR Wallet has replaceable battery, whereas other two i.e. Tile & Chipolo needs to be replaced if battery goes off.
Second thing is of Battery Life, Tile Slim & Chipolo CARD claims One year of battery life as against TrackR Wallet 2.0 has only 6 months of battery life, which is too low in my opinion. (Although you can replace TrackR batteries)
Which is the thinnest and loudest wallet finder?
Of all above looking at the specs available on internet ( as on Aug 2017), we found that Chipolo CARD is the thinnest and loudest bluetooth wallet finder in market.
The launch is planned Early September 2017 for both Chipolo CARD and TrackR Wallet 2.0, lets wait for the same, the first one who gets into the market becomes the worlds thinnest Bluetooth tracker.
Cheers!!