While I was looking for an entry level USB Gaming Condenser Microphone which is durable (do that my kids can use it), easy to set up (plug and play) and still have good sound quality (frequency response), I came across two best sellers on Amazon Fifine and TONOR TC-777.
Both Fifine and TONOR TC-777 USB Gaming Condenser Microphones being available below $50 mark as on July 2020.
So I wanted to find out which one of these two worth for me … I know that my study will surely be useful to you too getting best deal below $50 mark.
I am sure that you have some set expectations at this price range for the sound quality … you want Good sounding but surely will not directly jump to compare them with Blue Yeti USB Mic which will cost it 4 times higher !!
Look for something simple but should look professional which doesn't pick up background noises like keyboard clicks, or TV sounds or minor disturbances and let you record or capture what you speak in clean and crisp fashion.
USB Gaming Condenser Microphone Below $50 – Fifine Vs TONOR TC-777 | Which one to buy?
So to begin with I have put in simple specs comparison table which will help you quickly compare both Fifine and TONOR TC-777 USB Gaming Condenser Microphones at a glance.
USB Gaming Mic

Tonor TC 777

FiFine USB Mic K668

Best Buy – check latest price on Amazon
Best Buy Tonor TC 777
Best Buy FiFine USB Mic K668
Links to TONOR official website
Tonor TC 777
Type
Condenser
Polar Pattern
Cardioid
S/N Ratio
56 dB
More than 36 dB
Frequency response (good for singing, speech and Voice over)
100 Hz – 16 kHz
50 Hz -16 kHz
Sample rate
44.1 kHz – 48 kHz
Info Not available
Sensitivity
-38 dB +3dB
-55 dB +2dB
USB output
USB Type B to Type A
USB 2.0
USB 2.0
Maximum SPL
> 110 dB
Info Not available
Bit Rate
16 Bit
Info Not available
Output impedance
680 Ohm
<2.2 kOhm
Work voltage
USB 5V DC
Mic Size
15 cm x 4.5 cm
13.8 cm x 5.5 cm
Cable length
1.5 m
2.7 m
Foldable mic tripod height
23 cm including mic
Info Not available
Mini shock mount
5.7 cm x 5.2 cm
Info Not available
Plug & Play compatible
Windows, Mac and PS4 (incompatible with Xbox & phones) – Good for home studio, Chatting, Skype,Discord, Yahoo Recording, YouTube Recording, Google Voice Search and Steam
What are the similarities between Fifine and TONOR TC-777?
Plug and Play
Both these USB Gaming Condenser Microphones are simple to setup. In fact no setup needed, no driver installation needed … they are just plug and play type. So easy for anyone to use at any device quickly.
Cardioid Polar Pattern
Just for information – Cardioid Microphones can pick sounds with high gain from the front and sides (They are not good in picking sound from the rear side).
Cardioid microphones are known for their directional sound pick-up which is roughly heart-shaped in nature.
So both these mics are having High-quality cardioid microphone capsule which provides reliable and accurate pickup.
Built-in-Stand
Both companies provide simple and small tripod attachment which is easy to assemble and unfold.
The three leg stand provides stability and you will be able to adjust position of mic.
The foldable stand also provides flexibility of pack and go anywhere.\
What are the
Differences

between Fifine and TONOR TC-777?
Look and Feel
I think one picture is worth thousand words …. just look below and decide yourself 🙂
Needless to say that Toner TC 777 looks perfect while you are delivering a professional online seminar …
It does not occupy much table space still looks perfect helping you gather more followers than you thought of.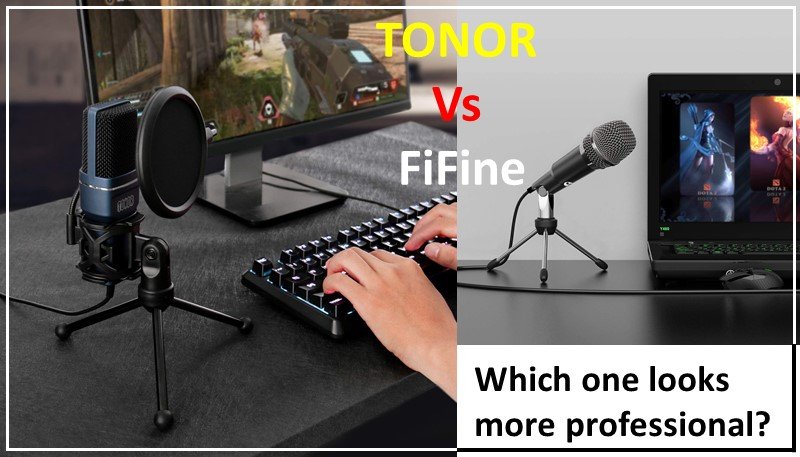 POP filter & windsock 
TONOR TC 777 comes with free Pop filter & windsock.
The 4-inch pop shield which can be mounted on a 7 inches gooseneck attachment will help you reducing sudden pops from sharp sounds, such as the letters P and K.
It is flexible so that you can position it near the mic in any direction.
Windsock will be useful while you use the mic outdoors, specially will help in windy situations.
Mount
Tonor – The mounting bracket can tilt 180 degrees, which allows you to adjust microphone towards your mouth as needed. The mount can be swiveled as well which is very convenient.
Fifine – Has got 90 degree limitation for rotation
Boom Arm (Accessory)
Although TC-777 have its own small tripod stand, it can hold mic to certain height which is suitable for podcasts or use during meetings.
However when you want your mic to be positioned for live streaming of video games, I need the mic to be positioned closer to my mouth and much away from my keyboard.
In such case you can use your TC-777 with TONOR T20 microphone boom arm.
Please note that you can buy this accessory separably
Final words
The Covid-19 has taught the whole world to work remotely, having most of the meetings and conferences over apps like Google Meet, Gotomeeting, Zoom etc.
Obviously using built-in microphone does not make sense since it can't pickup voice clearly and a small investment under $50 will make this happen for you.
Such simple USB microphones will not only help you in meeting vocal communication but also used for gaming, vocal recording, voice-over, streaming, voice recognition, YouTube video, Skype etc.
To me both the mics are durable, simple to use, have good frequency response and sound quality.
So if those who are really too

low

on

budget

can go for

Fifine

which costs $32 as on 01 July 2020 (Check latest price Check latest price
But simply by spending

$8 more

, you can get hands on Tonor TC 777 which is

professional looking

, comes with additional

POP filter & windsock

, rotatable to 180 degree. Check latest price of Tonor TC 777
---
HowzBuy Tips for your mic setting
Microphone not identified

Although these microphones are plug and play type sometimes its possible that they may not be recognized by your computer.
In such case you can go to your desktop >> right-click the sound icon (this icon looks like speakers) >> select "Sounds" >> Select "Recording Devices" and then select Microphone manually.

USB port issue

Sometimes the USB port can have issues resulting into no-detection of your plugged in Mic.
In such case try using alternate USB ports which are generally located at the back of your desktop PC CPU.
Issue can be that the other USB port you used is unable to deliver 5V power required for operation of mic.

Mic suddenly stops working

Sometimes the mic stops working! Its not picking up sound.
This may happen after updating your windows 10 to latest update. Don't worry.
All that you have to do it go to Settings >> Privacy >> Microphone >> Set it to allow apps to access the microphone.

Mac configuration

On your Mac, go to Apple menu >> System Preferences >> Sound >> Input and select a mic

App permissions – On your Mac, click Apple menu >> System Preferences >> Security & Privacy >> Privacy >>Select Microphone (left menu) >> check the box next to an app (e.g. Skype).