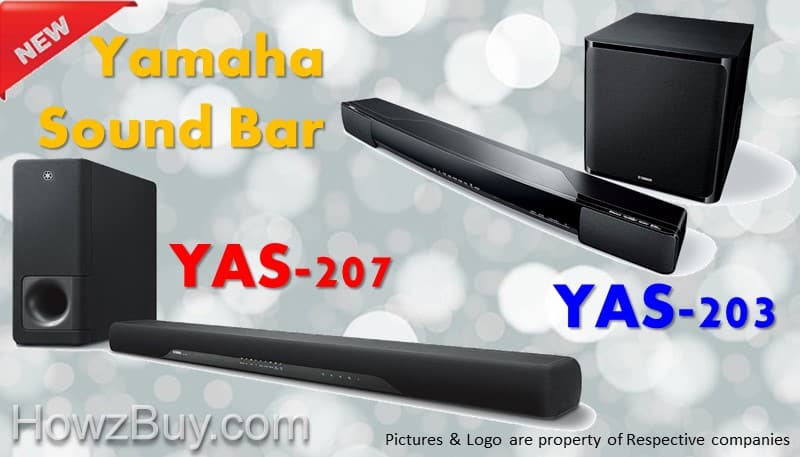 Affordable Soundbars for Home TV:
For over a decade, Yamaha soundbars are well known to strike the good balance in between immersive surround sound for your home TV and the price you are paying for. You need not go for expensive $500 & above home theater systems, but get matching soundbar with wireless subwoofer delivering what you want for a home theater.
Here is NEW Launch YAS-207 Soundbar by Yamaha:
So with latest launch of YAS-207 which is improved as compared to the prior version YAS-203, we will look into what you will get for in the NEW launch soundbar from Yamaha.
Best thing you will get in YAS-207 is immersive 3D surround crystal clear sound with slim profile and while you test the DTS Virtual:X 3D surround-sound mode which activates the audio processing software specially designed to generate realistic surround sound effect without placing speakers behind your ears. You will be surprised to get  room-filling sound in this sleek and slim soundbar.
Lets look at YAS-207 features
Design:
This slim soundbar contains four tweeters and two woofers.
The wireless Sub-woofer is tuned to the main unit's slim design, still capable to deliver significant bass 🙂
Display indicators are positioned at the front of the unit,  which shows the active inputs and sound modes, however the labels are too small to read from the distance, may be Yamaha design team needs to improve in this user interface area a bit by just increasing the font sizes.
Sound Signature:
This ultra slim sound bar is capable of being used to fill-the-room sound with your TV with an extra punch of solid Bass through the wireless sub-woofer.
Listening to News / Sports channels made easy with Yamaha's Clear Voice mode which brings out the dialogues to the forefront. [Other modes available are 3D Surround, Movie, Music and Stereo]
Unfortunately it is unable to handle the Music to the best levels even in the Surround sound mode with new technology, its not to its expectation levels (refer : reviews from websites over internet)
How to connect to my TV:
HDMI:
The new Yamaha soundbar has duel HDMI port which supports 4K HDR passthrough at 60 frames per second.
Only one hitch is that due to pretense of only one HDMI port, you can connect only one video source to it at a time (You may like to use an HDMI switcher if you have more than one video source.)
Digital optical audio,
Analog input from your old sound system or TV using 3.5-mm jack
HT Controller App Support:
Yamaha has provided a free HT Controller app for the iOS and Android users.
App features picking various modes over smartphone and with the app or the remote, you will be able to adjust the sub-woofer volume, however you will not be able to control the levels of the drivers on the soundbar.
Okay, now lets look at the feature and specs comparison with the old YAS-203, where I have highlighted what you will be getting new in terms of hardware as well as cost.
Yamaha YAS-207 vs YAS-203 Sound Bar Review & Comparison
Sound Bar with Wireless Subwoofer

YAS-203 specs

YAS-207 specs

Best Buy Offers
Best Buy
Best Buy
Speaker Drivers
Front speaker system: 2-1/8" cone x 2, Subwoofers: 6-1/2" cone woofer
(Center Unit): Four 1-3/4″ woofers, Dual 1″ tweeters, (Subwoofer): 6-1/4″ cone woofer
Subwoofer Type
Wireless
Bass-reflex (Advanced YST II with Linear Port)
Wireless
Output Power
200 W total power:
50 W x 2 + 100 W subwoofer
200 W total power:
100 W + 100 W subwoofer
Bluetooth version
(Version) Ver. 2.1
(Version) Ver. 4.1
BT Sound Profile
EDR / A2DP, SPP
 EDR (Profile) A2DP, SPP (Audio Codec) SBC, MPEG AAC
Bluetooth Range
33 ft (*without obstructions)
Surround Sound Technology
AIR SURROUND XTREME
DTS Virtual:X
Audio Formats
Dolby Digital, Dolby Pro Logic II, DTS Digital Surround
Inputs
Digital Optical: 1, Digital Coax: 1, Analog Audio: 1 (dual RCA)
HDMI: 1, Digital Optical: 1, Analog Audio: 1 (stereo mini-jack)
Outputs
–
HDMI: 1
App control
Yes
TV Remote Repeater
Yes
No
Learning Function
Yes
No
Dimensions
34-7/8″ x 3-1/8″ (with feet; 3-5/8″) x 4-3/4″ (Front speaker system), 11-3/8″ x 11-1/2″ x 12-1/2″ (Subwoofer)
(Center Unit): 36-5/8″ x 2-3/8″ x 4-1/4″, (Subwoofer): 7-1/8″ x 17-1/4″ x 15-3/4″
Weight
(Front speaker) 6.4 lbs
(Subwoofer) 17.9 lbs
(Center Unit): 6.0 lbs,
(Subwoofer): 17.4 lbs
So whats the bottom line? is Yamaha YAS-207 Good ?
The all NEW YAS-207 at given price-point delivers spacious, lifelike sound for all of your favorite TV shows, movies and games, surely better than spending over $500 for expensive home theater system.
The performance will be great even over multi-channel content like DTS and Dolby encoded soundtracks for music and movies.
I would really say that it provides "Enhanced Realism and Immersion" as said by Yamaha on their website.
I liked specially the Clear Voice mode designed to provide voice clarity in dialogues, super to watch a Sports or News channel.
I think given the budget spent, you can forgive these limitations:
Single HDMI power:
Can overcome using an HDMI switcher
Slightly degraded performance over playing the music tracks:
You can try using a combination of 3D Surround, Clear Voice and Bass Extension to get the best performance during Music listening, that's the best idea.
However if you are still not satisfied and have good budget over $500, check specially designed models like the

JBL Cinema SB 450

.