66 Audi started well with introduction of their headphone model 66 AUDIO BTS Sport which was voted as Best Bluetooth headphone in the year 2015 by mensfitness and appreciated by many more. I can see that in this price-point still today they are one of the top sellers on online websites like Amazon. In this post however I will be discussing two upgrades of original BTS sport model which are BTS Pro and BTS Pro Voice. 
Lets see what is that you will get with the latest launched headphones from 66 AUDIO BTS Series.
I will be comparing three models from 66 Audio – 66 AUDIO BTS Sport vs Pro vs Pro Voice
66 Audio BTS Sports Model
66 Audio BTS Sports models itself is a Lightweight, stylish and ergonomic headset, specially designed for exercises and workouts like running, cycling, skating, boarding or lifting. And they are sweat resistant too to cater the basic needs.
The 4 axis rotation of drivers alongwith flexible headband makes them a perfect fit for sports.
These headphones used Bluetooth 4.0 featuring CSR aptX® audio technology delivering CD quality sound directly to you.
And you get benefits of Multi-point technology, which means you will be able to connect two iOS or Android devices to the headphones via Bluetooth at the same time. While you receive call on either of connected devices, BTS will know and answer the call from appropriate device after pressing the Multi-Function button.
The drivers are customized and tuned using the customized CSR chip.
Voice calls
Headphones are powered by Clear Voice Capture (cVc®) technology for optimal clarity and echo noise cancellation during the voice call. This means you can still talk in windy atmosphere which you face many times on outdoors.
Battery
You get fantastic battery life of over 25 hours of continuous music play with optimizations done by 66 Audio engineering partners.
To fully charge the headphones you need around 2-3 hours.
Controls
Music controls like Skip, Play, Pause, Volume, or taking calls are available at simple touch.
Whats NEW in BTS Pro model as compared to the BTS Sports?
The major differences are –
Look and feel
BTS Pro model is more sleek and contemporary as compared to the Sports model, the control buttons are flattened out fully to make it more slim. What it means is that you will be able to wear them with helmet during cycling exercise.
The material used is silicone duel injected headbands with Satin-finished aluminum on drivers which adds rich feeling to the headphones.
The controls are now covered with a soft-touch rubberized shell to provide a tactile feel. The controls feel soft-click while changing the volume or track and answer a call..
In terms of improved feel, they are now using memory foam cushions and the duel injection silicone material.
The 36 mm drivers are packaged beautifully to deliver rich bass and incredible sound. Further the Customizable
Hardware Based EQ helps you out to adjust the mood on the go using hardware controls.
The studio tuned drivers are capable of delivering full frequency range of 20Hz to 20kHz, which means you get Crisp highs, perfect mids and thunderous bass. Further to that headphones uses advanced pre-equalization and filters that optimizes your audio to avoid peak saturation and distortion.
Wireless range
100+ feet
The Pro (and Pro Voice) models have extraordinary wireless range of over 100+ feet as compared to the prior version (or other Bluetooth headphones in market) which have only 33 feet range.
This is being achieved using a new patented 3D RF antenna technology (Patent Pending) which is one of the best in industry (I will say first time in world using Bluetooth 4.2)
Further the Bluetooth 4.2 ensures low latency, which means watching movies or songs on your iPad or TV is possible without any mismatch of lip movements to the sound.
It is compatible with almost all Bluetooth devices like iOS, Android, OSX, Windows or Linux.
Music playtime
40+ hours
The battery remained same as the Sports model, however with use of low energy Bluetooth and optimizations, the Pro and Pro Voice models are able to delvier whooping 40+ hours of continuous music play. This means once charged you will have no worries for the full week.
USB Type-C connector provides a fast charging just within 90 minutes
Motion Control App for iOS
Real time battery status
home-audio EQ – MotionControl works directly with the hardware to adjust EQ levels in real-time
Find My Headphones (patent pending) is really useful feature, which makes the headphones vibrate and sound themselves for locating or even you can try locating them from your phone.
Whats NEW in BTS Pro
VOICE

model as compared to the BTS Pro?

Major gain in getting your hands over the Pro model is voice-enabled personal assistant – Alexa.

So no more finding buttons while cycling or exercise, but with simple voice commands using Alexa you will be able to play Amazon prime music or search the internet or even order a pizza!

I give more value to this feature since during workouts touching headphones with sweaty hands is not a good thing go think for! So a regular gym goer will be able to appreciate the benefits quickly.

And not only this it will be super useful while you control the smart-home equipment's using Alexa voice control .. Amazing utility indeed.
Sound quality improvements
The Pro Voice features the latest generations of Qualcomm aptX, AAC and the 66 SoundEngine DSP which gives you world class CD quality sound while streaming Prime Music or playing high-bitrate MP3s.
Wireless range extended to 125+ feet
As you know that the Pro featured 100+ feet wireless range, with Pro Voice, the engineers have worked further with multiple iterations to achieve 125+ feet of extended range while the regular headsets crawl on 33 feet standard range!
The patented 3DRF antenna has further improvised to provide 25% more range than BTS Pro, while still reducing power consumption and RF interference. (patent-pending)
Voice Call quality
BTS Pro Voice have ActiveVoice™ voice recognition technology which with its cutting-edge algorithmic microphone processor provides a perfect experience in Alexa voice control.
Obviously this has resulted into improved voice call clarity too.
The Next-generation Noise Cancellation algorithms help eliminating interference from the ambient noises and the improved microphone impedance and sensitivity ensures a crispy & crystal clear conversation.
Improved wearing comfort
In the NEW BTS Pro Voice, company have improved the material design, ear hook extension and the pivot angle too, which results into improved comfort, still maintaining excellent acoustic design.
The user feedback have gone back into redesigning the ear hook design, with material changes, which has taken the latest Pro Voice to the next level of comfort.
66 AUDIO BTS Sport vs Pro vs Pro Voice wireless headphones specs comparison
66 AUDIO BTS Over the ear headphones
 BTS Sport
BTS Pro
BTS Pro Voice
Deals and Offers
Best Buy BTS Sport
Best Buy BTS Pro
Best Buy BTS Pro Voice
Main feature
Cheap
More music time, high BT range
Amazon Alexa, active voice intelligent microphone
Bluetooth version
Bluetooth 4.0 CSR aptX® audio technology
Bluetooth 4.2
Bluetooth 4.2
Bluetooth range
33 feet
100 feet using 3D antenna technoloty (patent pending)

125 feet

using 3D antenna technoloty (patent pending)
 foldable design
Yes
Yes
Yes
Swearproof
Yes
Yes
Yes
Muti-connect (connect 2 bluetooth devices at the same time)
Yes
Yes
Yes
Codec
Qualcomm aptX, aptX-LL, AAC (for iOS devices) and MP3 codecs
Qualcomm aptX, aptX-LL, AAC (for iOS devices) and MP3 codecs
hands-free calling
Yes
Yes
Yes
CVC noise cancellation technology
Yes
Yes
Yes
music playback time
25 hours
40 hours
40 hours
standby time
400 hours
400 hours
400 hours
battery level indicator for iOS
Yes
Yes
Yes
charging time
2-3 hours
90 Minutes
90 Minutes
MotionControl App
No
exclusively for iOS and Apple Watch
exclusively for iOS and Apple Watch
Connector type
Micro-USB
USB Type-C reversible connector
USB Type-C reversible connector
weight
71 g
83 g
83 g
Compatibility
iPhone, iPod, Android, PC and Mac
Includes
premium micro-fiber pouch,
Micro-USB charging cable,
user guide
warranty
1-year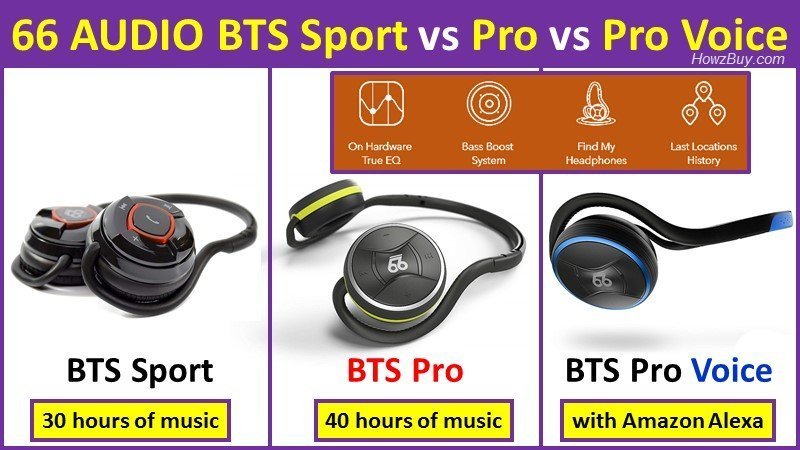 Bottom line
If you ask me, the comparison of three models clearly shows that going for BTS Pro Voice makes a sense, you are not spending high like you will do to get hands on headsets from Sony or Bose, still getting proficient features like Alexa voice control which is a must for gym goers.
40 hours battery and 125+ feet range is unbeatable and really helpful if you want them to wear in a gym, so the phone can still be kept in locker and you are listening to the headphones at any location inside gym rather than hanging in 33 feet range with general headsets.
Further the design and looks are great specially for exercise, be it running, cycling, skating, boarding or lifting.