This Is Hands On The Coolest!
The world's loudest Bluetooth tracker tested!
I am sure you want to know if claim made by Chipolo is true?
Yes, my testing confirms that 'Chipolo Plus is World's Loudest Bluetooth Key Finder Ever'
Click To Tweet
And This Is Exactly Why I Did Some Research
My quest to find out the best lost item Bluetooth tracker began with writing the Comparison of TrackR Vs Tile Vs Chipolo Vs Cube. I decided to test & review each tracker separately and procured the first Chipolo Plus Bluetooth tracker.
---
Update as on 13 July 2017 :
Out of two chipolo Plus I received in March 2017, battery of one Chipolo is died ! but looks like it is due to the abuse testing I did on that. Also later I was using it on my bike where it was continuously vibrating.
Update 11 Aug 2017 : The other Chipolo is working well and on Europe tour as on now 🙂
---
Chipolo vs Chipolo Plus Hands-on Review & Durability Testing
 Tracker

Chipolo Classic specs

Chipolo Plus specs

Deals, Discount & Offer Price
Best Buy
Best Buy
Color
Black, White

7 Vibrant colors

Water resistant
No
Yes,  IP5 rating


Slash proof

Sound level
92 dB
100 dB
Chipolo range
200 feet (60 meter)
I have tasted the range, and it proves to what it says in clear line of eye-sight.
It also works good in my two storied house.
Battery
6-months lasting Replaceable Battery
1-year lasting battery
[Extra 1 supplied free]
[Renewal program, to recycle & upgrade with 50% discount]
Coin thickness
5 mm
5.9 mm
Phone finder
Yes, Press the tracker button twice to ring your phone even in silent mode
Crowd GPS
Yes, Community GPS search available, however the community is not as big as Tile
Warranty
1 Year (with 30 days money back guarantee)
 Tracker
Chipolo Classic
Chipolo Plus
Deals, Discount & Offer Price
Best Buy
Best Buy
Functional tests of Chipolo Plus [Conducted on two units]
I have selected two trackers, one tested onto Android phone and the other on iPhone for functions.
Look & Feel [Great ???]
With super fine texture and vibrant colors Chipolo plus has got premium looks. The company name is engraved on one side of button in glossy finish.
Bluetooth Pairing  [Easy ???]
Its fairly quick & simple to pair the tracker with phone.
One more important and useful thing is that I can connect 9 chipolos at a time to my android or ios device, pretty useful to paste my BT tracker to DSLR, Laptop, Wallet, Purse, Cat & Dog too.
Tip : When you install the Chipolo App for the first time, just reload the Chipolo App in memory (by exiting once) before pairing, this will avoid pairing errors.
Chipolo Tracker Range [Good ???]
It has decent Bluetooth range, as specified it works upto 200 feet as claimed by the company. Also works great inside my two storied house. However inside the office the range reduced to 60~100 feet mainly because of the furniture, walls & human movements.
Ringer Loudness  [Good, Chipolo keeps beeping loudly till you find it☝☝☝]
The company boasts 100 dB sound levels of the tracker, surely if you compare it with TrackR Bravo, it scores 300% more marks (

TrackR Bravo is very difficult, almost impossible to find based on its ringtone

) …
I am sure just fine tuning the ringtone, Chipolo would be the unbeatable tracker device when stuffed inside the Wallet, Purse, Laptop bag,  as on now you can expect very good results by simply attaching it to bag from outside.During test use of Chipolo, while it was left inside my jeans pocket, buried deeply inside the laundry cloths in 5 minutes Chipolo keeps beeping until I find it 🙂 However at the same time I tested it with TrackR Bravo, & till end I could not find it !! in spite of knowing that it is inside my home, so Chipolo is definitely best than TrackR Barvo.

One more thing is that the ringtones are not changeable 🙁 which means I need to live with typical standard ringtone of tracker button.
Finding my phone [Best ???]
With double click of tracker I could easily find my phone, this feature worked great, everyday rather loosing my car keys, I tend to misplace mobile many times ???
I also found that once mobile starts ringing (and I finds it) I can mute it by pressing the tracker button thrice.
Selfie Remote [Wow ???]
I loved this feature, fully functional and useful. I would love to use the selfie remote for normal rear camera too which is not possible as on now. Anyway good add-on-function indeed.
Battery level indication [Needs further Tuning / Improvement ☝☝☝]
Remember Chipolo Plus has non-replaceable battery which shall last till one year, means if you are using the tracker at end-of-battery-life and Murphy's law works ! Surely you will loose keys precisely when battery becomes Dead 🙁 So it is most important that Chipolo should add tracker battery level.
Separation Alert [Good ???]
Fantastic function ! I used it multiple times during my recent visit to the manufacturing plant.
Most of the time I need to carry my laptop on the shop-floor, many times in past I have spent my time in searching my laptop if left somewhere. The separation alert works fantastic, reminding that I am 60~100 feet away from the laptop and my mobile ringer is loud enough to remind me about the laptop bag 🙂 So now I need not keep an eye over my laptop bag anymore 🙂
Tracker Temperature indicator ?
Incidentally in my case the temperature indication is not showing, I will be contacting the support team and posting update after resolution.


Update 20 March 2017 : Initially I thought it is firmware update issue for my tracker, later when I talked to Chipolo team, they confirmed that the temperature indication feature is removed to save on battery life [Change effective from summer 2016]
Device Compatibility [Good ???]
As said I am testing it on Android and iOs only, since Chipolo has already clarified that their tracker does not support to Windows & Blackberry devices, but those OS mobiles are not present in large numbers in market so no worries.
Named location and Silent zones [Good ???]
One more important feature of this tracker, which is extremely helpful for me to set alerts only on locations where I want the tracker to alert me. But as on now I need it both at office and home, so at least in testing phase I have turned off this feature.
Chipolo Classic Vs Chipolo Plus keyfinder:
Chipolo Classic:
Features cheap replaceable battery, and hence over year renewal costs are almost NIL. You need not send the tracker back to the company for replacement.VARTA Battery pack of 10 you can get only for

$14

, means per year you need to spend only $3 instead of replacing whole key finder !!
[indicative prices 

at the time of writing this post

, plz check online prices by clicking the link]
Chipolo Plus:
Features 1 year lasting non-replaceable battery like Tile, mainly giving advantage of IP5 rated water resistance. However you will have to spend

$13 extra per year

for the tracker replacement, and most important is replacement time too! Honestly I didn't like this feature from Chipolo or Tile! Rather I would like to plastic machine wrapping the Chipolo Classic to attain some better level of water resistance.
[It will take some time, but I would post some photos of how the plastic wrapping can be done]
Tests planned on Chipolo Plus and further update
First thing to check will be the basic intended function of tracking the keys, needs validation with Android & iPhone.
Second task is to check if put on to durability test, the tracker still functions as intended. Imagine situation where the key falls on ground and tracker stops functioning due to soldering of inside electronics given away ! or the key falls on a drizzling road, will is sustain to IP5 ratings ? All such things must be tested so that when really required tracker functioning shall happen.
There can & will be conditions in which the key tracker is put on to abuse, like the key dropped on floor and someone simply steps onto it !! or in drizzling the tracker gets submerged to water for few minutes ! can you listen to tracker buzzer during that time ? So abuse test also needs to be done to make sure that it functions in abuse also, if not at least you should be aware of the risks involved in tracker use.
Scratch test, anyway some part of the scratch test shall happen during one month of usage, however we will check scratch resistance with separate test.
Water splash test
Vibration durability test
Repeated Floor drop test
Repeated Sofa/Bed drop test
Remaining battery life, this shall be updated on the same blog-post over time span.
Repeated button operation test
---
Test Update 17 April 2017 : We finished Durability testing of two Chipolo Plus units
(Draft Testing Chipolo Video uploaded to YouTube Click here to see it)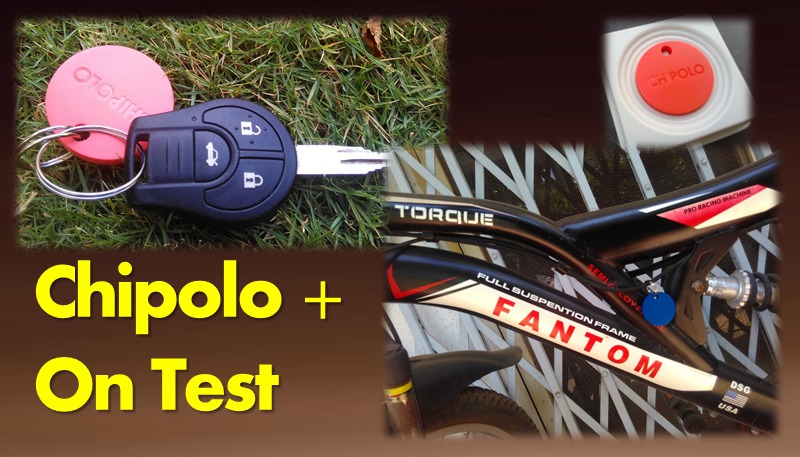 Water splash test
Chipolo Plus is rated as IP5 Ingress Protection Rating, which means Chipolo Plus is Protected against low pressure water jets from any direction & Limited water ingress permitted.
As per standard, object has to be subjected to jetting water via dia 6.3 mm nozzle [flow rate 12.5 L/min] for one minute from a distance of 2.5 to 3.0 meters.
We conducted practical water splash test, considering light rain shower / drizzling, flow rate was 0.5L/min for 20 minutes delivering 10 Liters of water, logic is that you will be able to go-to the safe place within few mins.
The unit lasted and was ringing after the Water Splash Test.
Vibration durability test
We did shaking and shocking of Chipolo
Test 1 : Single axis Z, at 1G 25Hz~75Hz, 10 hours
Test 2 : X,Y,Z Free Free shocks severe vibration test for an hour
The unit lasted and was ringing after both vibrations tests, which shows reliability in terms of build and the soldering done on electronics. We are sure on ability of this device to sustain car, air travel, bicycle vibrations.
Repeated Floor drop test
Considering that Chipolo tracker may get dropped say at airport, which will happen a simple free fall on the floor, and in case the electronics inside breaks, the tracker will simply stop working.
Assuming that the unit will last for one year of lifetime, we calculated 1 drop on floor each week, hence the unit simply dropped on the floor (alongwith keys) for 50 times. Yes, it lasted the test.
Repeated Sofa/Bed drop test
Now this is one more situation when each of you simply throw your car keys when back home, mostly on sofa or bed ! Again considering 2 drops per day, we conducted sofa drop test for about 500 times. Yes, the unit worked !!
Repeated button operation test
Obviously since I began using Chipolo tracker, I used it many times to search my mobile rather than the keys !! So it was evident that the unit has to be checked for durability of its button. Considering button use at least 2 times a day, we tested button operation for 700 times. And yes the unit lasted.
Heat test
While the summer is ON with outside temperatures over 100 Fahrenheit, we kept the unit inside closed car, exposed to sun for full day.
Chipolo Plus two units survived after all the above durability tests (Video shall be uploaded by 20 April, stay tuned) – Test results as on 17 April 2017
---
Test Update 4 April 2017 :
I am using Chipolo Plus since last one month now, last week I traveled in hopping flights, so kept one Chipolo inside Check-in baggage, believe me, while on seat inside the Boeing aircraft, Chipolo detected luggage in 4~5 seconds 🙂 .. in the next hopping flight I could simply confirm that my luggage is transferred from the previous flight. Both times it worked perfectly, detecting luggage in few seconds.
At the same time I also tested TrackR Bravo, kept in the same checkin baggage, however TrackR Bravo simply could not detect luggage at all !! See Chipolo vs Trackr
Also when I compare the sound level of TrackR Bravo vs Chipolo, I can say that Chipolo key finder is very much louder than TrackR Bravo.
---
Based on testing HowzBuy.com recommends buying Chipolo Plus key finder 🙂
Disclaimer : HowzBuy.com has received two Chipolo Plus Bluetooth key trackers as FREE evaluation copy. Our evaluation will be to the best of our engineering knowledge. Complete durability testing is planned and the review shall be updated time to time by us.
Soon I shall write review on chipolo plus vs tile, just awaiting for my tile key finger which is ordered.
Further Improvement suggestions to Chipolo team
Separation alert distance setting
It will be good idea to add an option to set separation alert distance. Sometimes the large distance creates an issue and I want to narrow down the separation alert to say only 50 feet !
Speaker blocking if lying on single side
While the tracker button lies with speaker down, the ringer loudness reduces to some extent. Adding duel speakers or duel openings on both sides of tracker would address this issue to some extent. Or alternatively adding speaker openings on the sides of tracker would help.
One more option can be to add convex shape to the tracker speaker side, which will ensure that the speaker remains open and loud even lying on speaker side.
Finding in dark
You must have seen many remote control buttons are made to glow in the dark, I suggest to use pigmented plastic giving glowing like radium and fluorescent color
One more option can be adding an LED blinker, of-course one has to take care of the battery energy balance sheet to last it for at least 6 months to an year. To do so, you may think of having BT signal at typical intervals rather than keeping it on all the time like we do as packet data transfer & switching.
Adding reflective tape does not seems to be very good idea, but at least it would help to some extent.
Magnetic Charging
Why not to have magnetic charging that many earbuds provide ? The technology needs to be challenged, this will allow to make the tracker more loud and clear than it is today. Any further help needed to develop it further we are here to help you out. One of our lead was Electronics head, developed many gadgets over years and now is CEO of one of the industry.
Low battery warning
It is must to have low battery warning, for both Classic & Plus models, as said earlier in my case mostly Murphy's law works, losing things precisely at time when tracker battery is dead !!
Changeable ringtones
As the ringtone is as important as the dB level, so as the selected frequency can stand out of the crowd, specially in busy garden or on shop-floor. In fact as the standard ringtone dampens down when kept inside the purse or wallet or laptop bag.