Someone said that the New $19 Funcl W1 or Funcl AI are Airpods killer! Is it really true, can any earbuds on this earth beat the Apple real Airpods? Honestly someone can really try to mimic Airpods but will never be able to beat them and that's the truth. However when it comes to the price-point, surely instead of spending $159 (as on Dec 2018) and loosing the earbuds during the travel is not a good idea, but to get some alternative which is really dirt cheap and looks like an Airpod is really acceptable to me 🙂
I am die hard fan of Apple and own Airpods, however while I am on move, being tiny sized pair there is always a fear in my mind of loosing the costly pair of earbuds. So need to keep reminding myself putting unnecessary burden!
And that is the reason I use an alternate pair of earbuds only for travel, where I can use them without thinking much about the sound quality, remembering that I have an Airpod pair at home to enjoy!
Although the good ones like Bose SoundSport Free or Jaybird Run terns out to be too costly as an Airpod alternative and does not serve my main purpose of fear free travel. And cheap alternatives does not deliver good sound quality or poor connection or not durable or does not look good! Some of them have older Bluetooth 4.0 which generally causes latency while you watch video on iPad.
In this quest I got the news of latest startup launch of two types of earbuds by Funcl – W1 priced at $19 and AI priced around $54 (as on 9 Dec 2018) So decided to compare them with the original Apple Airpods in terms of specifications and features.
Let/s see if its really worth alternative (at least for travel purpose)
It is clear that the AI design looks inspired by Apple's AirPods, showing the elongated legs (sticking out of ears)
Well they look like an Airpod but does not cost like an Airpod …
They deliver fantastic battery life …
Lets scheme through simple table and then goto each feature comparison, finally conclude …
Funcl W1 + AI vs Apple Airpods Specs & Features comparison table
Company

FUNCL

FUNCL

Apple

Bose

Jaybird

Model

AI

W1

Airpods

SoundSport Free

Run

Indicative Price
$54
$19
OFFER Price
$159
$199
$179

Indicative price above is as on 9 Dec 2018, check in below links the latest prices

Buy on Amazon

Amazon

Amazon

Amazon

Buy on Company website

Apple website

Bluetooth
5.0
5.0
–
4.2
4.1
Optimized Latency
60ms
150ms
100ms
100ms
60ms
Control Type
Touch
Touch
Tap
Click
Click
Audio Format
SBC / AAC / aptX
SBC / AAC
SBC / AAC
SBC / AAC
SBC / AAC / aptX
Waterproof level
IPX5
IPX5
IPX6
IPX4
IPX5
Playtime
6.5h
4.5h
5h
5h
4h
Total Battery Life
24h
18h
24h
15h
12h
Single-Ear Mode
Yes
No
Yes
No
No
Microphone
Yes
Yes
Yes
Yes
Yes
Automatic on/off
Yes
Yes
Yes

No

No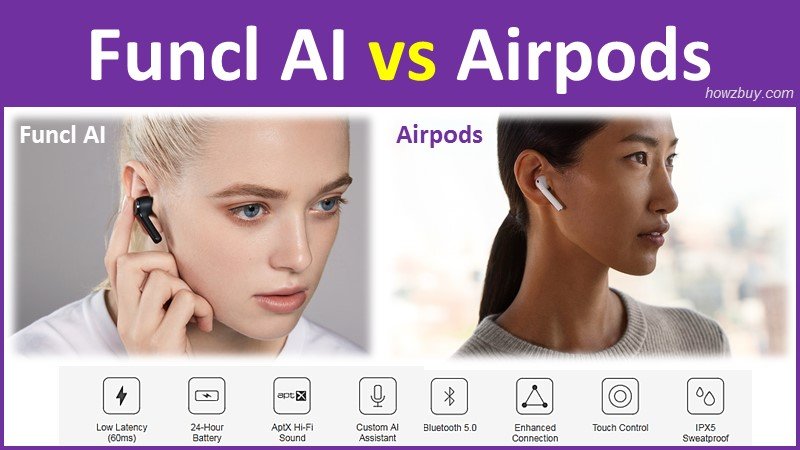 Smart Features Funcl vs Airpods – Good
Funcl AI is designed with many smart features which a wireless earbud needs for …
As an example, when I take it out from the case, it automatically turns ON and then connects within no time with my phone 🙂 Obviously it turns OFF after putting down in charging case.
The AI are equipped with touch controls over the conventional physical buttons which is really a good idea .. you know, no one prefers to press the tiny earbuds against the ear canals! its not comfortable at all.
So the touch controls offer to trigger Apple Siri or Google Assistant, super feature indeed or control the music and answer/reject calls.
Another great feature copied from Airpods is the single ear mode, which is super useful, when you keep one earbud on charging while you use the other, again a good to have feature for a frequent traveler.
Sound Quality – Acceptable
Mind it that even though AI are equipped with the latest Realtek® chip, the audio quality from the Funcl AI can't beat the Apple Airpods, the music sounds acceptable, you get medium level bass & the mids aren't as clear, however at the one tenth price they sound really good to me.
However what I liked the most is AI earbuds are AptX enabled, which means the audio codec delivered is without any latency. So watching movies and videos on iPad during travel will be really a fun.
[Company claims 60 ms latency which is equivalent to Jaybird Run and better than Airpods]
Again and again, they will never beat Apple Airpods for sound quality and latency, but the price beats every lacuna at this time.
The CVC 6.0 noise cancellation makes the AI earbuds super useful on noisy environments too.
Battery life – Fantastic
As per specs, the AI beats all the comparison earbuds in market, with claims of Six hours music time, they are the tiniest earbuds lasting longest.
Main positive point is to get them fitted inside the pocket with rocket powered battery life … too good to believe ..
Six hours is more than sufficient for all my travel needs.
Gym & Exercise?
While you think on using the earbuds on exercise, first thing is to think of sweat protection which generally damages the earbud circuit (since the sweat is corrosive)
AI are IPX5 certified as compared to IPX6 of Airpods, but IPX5 certification is more than sufficient to resist the Sweat or the drizzling rain showers.
Bottom line
Well what I miss in the AI earbuds really is the Auto pause feature which is one of the good to have feature for a frequent traveler like me.
However considering that my main purpose is to get a cheap alternative to Apple Airpods which goes well with my iPhone and iPad, I will surely prefer to try out these new AI earbuds which also gives me an edge in terms of extended battery life and latest Bluetooth 5.0 technology.
They can make a perfect budget gift for someone you love.
Yes, spending $19 Price – Too Good to be True! these new earbuds are worth given a try!
Note:
AI product design and manufacturing team is based in Shenzhen and launched this beautiful pair of earbuds via the Indiegogo campaign. Currently the product is offered on Indiegogo website and company is continuously improving the product hardware, software, and firmware based on user feedback's. So it may be a good idea to wait for some time before buying.