My dad still loves his age old car from his golden times. He still gets hands on it at least once a week. So during my last visit he asked me to check if there is a way to install a Bluetooth system in his car for his fabulous vintage stereo system!  As a modern age man I never thought that there can be electronic gadget in this world without a Bluetooth capability! Hey mann … everything in this world obviously have Bluetooth, a mobile phone, a smart watch, music players and surely the car stereos too!
Anyway its dad's wish, as a good boy my task was to make it happen!
So I began exploring different ways to add Bluetooth to his car stereo by simple means, I mean it should not be too complicated for him to operate and use. Something like a plug and play, not too technology freak.
For integration of Bluetooth to his car stereo I thought of two things – First thing, that he shall be able to play music from his mobile phone to the car stereo speakers and Second he shall be able to talk in hands-free mode. Generally he does not like to use hands-free mode rather prefers to stop his car on the road-side and speak safely. But I thought when I am on countryside driving his car, it might be helpful for me!
Now after preliminary research I came to know that there are different ways depending upon if the car stereo has a 3.5 mm jack port or its old cassette player etc.
So I called dad to check if his car stereo had a 3.5 mm jack port or not? And the answer was "My car have 3.5mm jack port but its cigarette lighter 12V port is not working" Further he added that his friends car has got 12V socket but the stereo does not have 3.5mm port! So now he needed two different devices, with and without 3.5mm jack port support! and with / without 12V socket!! No prob .. technology has answer to every problem.
So here are different options I found for converting the old car stereo of my dad's car.
Option 1 – for my Dad's car which does have a 3.5mm Auxiliary port but no 12V working socket
First cheapest option was to use a simple 3.5mm audio cable which plugs into car stereo and dad's mobile phone. This option I tried, but small issue was there that his car do not have any pocket near the stereo where he can keep his mobile phone, nor the tapered dashboard was permitted to hold mobile.
The place for keeping the mobile is in the car door pockets from where the 3.5mm audio cable was crossing the steering wheel! Also one more problem with this option was using it in speakerphone mode! it was almost impossible to switch mobile to speakerphone mode while driving as well as the audio quality was not clear from a distance.
Well this was tricky indeed! So I further researched beyond an audio cable and found options with Bluetooth or FM transmitters which can directly connect to car audio through FM channel but they needed 12V supply to operate.
So I found one good option which does not need a 12V cigarette charging socket, and can be charged separately at home using standard micro USB mobile charger and do have 3.5mm jack connection which can go inside the car stereo jack port.
One more benefit was that my dad was also able to use it at home for connecting it to TV set and listening to his favorite channels on his headphones.. he is really happy.
All that you have to do is Charge it separately and keep ready to serve music for hours. It can have multiple uses but my dad is happy using below two functions ..
Plug in car stereo 3.5mm jack in receiver mode : When my dad wants to use it inside his car, he plugs this Audew receiver into 3.5mm jack of car stereo and then connects the mobile phone to the receiver, now he is able to play music or take calls in hands free mode.
Plug in home TV set 3.5mm jack in transmitter mode :
My dad has old TV set (which he do not want to change either!) which does not have any USB port nor Bluetooth capability. So this small gadget works fine since it does not need an USB to charge this unit while working and gets attached to the 3.5mm jack.
So he has learnt using it with home TV in transmitter mode, where the audio signal from TV is transmitted wirelessly to his headphones and he need not worry about my mom shouting for watching his favorite movies late night. (and mom is happy since she need not listen to the loud music from TV during goodnight sleep) I think this particular model has something called as low latency, which means there will be no lag in the leap movements on the TV picture and what you are listening, it synchronized them perfectly due to high transmission speed.
Just for more understanding I am giving here simple diagram showing what are the possible connections to this gadget called as Audew Bluetooth Transmitter & Receiver .. which you can use in multiple ways, not only for the car stereo but also the TV set.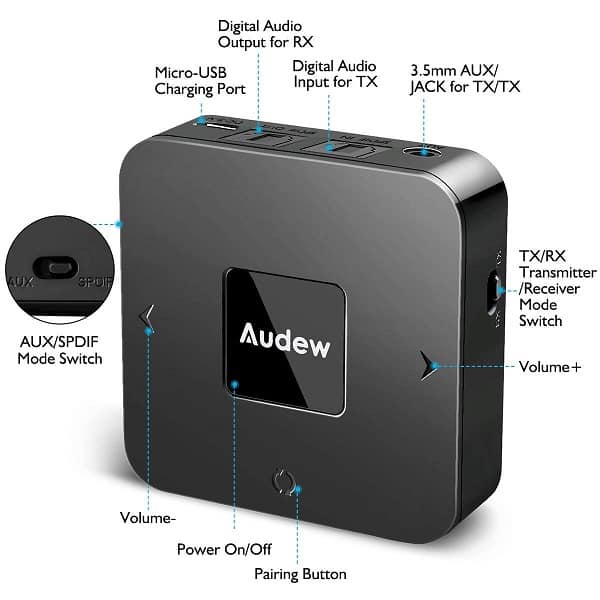 Apart from these main benefits you can connect it to old MP3 players, Audio output from old home theater system or even a desktop computer or laptop. Since it works both as transmitter or receiver it has these multiple uses possible.
Mainly I liked this gadget because it can be pre-charged and need not have a USB port on TV or Car, also it sustains more than 15-20 hours in a single go, more than sufficient for a weeks use for my dad.
Just for info I am giving you the Amazon product link to AUDEW Bluetooth Transmitter Receiver, if you wish just check for it.
Now lets move on to the next find where my dad's friend wanted something that works on his 12V cigarette socket but did not have any 3.5mm jack port to his stereo system! So for me challenge was to locate a gadget which will work on 12V and transmit signal to the car radio through FM channel.
Option 2 – Dad's Friends car with 12V charger socket, but no 3.5mm jack!
Here also I got very good option, where I was able to simply plug in the gadget into car 12V socket and then connect to the car Radio via FM transmission, super .. no wires needed… No complex installation .. just plug and play .. easy to use .. All that you have to do is tune your stereo's FM tuner to the correct frequency of this transmitter and you are ready to go.
But unlike the Audew transmitter receiver, here I was able to get option of only receiver … I mean this was purely meant for car use and not home use (like for Audew it was possible to use for home TV etc) ..
Anyway here the main motto was to work with car radio having no 3.5mm jack .. so best part was it was able to use FM receiver from the car radio …. I researched for it and finally bought Nulaxy Bluetooth Car FM Transmitter Audio Adapter Receiver which had almost more than twelve thousand user reviews …
Now surely this is slightly fancy gadget which directly plugs inside the 12V cigarette socket of car, gets powered and when connected the mobile phone, transmits signal to car radio system through FM. Further this Nulaxy Bluetooth Car FM Transmitter Audio Adapter Receiver has got fancy big screen display for ease of reading (specially for the old age persons) and the big multi-function knob found quite useful for easy operations while driving.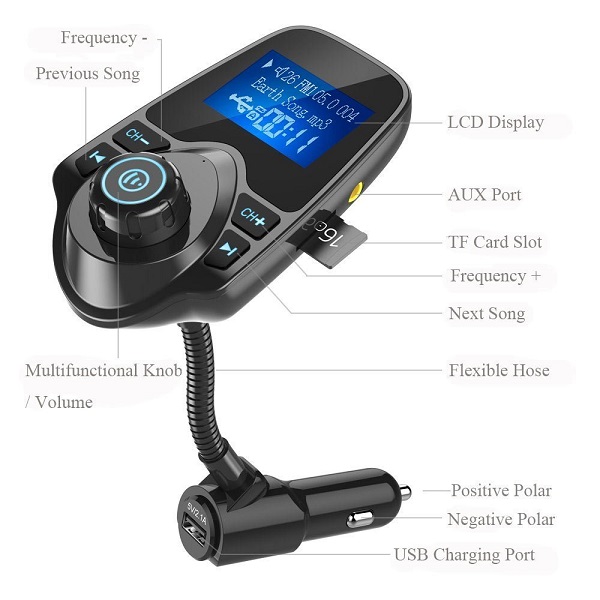 Specialty of this Universal Bluetooth car kit is that it will work with any car radio and very easy to setup .. and no wires needed at all.
This universal unit is able to play music from mobile to stereo, take hands-free calls, control music and one more important thing is that it tells you the car battery voltage! I think this last function will be pretty useful  during winter season when the car battery tends to go down below recommended levels and you need a jump starter.
Again only for info I am giving Amazon product link of Nulaxy Bluetooth Car FM Transmitter Audio Adapter Receiver
I have ordered this universal Bluetooth kit and waiting for the delivery … and the Audew gadget I already have and my dad is using since last month …
Now these Bluetooth receivers are also available in other versions such as
– 12V powered ( I have already ordered it as mentioned abobe)
– USB powered (Many options available which then needs a adapter that goes inside 12V port giving you USB o/p)
– Self battery powered ( This one I already bought from Adew for my dad)
Okay now what are other options which I though of but finally discarded?
Option 3: Car Cassette Adapter (The Cheapest Option!)
I did not use this option, but found fabulous if your car is really from stone-age having the forgotten cassette slot and no 3.5mm or even no FM radio at all .. Pure cassette player ..
In such case where you have only a cassette slot to the music system I found this super-duper option, simply insert this Universal Car Audio Cassette Adapter into the slot and connect your mobile phone to it using 3.5mm audio cable.
These gadgets simply transmits the audio from mobile phone to the tape heads thus playing through amplifier of system and speakers. This provides decent audio quality, at the given price. (mostly below $10)
This Universal Car Audio Cassette Adapter looks something like shown in below image…
Option 4: Use a portable Bluetooth speaker in car
Now this is very simple option wherein you can simply use existing portable Bluetooth speaker at home, which comes with Li-ion chargeable batteries (no need of 12V socket) and can be simply used to play music from your phone or USB stick as well as take calls using the speakerphone capability.
Or you can get a brand new portable speakers which are abundantly available from in market. You can attach the BT speaker using some clip to the windscreen or sun visor (just google it and you will get many options)
But this also is not that great option, since it feels like a makeshift arrangement and you need to carry speaker in and out of the car!
But I further found that some companies has made a visor speakerphones for car! It looks something like shown in below photograph, although I did not opt for this speaker, if you wish you can simply check more details on Amazon, Bluetooth Visor Speakerphone Car kit
In short as seen in photo, this simple gadget gets clipped to the car sun visor, gives around 20 hours of talktime, you can call directly using hands-free capability, provides crystal clear voice calls. However when I checked on 12 July 2018 it was costing somewhere around $55, so I dropped idea of buying this.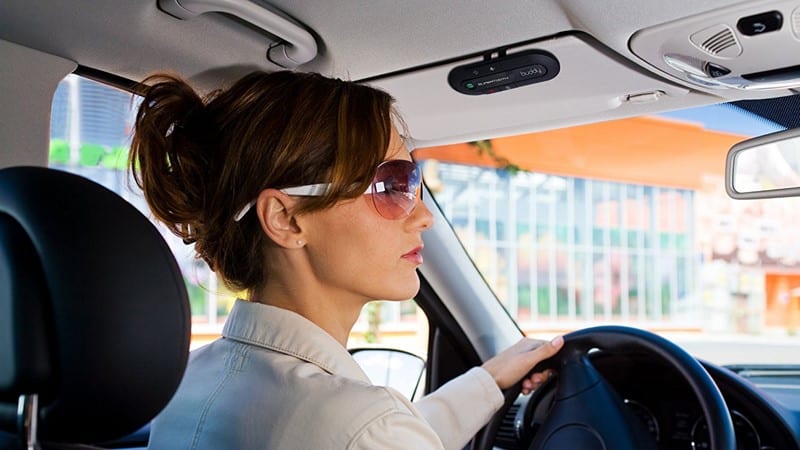 Option 5 – Replace old system with a brand new stereo with built-in Bluetooth capability [Aftermarket stereos]
First thought came to my mind was to replace the old car stereo with new latest one with Bluetooth compatibility, but I dropped this idea since I did not like the idea of throwing the old vintage look of car dashboard as well as I found that these systems are pretty expensive.
So I simply dropped this idea.
Now lets look for an option which is feasible if you already owns a portable BT speaker at home.
Finally How Much did it Cost to Add Bluetooth to a Car?
I will say adding Bluetooth to my dads car was fairly affordable, the AUDEW Bluetooth Transmitter Receiver which I chose and used costed me somewhere around $25 only. (price as on 12 July 2018)
The second option that I chose for my dad's friend which was wireless receiver from Nulaxy company costed me something around $20 (price as on 12 July 2018)
The option of using visor speakerphone kit was costing somewhere around $55, which I felt slightly expensive than other options, so I dropped this idea although this option looks pretty techy and trendy when fitted in car.
For the other options like changing complete car stereo system with latest one costed somewhere around $150 to $600.. As said I did not go for this option since it was fairly costly and also I wanted to preserve the old and gold music systems in old cars. Further there would be rework and wiring needed in the car, which would have costed me more (you know how costly the labor is in US?)
So I am sure my efforts to convert my dad's car to Bluetooth enabled has resulted into nice research study for all of you who want different ways using the aux or cassette or 12V socket or even completely different like sun visor speakerphone. I would really like to know which of the above options did you use?
Ouch! I forgot to mention that before I went ahead fitting this hands-free system in my dad's car …  I did some research on Restrictions on cell phone use while driving in the United States ..
I am not so sure but after study of so many state laws, I could not locate clear directives .. However with reference to this Wiki Article on cell phone use during driving I narrated that using handheld phone will be definitely a problem but using phone in hands-free will be acceptable (again texting not allowed in most of the states)
But what I concluded is installing hands-free Bluetooth kit will surely be not an issue for me or my dad.
Hope this helps!
Cheers!!
How to install Bluetooth in my car stereo : 5 Quick & easy ways