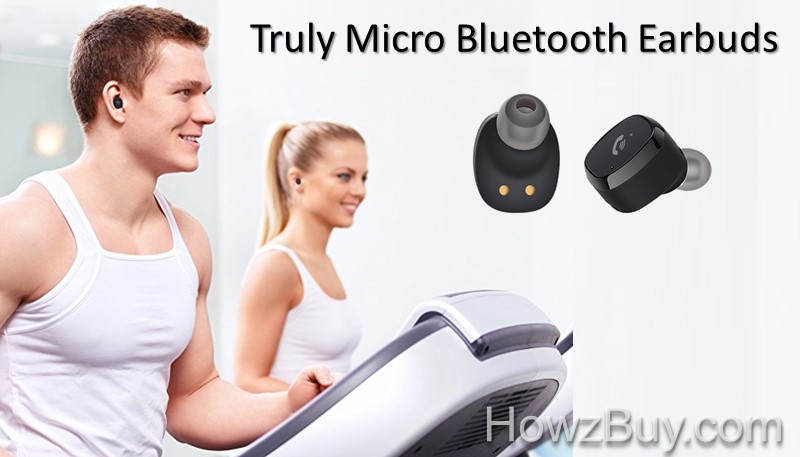 Welcome to the world of ear buds where there is a competition of being super light weight and micro size.
Each technology upgrade provides you a chance to go miniature, in case of FLAGPOWER D01 (Airoha) AB1526 a super small tiny advanced chip has done miracle of making them micro sized ear buds in market.
---
40% DISCOUNT COUPON

 for HowzBuy.com Readers

Use Claim Code
9GWA7VXX
Start Date
2018-4-26 09:00 PST
End Date

2018-5-26 23:59 PST

Original Price
28.99
Discount
40%
Discounted Price
$17.39
---
Why to choose these Super tiny micro earbuds ?
Well if you are a fitness freak, you ought to be looking for a perfect workout partner which is obviously an earphone, to listen to music or take calls.
The ear buds must be small enough, light weight and sweat proof so that you can wear them comfortably during workouts & movements. One more advantage of being tiny is simply you look good wearing them !
Here is a brand new option for you, spend few dollars to try these Flagpower D01 earbuds … I am sure you will love these wireless freedom with comfortable ear fit options. Further the Noise and Echo cancellation delivers perfect call quality.
These earbuds are most suitable for:
Workouts, Exercise, Gym, Running, Jogging, Hiking, Commuting
Office use, listen to music while you work and no-one notices due to its tiny shape
Use during car driving
Listen to the recipe while cooking using these tiny ear buds
Micro Bluetooth Earbuds by FLAGPOWER
[Hands On Review]
Design
Look & Feel

The earbuds are placed in a slick, smooth, and posh looking charging cylinder. To take the earbuds out, you just apply a little pressure to push them out.
The earbuds themselves are fairly small, along with the container/charger which you can easily fit into your pocket.
The earpieces are very smooth and feel durable, enough to survive several drops to the ground.

Good ergonomics

Provides secure fit to ears, Personally, the rubbers are too small and refuse to stay in for long periods of time, and will fall out in time. This, however, can be solved using larger or smaller rubber pieces provided within the box that the earbuds were sent in.
[You will get three sizes of L/M/S adapters, try and choose the right size to ensure a good fit and seal to your ear canal. Remember this will ensure fall free fit as well as provide good sound quality.]
Suitable for long time wearing
Suitable for sports activities [does not fall out]

Lightweight
Sweat proof [Good for sports and gym exercises]
You can choose from several different sizes of included earbuds for a precise and customized fit, so they'll stay attached whether you're hitting the trails or the gym.
Sound Quality
Surprisingly, the Sound quality is very good. I tested through several different genres of music, and it performed very well in each test. I was very happy at its performance with songs that included heavy bass, and drums. The bass can be felt within the ear, and unlike other earbuds, actually can hit very low notes without making a ringing noise or vibrating.
Considering the tiny sized ear buds will also have small drivers, the sound delivered is more than sufficient.
To get good results, choose right sized ear adapter, better seal you get to the ear canals, better listening experience you will get.
How do I charge them?
The charger for the FLAGPOWER earbuds is one of the best I have seen. Rather than charging the earbuds, you charge the cylindrical container and place the earbuds inside. You can place the earbuds inside the container to charge them while plugged into a mini USB wire, or if the container is fully charged, you can charge the earbuds without a wire on the go! It really helps when you are going to use the earbuds for a full day of use, and don't have the time, or have access to a charging port. The earbuds will stay inside the container unless pressure is applied to them to push them out. You shouldn't have to worry about them falling out, but my only worry is that if you break the container, there is no way of actually charging the earbuds unless a whole new container is purchased. Maybe an optional wired alternative wouldn't hurt.
Use supplied Smart Charging box accessory
Charge the charger box via micro USB
Simply Click in the buds into charger box like a pen for charging!
Talktime & Music playtime?
 For a full continuous use of the earbuds at full charge, they last about 5-6 hours. This may seem fairly low compared to other earbuds on the market, however, the wireless charging with the container provided can really help keep the earbuds alive without any wires. I was able to use the earbuds for 3 full days with small charging breaks for about 1 hour until the charger finally lost all its power. The charge of the earbuds is nothing to worry about.
Time to full charge the ear bud is 1 hour to get talk time of 3 hours !
Standby time of around 2 days in one full charge shall be sufficient for weekend trip

I will be posting actual test results on talktime after 15 days of testing
Compatibility
Uses latest bluetooth V4.2 + EDR technology which means it supports low energy profile
It can be connected to wide range of smartphones including iphone, ipad, ipod, macbook, apple watch, laptop, computer, android phones
How to Pair?

Press the MFB for about 3 second untill flashes blue light [Or you will hear 'Power on']
Repeat this for both ear buds [Right one is the main]
Both will get automatically connected to each other [Blue light will begin flashing – One flashes quickly and the other one flashes slowly]
Listen to audio confirmation "Left channel and right channel"
Now search them from your smartphone and pair.

One of the only problems I have with these earbuds is the connecting of them. On a first connection, they work just fine. You can hear music from both sides, and there are no problems. However, trying to connect to them once they have been paired with a phone can be a problem. Sometimes, when trying to connect back, the phone will only connect to a single earbud and will refuse to connect to the other side. This problem can only be fixed through my experience, by completely disconnecting them and forgetting them from your device, and reconnecting them through pairing mode. Though only a slight problem, I still found it a hassle doing it almost everytime I wanted to reconnect. Other than this, I found absolutely no other problems with the Bluetooth.
Micro Bluetooth Earbuds Specs
FLAGPOWER Mini Bluetooth Earbuds

Bluetooth Version
 v4.2
Supports dual mode with low energy profiles
Bluetooth Protocol
A2DP\HFP\HSP\AVRCP\SPP
Bluetooth Chip
(Airoha) AB1526


Read more info

on this super small tiny advanced chip
Range
10 meters (33 feet)
Microphone
2-Mic for better noise reduction and echo cancellation
Talktime
Standby time
1000h
Continuous Call Duration
2.5h
Battery
Earphone Battery Power Capacity
50 mAh
Power Bank Capacity
650 mAh
Charging time
1 hour