Helllooooo Ladies!!
Waiting for your Prince Charming is a complete exhausting business. Haha well for me my so called "Prince Charming" is probably stuck up somewhere and so why should I waste time until then?
So here I have found my FOREVER Love with the NYX Soft Matte Lip Creams.
For a long time, I was searching for something that could suit my medium skin tone. And I have definitely found my rescue. NYX soft matte lip creams are my cult favorites.
These have unbelievable opacity, intensity that are missing in most of the lipsticks and not to forget its ability to lasting long. Initially I was hesitant trying them on as many of the Liquid Mattes were a massive turn off for me. But now I will definitely stay loyal to these babies.
NYX Soft Matte Lip Cream follows an unusual trend of naming their Creamy shades after the cities around the world. They are beautiful shades with amazing textures to die for. It outpours a surge of creamy textures and sets to ravishing matte look. It is not surprising that this impressive formula is a fan favorite.
"It is not a Lipstick, nor it is a gloss. It's nothing like you've experienced before, it's lipstick cream that goes on Silky but looks soft matte" – NYX
NYX Soft Matte Lip Creams Review [Hands-on experience]
The amazing Shades are to long for & not to miss the Amazing Texture.
The NYX soft matte lip cream has amazing colors to easily fall in love with.
We'll start with one of my Favorite colors, which tops the list. NYX Prague Soft Matte Lip Cream
This color is like going on a Treasure Hunt and finding Gold. The product is slightly different from that you see online or in any photos, but believe me when you receive it, you won't be disappointed. The color Prague is a beautiful fuchsia pink and a single application can do miracles on that "no-make-up" day.
I usually prefer applying Prague with minimal makeup. And with minimal makeup I mean applying my favourite and best eyeliner and  NYX Prague Soft Matte Lip Cream , with this I am ready to kick start my day.
Next up is NYX Milan Soft Matte Lip Cream.
The beautiful pink nude is definitely an all-time favourite to all the working ladies, who would like to keep it simple and sweet for the daily wear. If you want a natural look go for this color.
And last but not the least NYX Seoul Soft Matte Lip Cream.
This is my bubbly color, which I usually wear for my summer outings. This grape shade is cute and I would recommend this for all my viewers who are energetic at heart and are looking for a ''not so traditional'' color to be included in their collection of cosmetics.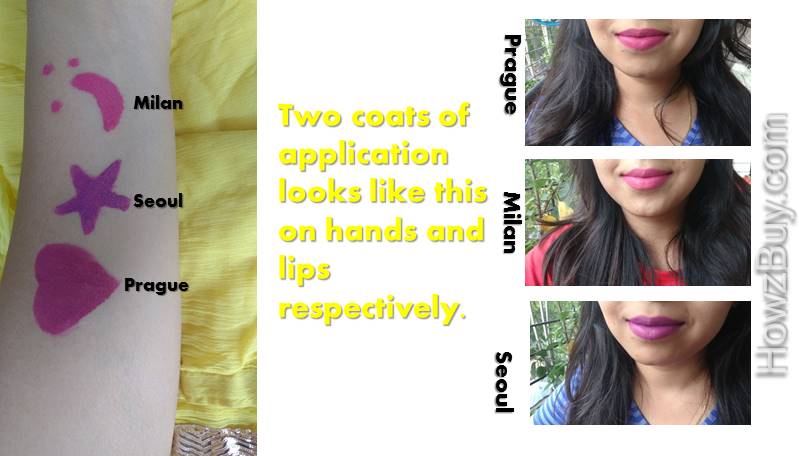 Easy and smooth Application
This lip cream has a perfect tip applicator which helps in the smooth application in one stroke! No wait, not one stroke but Two strokes enhances the color richness for me. For those who prefer nudes can prefer applying one stroke. I usually apply one stroke wait for 15 and then apply the next coat. This enhances the color and stays incredibly long. The applicator has a small tip which makes application easier, where the lip liners hardly play any role 😉 You literally feel like you are applying a gloss unless you smudge it right and get the creamy texture. And bet on me, when you do not get compliments for these beauties!!
The only complaint I usually have with liquid lip colors is that it does not apply without getting heavy amounts of the color on the applicator. You have to then adjust the quantity to wanna apply, unlike lipsticks. It does not apply evenly unless you use your finger to rub off the excess Lip color on the corner of the lips.
It is definitely one of the cutest liquid creams I have come across. The best part is that it is very handy and you can carry it anywhere & anyhow. You do not want to carry your wallet/bag along? Cool! Just put it in your pockets. It is that user-friendly.
Texture baby….  😎 
Yes, they do have amazing cream texture for that Pout beauties!! The only thing I've been blabbering about from such a long time. The texture made me buy more shades. Earlier just for surety I purchased the NYX Prague Soft Matte Lip Cream. And that is my all-time favourite. The one that I have with me 24*7 And trust me with this shade. It is amazing for a medium skin tone.
No, it is not super dry like the other mattes, in fact I never felt the dryness, the matter of the fact being that it is creamy and lasts long and hasn't left a stain or darkened my lips due to multiple applications over a period of time. The best combination, isn't it? It doesn't smudge or transfer. So, you can relax and enjoy the attention. It is transfer proof, this attracts me to these lip creams. I usually recommend applying it with a base of lip balm first. It lasts better and does not show those lines on the lips, which is the most worried about thing these days before using a liquid lip color. I prefer my Favourite Lip Balm. It rejuvenates and hydrates your lip at the same time. No showing off of the ugly lines after applying liquid mattes.
All I prefer is:
A base of lip balm.
1st coat of NYX Soft Matte Lip cream.
Wait 15 minutes if you wish to
2nd coat of NYX Soft Matte Lip cream.
A slight dab of powder over it (not really necessary, it is only for those who are obsessed with Super Matte)
I haven't used darker shades as I am more inclined towards Nudes. But yes, the darker shades are also too eye catchy as some of my friends I know are happy with them.
For how Long does your Love last? 😉
Well mine lasts 7-8hrs a day!!!! These NYX Soft Matte Lip creams last for almost 8hrs which is undoubtedly the best you can expect from a lip color. I apply it in the morning at around 8.30am, which is my normal "beginning of the day" time and it pulls off itself for some more time post lunch. These are definitely Corporate-Friendly. I apply it every day and have found my comfort zone already. The staying power makes this product even more unique. These are incredibly best.
In the beginning, you will find that it is just a cream texture and not Matte. So, hold on Do Not Panic!! Apply it and wait for 15mins and you will get the sexy matte texture right away. The only thing is that these soft mattes keep you away from oily or creamy stuff. So, aren't they your "daily motivators" for those who are on the way to get that "summer body"? Okay well on a serious note these lip creams does last for long and survive meals, but does not last much after having oily delicacies or a heavy meal and it requires a reapplication and believe me reapplication does not make it patchy or visibly 'not-so-perfect'. It still gives the smooth texture like before. So be cautious and rather carry that "Knight" with you wherever you go. After all you do not want to spoil that long-awaited date!!
Be ready to rock the entire day now!
---
Kind words of Caution:
Many people are allergic to LIQUID MATTES, so do no take the risk. Rather try a slight stroke on the face of your wrist, if you do not face any problem ONLY THEN proceed with the Lip cream. I haven't faced any problem with these yet, they are quite comfortable with me.
---
The 1st thing that I did was, I bought one shade and checked whether it was suitable, only then I ordered the rest of the lippies.
Affordable? Yeah, I'm waiting for you!!
NYX soft matte lip cream is pocket friendly. The other liquid mattes cost double the costs of these lip colors. And who has time these days to got to the store and buy stuff? I'd rather choose to buy it online and with visibly cheap prices.  So even if you do not like this texture you need not feel bad coz guys c'mon after all you have just shed some amount., which I promise will be worth it.
The mentioned below are soon going to be added in my collection. And I hope you guys also find them interesting!! The quality being top notch the prices are cheap and definitely affordable.
Nudes & Browns
Cairo (Pure Nude)
Cannes (Muted Mauve)
Abu Dhabi
Istanbul
Buenos Aires (Ivory)
London
Milan
Zurich (Muted Rose)
Athens (Peach Beige)
Stockholm
Tokyo
Pinks & Purples
Ibiza (Deep Rose Pink)
Addis Ababa
Seoul
Antwerp
Prague (Merlot)
Reds & Maroons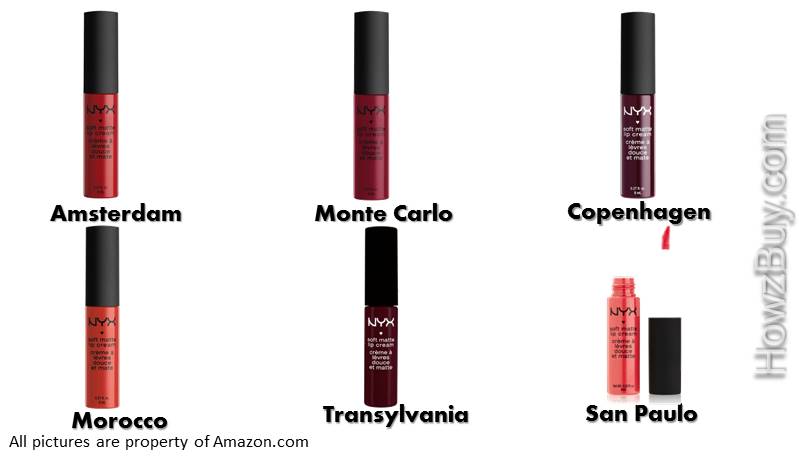 Amsterdam
Monte Carlo
Copenhagen (Rich Plum)
Morocco (Coral Orange)
Transylvania
San Paulo
**The above categories have been distributed according to my perspective. Obviously, the point of views change person to person. **
Okay the above is all the experiences I gathered, the researches I made and of course feedbacks from my girl friends who are crazy Fans of NYX Soft Matte Lip Cream. One of my friends even bought a couple of them from Paris. I can't go all the way to Paris so online purchasing is there for my rescue 😉 LOL!!
The Pros for these lovelies are:
Amazing packaging.
Creamy texture.
100% Matte.
Lonnnggg lasting (Don't forget the 8hr love: P)
Amazing colors.
Easy application.
Smudge Proof and Transfer proof.
Infuses together unlike other liquid lip colors.
Suitable to all skin tones.
Smooth application.
Not sticky.
Beautiful matte finish.
Easy to take it off.
Does not contain any shiny texture.
Cruelty Free.
So, everything that is brilliant has it's not so good side as well.
Doesn't last more than 8hrs.
Makes lips a bit dry if not used with Lip balm.
Judgement!!!
Well these are my hands-on rescuers. Love the texture, color, friendly applicator, matte power, creaminess, durability, long lasting and sooooo on. And above all the flavor and the smell 😉 And yes would love to buy the remaining shades as well. Definitely recommended for those who want to look sexy and make a couple of them go crazy !!!
---
NYX soft matte lip cream vault is available now for SALE !
A complete Pack of Shades !!!
Limited-edition set : Includes minis of every single shade of our velvety-smooth fan fave + Two totally exclusive colors: Bangkok and Los Angeles.
---
My Ratings ❤
I would rate this product a 4.5/5. More rating would definitely be expected once the Cream lasts Forever 😉
And it will work marvels for you. Your Prince Charming will arrive as time comes, but for now do not miss this opportunity and grab your lucky piece of Happiness!!
Go ahead Ladies that amazing stuff is waiting for you ❤