AKG with its Grammy award winning sound experience that ignites creative expression has impressed many in headphone world. To enhance that world rescently Samsung has their new headphones branded and optimized by AKG. The AKG Y600NCs with active noise cancellation (ANC) and an innovative rotating ear-cup for volume control.
With AKG Y600NCs you will again discover smooth, multidimensional tones and exceptional detail that's deep in bass and rich in mid-range, allowing every layer of sound to be felt.
So as usual I have to compare the Samsung headphones which are available at the same price of £199.00 as on 27th July 2020.
Samsung AKG Y600NC Vs AKG N700NC Vs AKG N700NC M2 Specs & features comparison table
Samsung AKG ANC over ear headphones
Samsung AKG Y600NC
Samsung AKG N700NC
Samsung AKG N700NC M2
Latest launch in July 2020 available in UK
1st Gen
M2 refers to the

2nd Gen

eration of the N700NCs
Check latest price
Best Buy UK
Best Buy
Best Buy
Color
Gold, Black, Silver
Silver
Black
Type
Over Ear Headphones
AKG reference sound
Impedance
32 ohm
16 ohm
Frequency Response
10 Hz- 24kHz
20kHz – 20kHz
Sensitivity
110 dB SPL/1mW @ 1 kHz
General Features
Ergonomics
Comfort-fit ergonomics for hours of peaceful listening pleasure
Supreme comfort, premium finish
Improved build quality compared to original AKG N700NC
Construction
Memory foam and protein leather ear cushions
Memory foam and leatherette ear cushions and a padded, adjustable headband, to full metal headband sliders and aluminium touches
Foldable design
Yes
Controls
Auto Play/Pause function
ANC
Best-in-class Active Noise Cancelling
Control of your surroundings
Ambient Aware and TalkThru technology
Connectivity
Cable Type
USB-C charging cable
micro-USB charging port
USB-C charging cable
Bluetooth
Bluetooth 5.0
Bluetooth 4.2
Multi-point connectivity
Yes, pair two devices to your headphones at once
Calls
Hands-free calls and easy sound control
App
AKG Headphones App
Apple compatible
ANDROID & iOS COMPATIBILITY
Battery Life
25 hours battery life with ANC and Bluetooth ON
20 hours battery life with ANC and Bluetooth ON
23 hours battery life with ANC and Bluetooth ON
35 hours battery life with ANC  ON
36 hours battery life with ANC  ON
32 hours battery life with ANC  ON
Speed charge
10 mins charge to get 4 hours music playback
Weight
322 g
261 g
277 g
Samsung AKG Y600NC Vs Samsung AKG N700NC Vs Samsung AKG N700NC M2 Review
Design
AKG Y600NC : Round shaped over ear design.
Headband design is substantially improved over the 700 series which was a big problem as per me.
AKG N700NC : Oval shaped over ear design
Headband needs to be low profile like the Sony 1000XM3's headband which looks boxy.
High clamping force issue and the stiff padding adds to the head squeezing feeling.
AKG N700NC M2 : Oval shaped over ear design
No improvements in headband and hence comfort compared to the 1st Gen
Too much snug to the head like the 1st Gen, surely needs some improvements

Here are some notable improvements on the M2's.

Build quality substantially improved compared to the 1st Gen AKG N700NC's
Customer complaints resolved :

1st Gen headphones had complained of crack and squeak when you flex the headband
The ear cups rotation is super smooth, the joints glide with ease without any chafing.
Media controls
All these headphones are using physical buttons (old styled – but still liked by many)

AKG Y600NC does show difference in the button layout, with innovative rotating ear-cup for volume control.

Media controls are located on the left ear cup instead of the right ear cup!
Buttons are small & placed close to each other, letting you to press wrong button!
My suggestion is to simply improve on touch & feel with simple trick of making the center button taller from the other two buttons, adding distinction factor.
Sound
All 3 models uses AKG reference sound.
All have adjustable eq which is of great use to adjust the output as per your personal preference.
AKG Y600NC : Have driver impedance change to 32 Ohm, with higher band of frequency response 10Hz – 24kHz
AKG N700NC : Have 16 Ohm impedance with std freq response 20kHz – 20kHz
AKG N700NC M2 : Second generation headphones of last year's AKG N700NC's
Now when it comes to audio codecs these headphones top out at AAC support, and while watching movies or videos with these headphones they have zero latency across the board while using an iPhone or android phone.
The AKG N700NC M2's does sound better than the Sony 1000XM3's specifically cause of their sound stage.
In fact the Sound stage on the AKG M2s is noticeably wider and instrument separation is better, a perfect pair for those who likes a balanced or neutral sound signature
Active Noise Cancellation
AKG's can't really compete with the ANC on the Bose NC 700 or the Sony 1000XM3.
The active noise cancellation on the AKG's performs more like what you would find on a pair of $250 mid tier ANC headphones.
For all models the Talk through mode (which is similar to Quick attention mode in Sony or Conversation mode in Bose headphones) which mutes your music on a tap of button and allows the ambient sound around you so you can quickly talk to someone.
Battery and Charging
AKG Y600NC : 
25 hours battery life with ANC and Bluetooth ON
35 hours battery life with ANC ON
AKG N700NC :
20 hours battery life with ANC and Bluetooth ON
36 hours battery life with ANC ON
Headphones get charged via micro-USB port.
And since AKG headphones are to Galaxy Devices like Beats are to iPhone's, using them with Samsung galaxy you need to have 2 separate charging cables! one micro-USB and another USB C – its really a pain!!
AKG N700NC M2 :
23 hours battery life with ANC and Bluetooth ON
– should be able to last you a week in between charges.
32 hours battery life with ANC ON
2nd Gen charging is changed to USB C port
Bluetooth connectivity
All the three headphones are Multi-point connectivity capable,
what it means is that you will be able to connect to two devices (say mobile and laptop) at the same time which really adds comfort of using single headphone for entertainment and work.
AKG Y600NC : Bluetooth 5.0 which means low latency, low connection drops, long range (Read more on BT5.0)
AKG N700NC : Bluetooth 4.2 + Multi-point connectivity
AKG N700NC M2 : Bluetooth 4.2 + Multi-point connectivity
Now multi point connectivity for the 700 series is good, even though they use Bluetooth 4.2, AKG is able to mange support this feature ( remember still some of the headphones in market are unable to achieve this even though they're also using Bluetooth 4.2)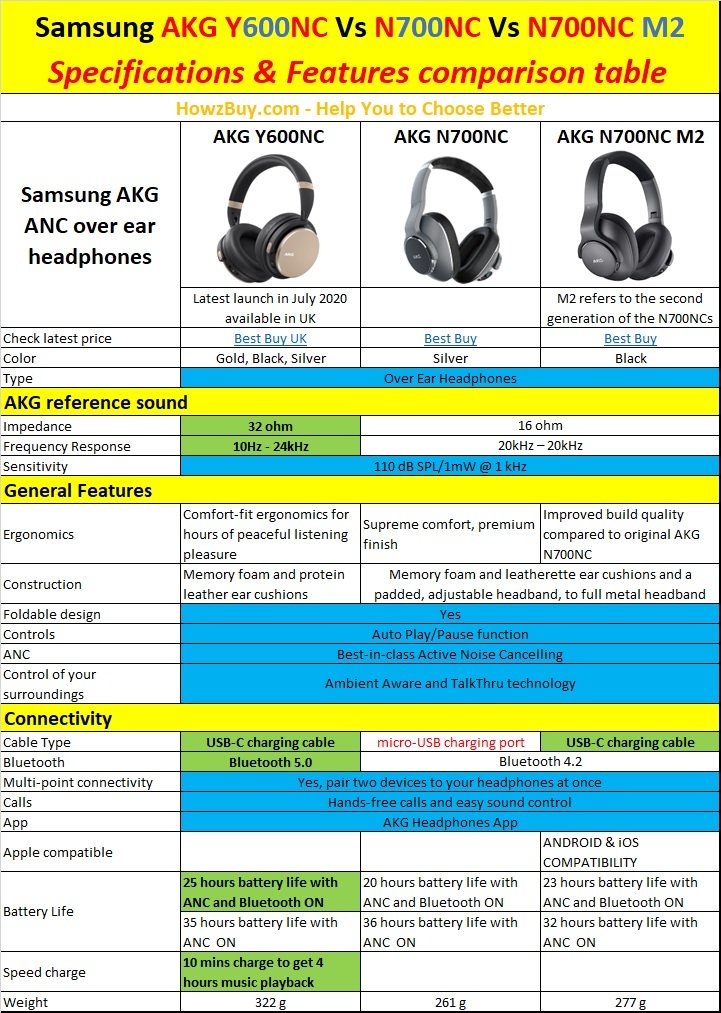 References
akg-n700nc-m2-wireless-headphones
wireless-akg-headphones-n700nc