Sennheiser Momentum True Wireless are really the best-sounding true wireless earphones at premium price, but when it comes to aspects like portability, phone call quality, ergonomics, battery life, app features, and price Jabra Elite 65T is clear winner. So in my review on both the earbuds lets see Sennheiser Momentum True Wireless Vs Jabra Elite 65T – Which is best? and Why?
Well when you have to choose from those tiny little earbuds which are lightweight and portable for your travel needs, office use or even for gym workouts, its always a tussle between sound quality versus practicality of price, portability and battery life.
In this case choosing from the best sellers Sennheiser Momentum True Wireless Vs Jabra Elite 65T, where I checked practically if its really worth spending $100 more to get the Sennheiser Momentum True Wireless?
Lets see technical specs comparison as well as practical performance of both earbuds to take a buying call.
During entire post you will get practical comparison of each important feature and at end of post my personal recommendation for you, depending upon what is main purpose of buying these earbuds.
So lets begin!
There are two important things for which you generally buy a headphone
Listening to music – for someone who is audiophile, he will love to have best sounding headphones
Making calls on the go – for someone who is always on the go, needs a headset which works best for phone calls, in windy environment, noises on airports, subways, train and so on.
Audio quality – Music [Audiophiles]
First thing for those who loves music and main purpose is entertainment, and focus on the audio quality, then Sennheiser Momentum True Wireless is the choice.
Both Sennheiser and Jabra can deliver loud music with good bass, mids and highs.
But if you look into detailed music, then Sennheiser provides more music separation, I mean you can listen to minute details of each instrument played distinctly, whereas when you listen to the same song over Jabra you get instrument sounds blended into each other.
Although you are not an audiophile, you may not bother about the finer details of blending, but to put in other words, audio quality of Sennheiser is rich as compared to Jabra
Audio quality – Calls [frequent travelers]
Now look at the other side of coin, for those who always travel and want to attend important calls in noisy or windy environment, call quality is the determining factor in headphone choice, in that case Jabra Elite 65T is clear winner.
Surely basic call quality is good for both the headphones.
However when it comes to finer details, like the background noises during phone call gets magnified in Sennheiser as an example banging noises like door closing, shrill noises, baby crying etc.
Jabra – delivers superior audio experience during phone calls – in windy environment also the audio was quite clear (in rough wind too)
Jabra – overall audio during phone calls – person on other side can hear me very loud and clear, person on other side will not know if you are talking over earbuds and not on phone
Mainly Jabra uses 4 x MEMS ( 4-mic system with an acoustic open chamber design ) works like a magic in windy environment and reduces ambient noise to a great extent. Whereas Sennheiser  only have 2 MEMS to take care of noises during phone calls.
transparency mode
both headphones supports hear-through technology – means you can hear to environment / ambient noises around you for safety purpose.
Jabra tend to give more better performance of ambient noise as compared to Sennheiser
or you can say that Sennheiser transparency mode is not at par with Jabra, it surely works but I can't call it as fantastic!
Ergonomics – Long time wearing comfort
Jabra earbuds are shaped more ergonomic to go into ear canal – shaped nicely as compared to Sennheiser.
Both fit well in ears but Jabra fits in more comfortable way than Sennheiser, it fits slightly better than Sennheiser.
If you see from the front of person wearing headphones, Sennheiser sticks out more compared to Jabra ..
feel wise both are good, but jabra looks better in my opinion.
Sennheiser – wearing comfort is good for 4 hours in my testing (you need to check on your own though), and does not fall out during workouts or head shaking.
Jabra – wearing comfort is good for 4 hours during testing, and also does not fall off during head shake test!
Both headphones are extremely lightweight.
Just look at images below and compare yourself which one feels better …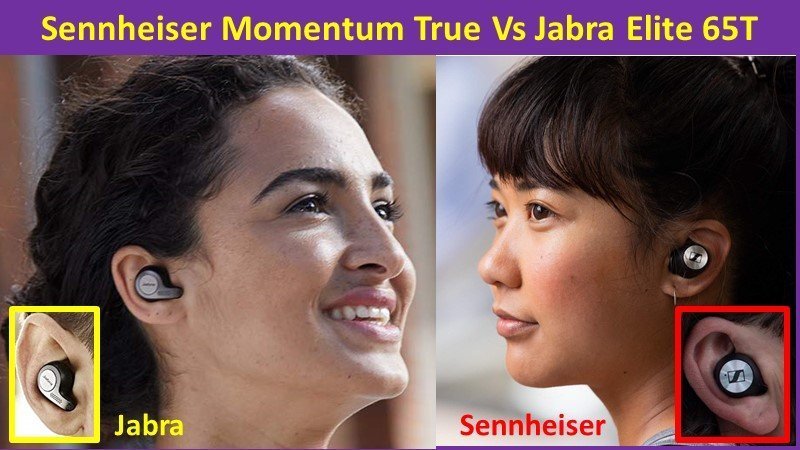 Portability (pocatability)
Both headphones are provided with Portable cases to extend battery life.
Jabra Elite 65T case is much more compact and rounded shaped to get in and out of pocket easily.
Sennheiser Momentum True Wireless case is big and have fabric which makes it slightly difficult to take out of pocket
To judge this point, simply look at the photos below showing a hump in pocket and 1:1 images side by side showing the difference.
So for those who want to carry the case in their pocket, surely Jabra is winner.
Battery life
Jabra –
I could not test for continuous 5 hours .. so never ran out of battery power since after putting them back in case they used to get back to life .. however I could test it for 4 hours max during flight
15 mins charge gives 1 hr fastcharge (good than Sennheiser)
Sennheiser –
gives 4 hrs but twice charging possible using the portable case.
Left and right earbuds do not discharge at the same rate – this is also complaint over various forums one earbud tend to discharge faster than other!
discharge rate of case is normal – over a week period the battery case gets discharged, however its normal, not too much off the track.
earbuds fits perfectly in the case
Bluetooth signal
Sennheiser –
Bluetooth signal stability – when you put phone in pocket, backpack .. no issues getting connectivity to earbuds
however maintaining connectivity with my iPhone or Android phone was an issue, earbuds give error "no phone found" it also gives trouble in pairing with phone, this may be a firmware issue, please check and let me know if you also had faced same issues
Jabra – No issues getting the phone back to life, it can reconnect same phone easily and quickly. Bluetooth signal stability is also good wherever you keep your phone.
Latency
Both headphones could transmit audio without latency, I mean watching movies with sync lip movements to audio goes well with both headphones.
Apps
Both apps give ability to hear yourself, so that you understand how loud you are speaking over the call conversation, best use while speaking in public areas or even in meeting
Jabra app is better & more matured than Senni providing more options
Senni app is slightly slower than Jabra, looks to have some bugs, it does not recognize earbuds as fast as Jabra, or settings when changed like transparency mode it does not work (sometimes), you need to  put earbuds into case / off-on to get back to work
Senni has better equalizer than Jabra
However if you look overall – the Senni apps lacks of many features and have just basic features, they need to work more in this area to improve the user experience.
IP Rating – Waterproof?
Jabra Elite 65T is rated as IP55, which means these earbuds are water jets resistant
Sennheiser Momentum True Wireless  is rated as IPX4, which means these earbuds are splash resistant
Jabra have high IP protection rating but both can be used for workouts, none are waterproof for swimming or wearing in rain.
Price
Finally when it boil down to what you are paying for Sennheiser Momentum True Wireless are around $100 costlier than Jabra Elite 65T (based on prices checked as on 16 Jan 2019)
Finally as a quick wrap lets have a look at specs comparison of Sennheiser Momentum True Wireless Vs Jabra Elite 65T and then goto the conclusion or recommendation.
In ear wireless headphones

Jabra Elite 65T

Sennheiser Momentum True Wireless

Best Buy price

Best Buy Jabra Elite 65T

Best Buy Sennheiser Momentum True Wireless

Speaker type
Dynamic
Driver
6.0 × 5.1 mm
7 mm
Ear coupling
Ear Canal with silicon ear rings
Bluetooth Version
Bluetooth® 5.0
Bluetooth 5.0 compliant, class 1
Wireless range
Up to 33 feet / 10 meters
Bluetooth pairing
Up to 8 devices
Multi-connect
2 devices can be connected at a time
Type of Codec
SBC, aptX™, aptX™ Low Latency, AAC
Supported Profiles
Headset profile v1.2 , hands free profile v1.7, A2DP v1.3, AVRCP v1.6, PBAP v1.1
A2DP, AVRCP, HSP, HFP
THD, total harmonic distortion
<0,08% (1kHz / 94dB)
Microphone
4 x MEMS
Wind noise protection using 4-mic system + acoustic open chamber design
Ambient noise reduction with 4-mic system
MEMS
Microphone sensitivity
-38 dBV/Pa
94 dB SPL at 1 kHz
Frequency range (earbuds)
20 Hz to 20
5 Hz to 21 kHz
Frequency range (microphone)
100 Hz to 10 kHz
100 Hz to 10 kHz
Sensitivity
-38 dBV/Pa
107 dB SPL (1 kHz / 1 mW)
Operating relative humidity
10 to 80%, non condensing
Water Resistance / Waterproof
IP-55, Water jets resistant
Read more …
IPX4, splash resistant (earbuds)
Operating temperature
-10° to + 55°C (14°F to 131°F)
0 to +40°C
Power supply
5 V, 650 mA: USB charging via USB-C socket at charging case
Battery Specification
Built-in Lithium rechargeable battery
Battery time
Up to 5 hours, 15 hours with charging case
Up to 4 hrs (A2DP) with rechargeable batteries of the earbuds, Up to 12 hrs with rechargeable battery of the charging case
Charging time
Approx 2 hours with dedicated USB wall charger (500 mA)
Rapid charge – 15 minute rapid charge provides up to 1.5 hours of battery life
Approx. 1.5 hrs
Dimensions
124 x 55 x 186.5 mm
78.6 x 45 x 35 mm (charging case)
Weight
Right headset: 6.5 g – Left headset: 5.8 g – Charging case: 67 g
69.8 g (earbuds and charging case), 13.2 g (both earbuds), 56.6 g (charging case)
warranty
2-year dust and water resistance warranty. Registration with the Jabra Sound+ app required
Features
Hearthrough and equalizer
Voice assistant enabled
One-touch access to Amazon Alexa**, Siri®, and Google Now™
Auto features
auto turn on after taking earbuds out of charging case
auto pause when one earbud is taken out of any one ear
Auto off after 15 min without connection, and 60 min without activity
Bottom Line
Finally just to wrap up .. here are my recommendations … but just keep in mind that comfort and sound both are highly subjective matter .. so I would suggest to validate both headphones yourself.
For travelers – my recommendation will be Jabra Elite 65T .. due to portability (pocketability), battery life, quick charge, best call quality
For Music at home – my recommendation will be Sennheiser Momentum True Wireless by spending $100 more you will surely get the finest music experience.
Hope this helps!
Cheers!!