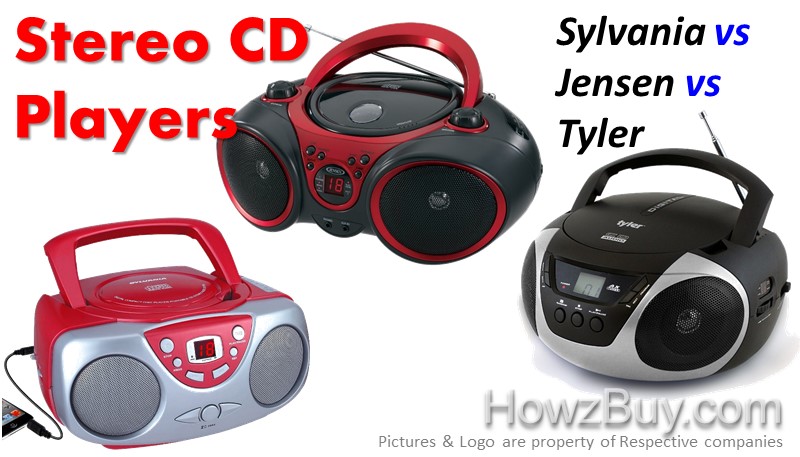 Are CD Players Still Sold?
Honestly I don't know how much time the CD's will last in this latest generation WiFi, Bluetooth, USB stick era, however it is evident that there are high selling CD players in market and they are still liked by many!
Quest for the Best:
So my quest to find the best portable CD player took me to research on Amazon best sellers which are also in affordable price range say around $30 or so. So the quest was for Value for Money type high selling products.
Surprisingly these small Plastic body CD players have crystal clear sound quality, much more color choices, programmable memory as well as you can listen CD/CD-R/CDR-W. A built in AM/FM radio tuner with telescopic antenna let you listen your favorite tracks without any signal interruption. So now simply enjoy full function, portable audio at home or on the go.
So I have enlisted Sylvania Vs Jensen Vs Tyler Portable CD Players for comparison and finding the best one for you.
Which are the common Features in Sylvania SRCD243, Jensen CD-490 And tyler TAU101-SL Portable CD Player??
Build Quality And Color choices:
All these CD players are made using a plastic material. The Glossy finishing adds class to general look of the player with its foldable carrying handle.
The Sylvania SRCD243 are available in six colors that are Black, Green, Pink, Red, Blue, and Silver. You have so many choices…..The Jensen CD-490 comes in four different color combinations this are Red/Black ,White/Pink, Black/Blue And Silver/black whereas the Tyler TAU101-Sl is available in Yellow, Blue or Silver colors.
Enjoy full function stereo sound:
All the CD player have High performance Stereo speakers giving an enjoyable listening experience and boombox clear sound.
In tyler CD player due to its programmable memory you can play 16/19 tracks and in Sylvania CD player 20 tracks which means it will play up to 20 tracks automatically on a particular order as well as you can listen to CD/CD-R/CDR-W.
Enjoy FM/AM Radio Programs:
All these CD Players have a built in analog FM/AM tuner. So you can choose from a more varieties of radio talk and music programs as well as you can enjoy your favorite songs anywhere. The telescopic antenna of a CD players ensures that you get clear and undisturbed sound at anywhere and anytime.
Comfort And Portability:
All these CD players are portable means you can enjoy your favorite songs anywhere on the go!!! You can take these boombox CD players in a school or on the beach or anywhere you want to go!!! These CD players can be handled by your children or anyone easily.
Plays well with other devices:
Here you can connect your headphones with all these CD players for quiet listening. These CD players has a AUX function which means this allows you to listen a tracks to your iPod/MP3 or other external digital audio devices. Devices are connected to CD players by using the auxiliary input jack (3.5 mm jack). CD-R/RW compatible and comes with a LED CD track display which shows you exactly how your CD player is responding.
CD-R stands for Compact disc Recordable .
CD-R disc can be written to only once (except in the case of multisession writing). CD-RW stands for CD Rewritable. CD-RW discs can be written many times, and they function somewhat like hard disk or floppy.
Control and Two way power :
All these CD players are having a playback buttons by using this you can skip or search a music track, forward the music tracks, go back, repeat one or repeat all music tracks and tyler has an extra added feature of One touch Random or Shuffle playback function.
All these CD players having a two way battery power i.e. AC battery power and DC battery power which means you able to listen your favorite music tracks when the light go off or when you are in the outdoors where there is no electricity … Wow that's great…..These units operate on XXC(UM-2) size batteries or from the included AC120V /60Hz line power supply. (Please do not play when CD player on charging.)
Now here I will compare Sylvania SRCD243, Jensn CD-490 and tyler TAU101-SL.So all features enlisted below in table manner for your convenience also I have added colors to the text in Green & Orange so that its easy and quick to understand …
So let's see:
Sylvania SRCD243, Jensn CD-490 and tyler TAU101-SL Specifications Comparison:
Features
Sylvania SRCD243
Jensen CD-490
tyler TAU101-SL
Best Buy Offers
Best Buy
Best Buy
Best Buy
Color
Black, Pink, Red,

Blue, Green, Silver

Red/Black, White/Pink, Black/Blue And Silver/black
Yellow, Blue or Silver
Type
BoomBox
Sound Output features
Stereo
CD track programming memory
Yes, Available, with 20 tracks programming memory
Available
Available with 16/19 tracks
Compatible Devices
CD/CD-R/CD-RW and audio devices with 3.5 mm jack
Power Source
Electric, Batteries
Connections
Audio line-in, headphones
Radio tuner
Analog AM/FM
Antenna Form
Built in Telescopic Antenna
Batteries
AC 120V or C batteries required
AC 120V or 6C batteries required
AC 120V or C batteries required
Special feature
LED Track Display
Dimension
10x9x5.7 inches
9×12.4×5.8 inches
9.5×9.5×9.2 inches
Weight
3.3 Pounds
3.4 Pounds
3 Pounds
Small Summary and Recommendation for Buying portable music CD Players:
Sylvania SRCD243 : Cheapest
Good sound quality with 20 tracks programming memory, compact size, so many choices in colors at low price. It is cheaper as compare Jensen and tyler. ( We have observed that It has reported to have sound quality issues, also issues for the MP3 Compatibility ).
Jensen CD-490 : Most Stylish, Crystal Clear Sound, Have highest customer reviews
Crystal clear sound. Portable CD player as well as built in AM/FM tuner. Attractive color combination look. Two way power that is you will still be able to listen music when the lights go off or you are in the outdoors where there is no light. So it is well worth your money.
tyler TAU101-SL: Lightest in all
This is light in weight but slightly expensive than the Sylvania and Jensen as well as it also having best sound quality but you don't have any color choices. It is available in color i.e Yellow, Blue or Silver.
So overall finally I think Jensen CD-490 gives you a many more features in the best price. It is well worth your money. I hope I am clear in my opinion and hope this review will be helpful for you..!!!
Howzbuy helps you to choose better 🙂