It can be hard picking out the best pair of over-ear headphones from a wide range of options available out there. Each headphone offer a different combination of performance, features and value. And Finding a budget headphone that feels comfortable & also produces good sound is a challenging task. TaoTronics TT BH20.
But instead you searching for best from all of them by yourself, I've done the heavy lifting for you. Today I am reviewing, TaoTronics TT BH20 and  Mpow M3 Wireless Bluetooth Headphones. These two are the best budget headphone that will live up-to your expectation.
But which one is the best ??? Well this is a guide to the best over-ear headphones for 2017. But before that, Let's check the specs of these Wireless over-ear Headphones.
TaoTronics TT BH20 VS Mpow M3 Wireless Bluetooth Headphones Review
Model Name

TaoTronics TT BH20

Mpow M3

Best Buy
Color options
Black
Black-Red, Black-Grey
Black-Green, Black
Bluetooth Specification

Bluetooth 

4 + CSR

Bluetooth 4.1, APTX

Transmission distance
33 – 36 feet (10 meters)
Features

90°  Swiveling EarPads


Supersoft Earpads
Wired/Wireless Mode
Durable Anti-Scratch UV Finish
Wired/Wireless Mode
Playback/Talk time
Around 25 hours
Around 13-15 hours
Charging time
2 hours
4 hours
Battery
NA
420mAh
TaoTronics TT BH20 / Mpow M3 – Design
TaoTronics TT BH20 – TaoTronics feature adjustable super soft ear pads that can be swiveled 90 Degree for maximum comfort. No matter if your head is too small or too big, the flexible headband can be adjusted to fit so you're not straining to use the headphones. They're much more comfortable when worn for long periods of time.
TaoTronics TT BH20 have a super-comfortable and secure fit thanks to a generous selection of  ear pads.
Mpow M3  BT headset – The Memory-protein ear cushion simulate human skin texture, which ensures lasting comfort. The stainless steel slider and softly padded headband allows you to find the perfect fit without constraint and provide excellent durability.
Well, over-ear headphones are for those who want absolute comfort. And so the TaoTronics TT BH20 wireless headphones are Ideal for you. As they are not only comfortable but the 90 Degree adjustable ear pads are more customisable to their own preference. So when it comes to design TaoTronics TT BH20 is clearly the winner.
Now let's talk about main part …….. Sound Quality
TaoTronics TT BH20 – Thanks to two 40mm large aperture drivers, these wireless headphones deliver better and balanced sound comparing to the other headphones in this price range.  TT BH20 uses Bluetooth 4.1 chipset for aptX audio. Unlike Mpow's last gen 4.0, TaoTronics TT BH20 uses Bluetooth 4.1 audio. Which means there is virtually no lag between the video you see on the screen and the audio you hear in your ear.
As a result these headphones provide lossless sound and reduced latency for better audio playback. With Dual Playback Method you can use it as wired and wireless headphone. With built-in microphone, you can also chat with family & friends on the go. The audio quality of TaoTronics TT BH20 is pretty Good.
Mpow M3  BT headset – Mpow M3 uses CSR chip and 40mm driver together to produce good sound quality. It does not offer Active Noise cancelling, though  the closed-back design provides good sound quality for the price.
Well, when it comes to sound quality clearly TaoTronics TT BH20 Bluetooth headphones are the Winner. With the help of Dual 40mm driver & high quality hardware it can produce true high-definition sound. So you can enjoy a truly exceptional sound experience at your ear.
Now let's talk about other features that I've liked of  TaoTronics TT BH20



TaoTronics TT BH20 Controls & Pairing
With On-ear controls can adjust the volume, change the track, and play and pause music.  The TaoTronics TT BH20 headphone comes with built-in aux input. Even if the battery is fully drained, you can still use it as a wired headphone. The headphone sounds slightly better in wired mode.
Whether you want to adjust the volume, change the track, or play and pause music, you can do it without needing to operate your phone. With With built-in microphone & On-Ear Controls you can  answer any incoming call. Once you finish talking, you can continue listening your favorite music with any interruption.
Another handy feature of TaoTronics TT BH20 headphone is Simultaneous Pairing. You can Pair two devices at the same time. What's more …… You can even switch between the two anytime you want.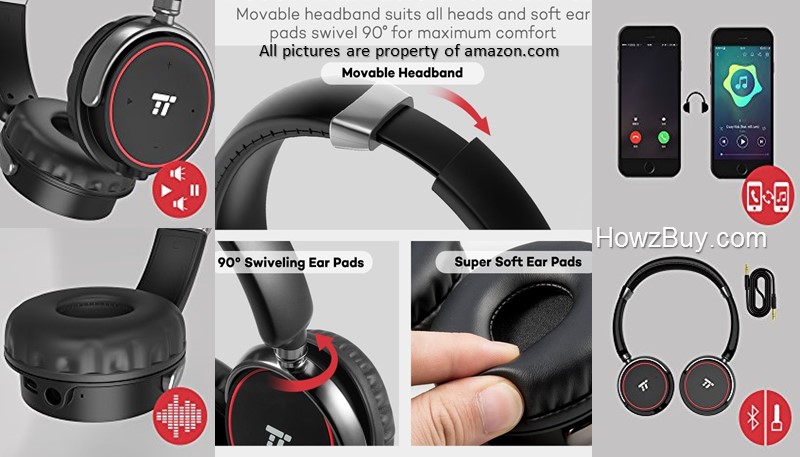 TaoTronics TT BH20 Battery Life
The Impressive battery life and fast charging process of TaoTronics TT BH20 will make you fall in love with these wireless headphones. The headphone offer around 25 hours of continuous music from your after only 2 hours of charging. If you are unsure as to how much battery is left, You can check battery level on handy on-screen indicator on your iOS device.
So, Should you buy the TaoTronics TT BH20 Wireless Headphones ??
TaoTronics TT BH20 is an excellent wireless on-ear headphone that has the look, feel and sound of a premium wireless headphone. This the best budget headphone that you can buy, When you're in the comfort of your own home and want to listen to music with absolutely no compromises on sound quality. The best part is you can get them on Amazon for just $33.99 . Of all the affordable on-ear wireless headphones, the TaoTronics TT BH20 are among the few I'd be happy to recommend.

What's in The Box ???
TaoTronics TT BH20 Over-Ear Bluetooth Headphone
TT BH20 3.5mm Aux Cable
TaoTronics Charging Cable
TaoTronics TT BH20 User Guide
Good Read
Senso Activbuds S-300 Review – Bluetooth Headphone for those on a budget
Dog & Cat Product Review – Helping you pick the right for your Pet