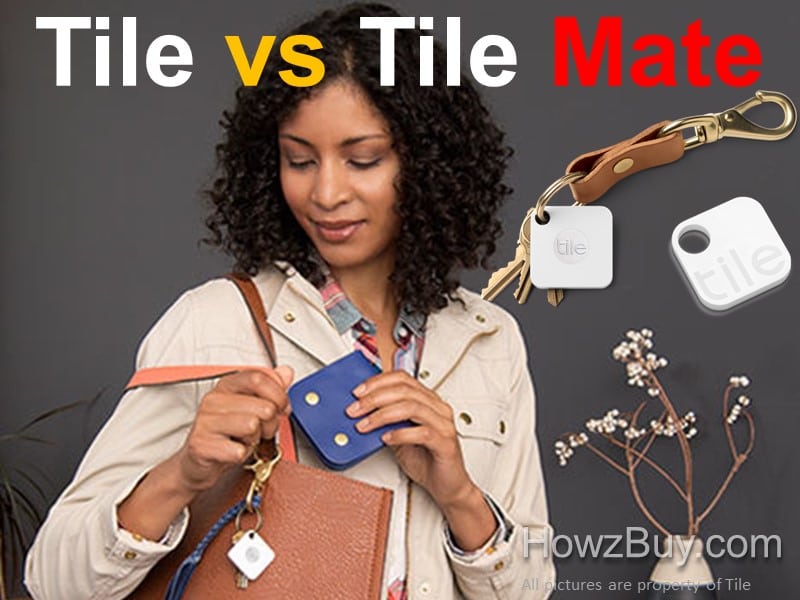 The New Tile Upgrade Will Make You Feel Amazing About:
The first ever startup Key Finder Tile has come-up with upgrade of its original tracker. Newer version is a thinner, lighter version of its Original Tile Bluetooth tracker.
And This Is Exactly Why I have Done Some Research:
It will be interesting to know what you will get with the new Upgrade and is it worth spending?
Wait! Let me explain:
In this post I will bring-up what's New you will get with Tile Mate (Upgrade of Tile).
Obviously from the first cut study it is evident that Tile design engineers have taken into account the customer requirements to get Thinner, Lighter, yet Powerful tracker at the same Price, compatible with latest Bluetooth technology.
One more bonus point is that, Tile has also introduced Combo packages & reTile program, you will get details of the same by the end of this post.
Tile Vs Tile Mate Key Finder (Upgrade) Review – What's New ?
 Key Finder / Wallet finder

Tile specs

Tile Mate specs

Deals, Discount & Offer Price

Discontinued by the Manufacturer

Best Buy USA, UK

Best Buy Germany

Actual Working Range
30~100 feet
Audible Warning
90 decibels
Very much audible even at a 100 foot distance

88 decibels


Very much audible even at a 100 foot distance
Double press to ring your Phone
Yes
Remote Camera Shutter
No
Apple iWatch App
Yes
Water-resistant
Yes, IP5 standards
Battery level indicator
App

does not show

the battery level of the tracking device
Battery replacement
Not possible
You have to send device for replacement at discounted price
Ringtone
Classic Tune Only
Choice of 4
Verifying your email address before pairing
 Required
Crowd GPS tracking
Available (Help locate a lost item if you are out of the blue tooth range)
Last Place Seen
Yes
Dimensions

37 x 37 x 5.3 mm

34 x 34 x 4.65 mm
25% Smaller than Tile
Weight

 1.28 ounces

0.16 ounces
Warranty
1 Year Limited, reTile program available
Manufacturer
  Tile
Customer care
Live online chat support 7 days a week
from 8:30am-5:30pm (PT)
Deals, Discount & Offer Price

Discontinued by the Manufacturer 

8 Pack Save More USA, UK

8 Pack Save More Germany
Tile vs Tile Mate Key Finder !
New Tilemate is Super Compact, 25% Smaller & 1.9 gms lighter!!
In the same functionality, TileMate has become 25% smaller & 1.9 grams lighter.
Wow ! This indicates how much the Research & Development team at Tile has worked hard to bring the smart update in such short span of time.
[New Size is 34 x 34 x 4.65 mm, which is pretty smaller than the original Tile 37 x 37 x 5.3 mm]
Identify your Tile key finder in Multiple Ways:1) More RingTones to choose from !
Old Tile was limited to option of Classic Tune Only, whereas New Tile Mate provides you 4 Choices … This helps in a way that you can assign different tunes to 4 devices, which makes you remind which one is for key and which one is for the Wallet 🙂 I found this improvement pretty user friendly.2) Name the Tracker from App !!
Apart from the ringtone, there is one more way to identify the tracker, simply name it in the App &/or add a photo of paired tile, say your bicycle or the Wallet ! you need not remember which tile is coupled to your wallet !! simple check form the photo and search for it.
Both the above improvements are really helpful, showing the deep thinking that has gone into development of new product, Someone is really thinking the Customer way 🙂 Good work team Tile, keep it up.
88 dB Warning Tone :

Negative Point

(Already previous version ring was weak)
Again here Team Tile has worked hard, with reduction in size it is really challenging to maintain the Audible Warning, but again good job, the New Tile Mate delivers  powerful 88 dB sound level which is just 2 dB less than the Original Tile !Although I agree that given the Size & Weight reduction challenge, this achievement is awesome, however practically, this will be a setback in terms of ability to get itself located !Just to give you an idea of

how much 88 dB noise is worth of …

Propeller plane flyover at 1000 ft (88 dB)
Food blender (88 dB)
Garbage disposal (80 dB)
Diesel truck 40 mph at 50 ft (84 dB)
vacuum cleaner (70 dB)
[ Reference taken from IndustrialNoiseControl.com, click here to read it]
Great Bluetooth connectivity & Low Power Consumption
With use of Bluetooth 4.0 which is Low Energy technology, the Tilemate battery will last longer, also the connection drop issues minimized in BT4.0.
Also the Tilemate can be added from the Phone App with simple search & add.
Unlimited Pairing [

W

ith some limits on active connections

]
You will be able to pain unlimited number of Tile devices with your iPhone or Android, however there is limitation on number of active trackers connections that can communicate are limited to 8 on iOS & 4 on Android .. I think that limitation shall be because of power drawn by your mobile too while keeping so many connections alive !!Pairing SAFETY:


Another strength of Tile device is, once you pair it with your phone, no-one-else can unpair and use it, but only the company can do this 🙂




One has to send an email to the company's customer support and then only the ownership can be transferred. This simply prevents someone using your lost Tile tracker device and until the original owner gets it in hand it remains safe from theft/use.
Crowd GPS – The Super-power of Tile Tracker
The first thing you need to do after buying the Tile tracker is to pair it with your phone. After than if you wish to track the tracker location, just trigger Tile's alarm form app to locate it or locate the Tile from graphical representation on App.
When the Tile is out of range, you can see on map the last recorded location of Tile tracker, and if at all you loose it, report it to the crowd GPS system, which in tern try locating your tacker from anyone who is using Tile App on his phone, as soon as someone with App running passes nearby your tracker, in the background the App picks up the location and sends you alert & email too. Wow, fantastic, with thousands of people using this App, it is really helpful to locate item, which is practically lost in space.Alternatively when you misplace your paired phone device, you will be able to trigger the phone even in silent mode, only it should be within the bluetooth range of Tile Tracker device.
Obviously there is an Introductory Offer for Tile Mate, You can get Tile Mate and Tile Slim Combo Pack 2 TileMate + Tile Slim at great prices, also current Tile customers can upgrade for a Discounted Price.
Tile Mate does not have Replaceable Battery ?
its GOOD !

How ?

First of all I thought, having a product with replaceable battery must have been provided by Tile, but if you think in deep on what is real function of a key tracker device ? It should keep functioning at all times.

So consider a scenario where you drop the keys to which key finder is attached, now if it is not sealed properly, there are chances that dropping on hard surface it may accidentally open-up letting up the battery out from tracker !! hence defeating main purpose of key finder !!! But here with Tile, it is sealed, not allowing to get accidentally opened, eliminating changes of getting it OFF.

Also I am so habitual to throw the key (alongwith tracker attached) on bed & sofa from a distance, so I do it many times in a day, as soon as I arrive home ! Just imagine, each throw is an impact for the tracker device, it has to sustain it still keep functioning properly, here also sealed device shall function better than an unsealed one !

Second thing is that with the replaceable battery you may be able to use the product for 2~3 years (considering the wear & tear that takes place by regular use) … by that time the smartphones gets updates, the Bluetooth technology becomes more powerful, consuming less power with longer ranges … with the same old device you will not be able to take advantage of the fast changing technology, may be my tracker becomes absolute !! and you may have to throw it off as it is !!! it may become a piece of garbage in next couple of years ?

So if at all you have to cope-up with this fast growing technology, you need to keep changing the device, having said that the Tile replacement program aka reTile program, enables you to receive new Tile on annual basis with ~50% OFF on the original price, plus taking care of the recycling which is as important as nature conversationalist. Well that's what my views about the replacement program … What do you say ?
[Tile Mate customers, reTile customers can buy a new Tile for $15 a piece]

[Price comments made above are at the time of writing this post, plz check table above in this post for latest price updates]

Recommended Read : Which Is Better, TrackR Vs Tile Mate Vs Chipolo Vs Cube Tracking Devices