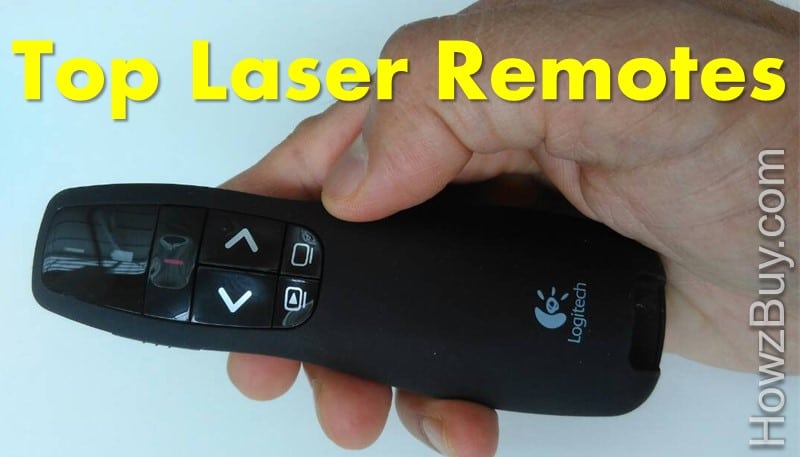 Two main reasons for searching of best laser pointer
Use it during Powerpoint presentations to point at letters and images as well as Forward/Reverse slides.
Use it to play with your CAT!
Both reasons as equally valid and I have searched a lot to get best laser pointers in market.
First one is Logitech Wireless Presenter R400 which I myself is using since a year and the second one is my new find Pisen Rechargeable Wireless Presenter Laser Pointer (This I have not tested so far) and third is BEBONCOOL Wireless Presenter PPT Clicker which is cheap and best seller on Amazon.
So lets discuss them one by one:
1) Logitech Wireless Presenter R400 Review: RED Laser
Laser: Bright, Distinct and Clear Point
Most important task of a Laser pointer is to point! Yes, it should generate distinct and sharp Red pointed dot on the screen to indicate text or images. Logitch R400 products distinct laser point at far distance. So first purpose is met to best extent.
Ergonomics & Tactile feel:
All the operation Buttons such as Slide forward/reverse, Laser ON/OFF, Laser generation button are easily reachable. The button tactile feel is also super & soft touch. No issues faced during operation over a year now
Plug & Play Friendly:
Yes, this is prime requirement for me, since  I need to goto different places for Seminar presentations and its not possible to search and install drivers (needs Admin login many times!) So here with Logitec R400, without any installation of drivers I am able to use it as Plug & Play operation.
[The connection is made via the standard 2.4 GHz radio link for wireless input devices]
Wireless Operation Range & Laser Range: Comfortable 15 meters
Wireless range: Comfortably operated till distance of 12 to 15 meters.
Laser range: Comfortable seen sharp till distance of 15 meters (Even you can go a longer distance, but by that time I am not able to see what I am pointing to onto the screen! so no need to evaluate)
Playing with CATS & DOGS:
Yes, this laser pointer is equally good for playing with your CATS & DOGS, only take due care that they don't stare at the LASER beam, which is dangerous for their eyes! The range is preety good and the Laser brightness is also good for Home / Garden / Outdoor use (yes, but not in the sunlight, it is best seen during Twilight or night time)
Battery:
It uses 2 AAA batteries, which provides 20 hours of laser life and over 1050 hours of presenter life! I found that this life is more than sufficient for a normal presenter like me.
Final words about Logitec R400:
After use of over One Year, I feel it is one of the best wireless PowerPoint laser presenter in market today, with no complaints of operation or battery life or Laser sharpness or Button failures … Smooth in operation .. well built .. Feel rich & good .. I recommend this Laser pointer for your powerpoint presentations.
| | |
| --- | --- |
| Logitech Wireless Presenter R400 | Best Buy Price on Amazon |
2) Pisen Rechargeable Wireless Presenter Review: RED Laser
Laser: Bright, Little Thicker Point
As compared to Logitec R400, this Laser pointer has a little thicker still brighter laser point.
Ergonomics & Tactile feel:
Its shape is square which is slightly inconvenient to hold during presentations, generally you need slightly wider ergo shape for holding comfortably in hands. But can't help in this case, since it is power-bank cum presenter!
Wireless Operation Range & Laser Range: 10 meters
Of-course the laser beam range is much higher, and good to use at Home, Garden or outdoors during twilight or night time.
Battery: as a Power-bank
Major advantage that I see using this Laser pointer is that it is 2-in-1, i.e. Power-bank + Laser pointer, So if in urgency I will be able to use it to charge my smartphone too 🙂 Wow this is a must for me.
Also it eliminates need to search for new AAA batteries after every 20 hours of Laser use like in case of Logitec R400. So I feel like being Eco-friendly reducing wastage.
Playing with CATS & DOGS:
Very good for playing with your CATS & DOGS, with good range as well as extraordinary battery life. It saves lots of dollars due to its Li-ion rechargeable battery, you need not replace the AAA cells day and night just for playing with your cat!
Final words about Pisen Laser pointer:
With rechargeable battery pack and capability to act as a Power bank for your mobile, this laser pointer will save lots of dollars in long term. So ignoring slight discomfort in holding the pointer during PowerPoint presentations, you can give a try for this pointer.
| | |
| --- | --- |
|  Pisen Laser pointer | Best Buy Price on Amazon |
3) BEBONCOOL Wireless PPT Clicker Review: RED Laser
Laser: Bright & Sharp

Ergonomics & Tactile feel:
Perfectly ergonomic shape, easy to hold in hands during presentations and light weight too. So no issues.
Wireless Operation Range & Laser Range: 10-12 meters
The laser beam range is much higher, and good to use at Home, Garden or outdoors during twilight or night time.
Battery: Only single AAA battery!
Major drawback I feel is that it is powered by only single AAA battery, which means I need to keep on replacing batteries frequently! so as compared to Logitec R400 or Pisen this point takes negative marks from me 🙁
Playing with CATS & DOGS: NOT Suitable
Considering powered by single battery, this will not last long, hence if you are thinking of using it for planing with cats or dogs, just forget about this Laser pointer 🙁
Final words about BEBONCOOL PPT clicker:
Although this pointer is ergonomically good, and the Cheapest in all the above three, in long term it will consume lot of money due to replacement of batteries. (remember it works only on single AAA battery) However if you wish to use it only for presentations and not for playing with your cats or dogs, then better to spend less as initial investment and go for this cheapest option,
| | |
| --- | --- |
| BEBONCOOL Wireless Presenter | Best Buy Price on Amazon |