Have you ever tried entering into the Amazon Giveaways and failed? You felt that you are not lucky? If both these statements are true, then you are on the right page! Here I am sharing my secret formula to win Amazon Giveaways, not single time but multiple times.
How do I win Amazon Giveaways? My secret formula!
Remember LUCK has nothing to do with winning Amazon Giveaways, all you have to do is to follow the secret formula given by me. Biggest reason that most people fail is that they don't follow any kind of proven system, they don't follow the rules made by winners for winners, they don't have discipline and even follow set of rules!
Ever wondered on "How to win amazon bouncy boxes?"
Well, when you follow my methods you will greatly increase the chances of winning the Amazon giveaway!
Now lets begin by understanding first by:
What is Amazon Giveaway?
This is a best marketing tool, where companies or individuals can set-up sweepstake promotions on most of the Amazon products as prizes.
This is one of the most popular product promotional tool used by many companies.
If you or your company wants to set-up Amazon Giveaway, then first you have to select an eligible product or Kindle Ebook from Amazon.com, then provide details of the giveaway, pay for it upfront and after filling the necessary information you can simply set a giveaway.
The product can be any eligible physical products shipped and sold by Amazon.com, or Kindle Ebook.
Now when any such company or person sets up giveaway on Amazon.com, visitors who get upto your product page can see giveaway and can enter the giveaway from the giveaway detail page.
Most of the Promotional companies add a product advertisement video to the giveaway form, and make sure that the Apply Button is enabled after typical time of video view, by this way they are able to show their product information to many potential customers and considered as one of the most powerful way of product promotion.
If you see price of click per view, instead of going for big budget advertisements companies can get more customers visiting their product information at very low budget, say for 10,00 visitors they are giving product worth $20, means they spend $0.02 only per person! that's way lower than advertising using Google ad-sense. Also here the customer has already entered onto Amazon account, so chances of conversion are much higher than pulling him from a Google search page.
So its a WIN WIN situation for both seller and the buyer, I mean the advertising company and the customer who is entering into a giveaway campaign.
Remember no purchase of product is required to enter the Sweepstakes, or even purchasing the product will not increase your chances of winning!
The Sponsor will generally award a prize to one or more individuals who win the contest. Do not forget to look at the start and end dates and times of the Sweepstakes. Also the winner selection method will be specified on the Sweepstakes Landing Page.
Understanding my secret to win formula! Step-by-Step
Yes, be it a game or lottery, there is some or the other winner and they surely do not only have luck but a formula of success as called as Secret of winning!
Statistically speaking, you can say that there are 50:50 chances of winning or loosing the game. You may win or may not.
But all that you can ensure is to make sure to be present in the right place at the right time, this is the first step towards maximizing your chances of winning.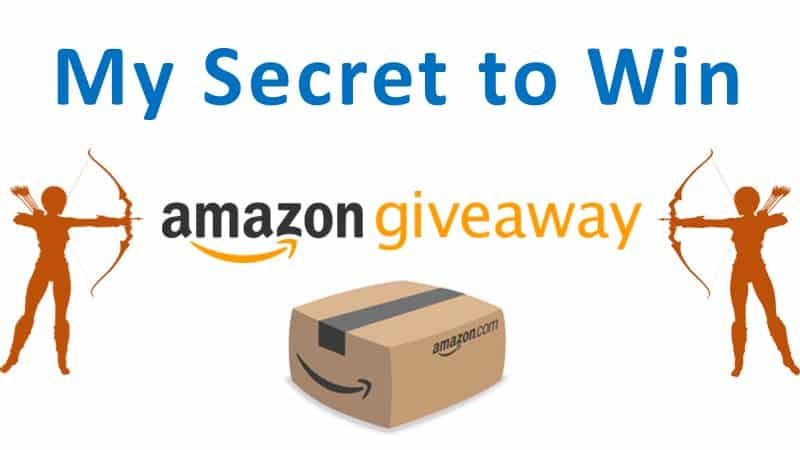 How to crack the code?
Well as said luck has nothing to do with winning, Through years of trial and error, I have found that best way to win is to increase the odds.
You must keep track of what worked and what does not for you, so each failure shall be recorded carefully (again its not luck but some groundwork needed all the time to win)
Then when you get your first success, then simply refine and perfect methods used.
What I mean to say is you need to winning approach not by luck but systematically. Without your own strategy it will be hard to win
Your own hard work, testing, tracking, and twicking will make you win .. and have highest probability of winning amazon giveaway.
Remember sooner or later you are going to win, biggest reason that most people fail since they don't follow any kind of proven system, follow the rules for winners, have discipline and follow set of rules.
So some of my own guidelines which if followed systematically and meticulously, I am sure you will have 100% chances of winning the amazon giveaway
Participate – Make it a habit
Its obvious but must be done, yes – the first step towards winning any game is to participate.
You may say that its stupid to tell you to participate in thousands of active Amazon giveaways, practically it is impossible, but remember some of them will be with great odds. Which means your participation to many of them,  you're bound to win sometimes.
Just look at how many giveaways are available online today from Amazon. At any given moment you will see over One thousand active Amazon giveaways.
Now you have to keep in mind that not all giveaways are created equally, what I mean to say that some of them looks to be destined not to produce winners!
As per one online research conducted between July 1, 2017 and July 15, 2017, out of 6,219 giveaways that ended Of , 2,077 expired without a winner. Which means that 33% of giveaways did not had any winner which is pretty substantial.
Grab the opportunity Early
To understand what I mean of grabbing the opportunity, you must first know they types of giveaways by Amazon.
Types of giveaways:
Random instant win,
Sweepstakes/drawing,
Lucky number instant win (nth entrant), and
First-come, first-served.
The enlisted first three are most commonly offered and hence it will be good habit to reach there early, each day.
I will now talk on Instant Win offers:
Which are Random instant win and Lucky number instant win.
If you see the complete day of 24 hours, you will find many great giveaways with odds of 1 in 50 or less. Which means if you participate in either Random instant win or Lucky number giveaways, you have great chances of product winning very quickly. So takeaway from this is "Look at the giveaway list at least once a day, and you have then more probable chances of getting the deal right"
I know you will not be able to visit the page all the time in a day or keep watching it every instant! but all that you can do it decide a time of the day, like before going for tea-time or lunch, make it habit to get to the giveaway list page.
Simply create a shortcut on your desktop or mobile phone, click it once before going for a break (only once in a full day) and then look at the page, participate in any one Random instant win and Lucky number instant win.
Now that you know that you wish to participate once in a day, go ahead and Subscribe to Amazon official intimation service of Giveaway.This will allow you to get latest declared giveaways and quickly apply for them.
Sometimes it will be better idea to wait!
Here what I am suggesting is simply to know what kind of giveaway you have found. Maybe the giveaway is meant for X number of participant.
Further to explain, if the giveaway is of type lucky number instant win, which is intended to gift for the 3,000th entry, then it can be better if you reach to the deal after a day or two and be the 3000th customer to participate!
Example : As located on BOTTOM of the Giveaway page on 14 July 2018
NO PURCHASE NECESSARY. Must be 18+. The 2,000th eligible entrant will win. This giveaway started July 13, 2018 10:05 PM PDT and ends the earlier of July 20, 2018 11:59 PM PDT or when the prize has been awarded.
What it meant is that if you have participated immediately after the giveaway becomes active, you will have 0% chances of winning it.
Trick is to identify and record such instances, if you want to win, you need to work hard, keep record of what went right and what went wrong, then only you can eliminate failures and keep moving towards a winning move.
Use Common sense:
Yes, my common sense says that if the giveaway is of costly item like an iPad or Playstation 4 then? yes everyone wants an iPad hence there will be thousands of entries withing few hours! In that case you can not wait for days but must participate within hours, so keep an eye over price of item.
Against second suggestion based on common sense, people are kind of lazy, so any giveaway which asks for a Twitter follow or watching complete video will have less click than a giveaway which does not ask for any mandate.
So my suggestion is to try for one which calls for such time consuming action, again record on how many you applied and what was success rate for your own case. Soon you will find what works best for you.
Why some giveaways end without any winners?
Mostly my observation on this front is that the product itself was not that interesting, or some offer only 10% discount to entrants! so people think that this is only a marketing gimmick and the company do not intend to give anything for FREE, so they avoid applying for that giveaway.
Result is that very few entries resulting into low winning rate, but remember and note down that in such case you have more chances of winning. Again apply, record and see the success rate.
As you practice, you will realize that some of the giveaways gets high user response, but no or low winners, so avoid going for such products.
Nothing in this world is FREE! You may need to watch a video or Follow an Author!
Needless to tell you that nothing in this world is FREE, if some sponsors are willing to give product for FREE means they want something in return, either data, or show their advertise etc.
So many ask you to watch a video for few minutes, or if he/she is an author you may need to follow them.
Now what you have to do is first have a look at the product, is it really worth for the price to time spent on watching a video? If you are willing to spend five minutes for a $50 product, they surely go ahead. But keep in mind that the winning chances are only 1 in 10,000, as per the internet research, 68% of them have not yielded a winner.
So as you keep participating, with low odds of winning, please pay attention to some of the details like Is it 1 in 10,000 or is it the 10,000th entrant who wins? Make your own record on simple page. Its not that rocket science, but simple hard and systematic work. But do not forget that this is going to take you to be a regular winner.
Draws are best and fastest to apply, simply go for it
The "sweepstakes" type giveaways or "drawings" are the simplest and fastest, they don't consume your time and at a time you will be able to apply for 10 giveaways in 2-3 minutes, why not to try it continuously for 15 days? only 2-3 minutes in a day? Not that difficult at all.
Mostly these types always produce a winner. And hence these becomes most attractive form to participate.
Better to spend some time watching a video and then clicking on lucky draw.
Important : As you participate in a lucky draw, first thing to do is keep checking your Spam folder, so that if at all you win, the ticket does not get lost into the spam folder! Generally the winners have 48 hours to claim their prize, after which either the offer expires or there will be a new winner is selected. So I don't want that you miss the bus only for such small reason of moving mail to wrong folder! so take care!
My Secret to Win Amazon Giveaway
Remember the tips I have given in the beginning, the methods that I have adapted to make me win most of the times?
Just to summarize it quickly, its not only Luck to help you win the bet, but years of participation consistently, finding what worked well and what not! recording the success instances.
Get a workbook, jot down things, when you get your first success, then simply refine and retry the formula you found.
Approach systematically, formulate your own strategy through simple and consistent steps, as an example visit the page once in a day and apply for 5 lucky draws for 15 consistent days.
Your own hard work, testing, tracking, and twicking is going to make you a winner.
The Biggest reason that most people fail since they are not consistent in approach, they tend to giveaway quickly, nothing is instant in this world.
Although there is not 100% proven formula, you can definitely increase your odds by playing smarter, consistently, trying one method at a time for 15 days and then changing for the next. I am sure you will have 100% chances of winning the amazon giveaway.
So try these simple steps to begin with:
Visit the 

giveaway page on Amazon at least once a day

 (Participate – Make it a habit)

Draws are best and fastest to apply, simply go for it
First couple of weeks apply for only Lucky draw type giveaways, at least five per day, this is quickest method to start.
Keep checking your email account spam folder so that you don't miss the winning email.
I am sure in 15 days, when you apply for 75 giveaways, you have high chances of hitting at least one winning entry. If you do not get one, do not stop, continue the experiment.
Once you win, now its time to move on to the other types enlisted in this post.
Try experimenting once type for consecutive 15 days to see the impact, observe results and decide your own winning strategy.
Grab the opportunity Early : In costly items apply as soon as the giveaway is available online.
Have Patience … Sometimes it will be better idea to wait and watch!
This is all about my secret to win Amazon Giveaways.
Notes :
To tryout all above steps, all you have to do is goto Amazon.com and create an user account in order to enter or receive a prize.
They have limited to one prize per person per Sweepstakes.
The winning Prizes will be shipped by Amazon, all that you have to do is provide correct and valid U.S. shipping address prior to their prize being shipped.
In case some taxes are applied to the winning product, although it is FREE, you may need to pay taxes as applicable by the state law. If needed you can check this with your tax consultant.
The awarded prizes will be "AS IS" and WITHOUT WARRANTY OF ANY KIND!
If you win, you can not ask for cash instead of gift, however if sponsor decides on his own, he can do so or provide alternate gift worth or above the price of gift item.
All the Sweepstakes are governed by the laws of the United States.
Caution : All suggestions in this post are my personal opinions! I can not guarantee success in winning Amazon Giveaway using these methods and will not be responsible for that. Readers are advised to experiment on their own.
Now its your turn, tell me which is the best Giveaway you have won so far and which of the above method you would like to try? Let me know by putting comments below the post.
Hope this helps!
All the best!
Cheers !!