Anker Premium Speaker
What's In the Box
Anker Premium Stereo Bluetooth Speaker
Micro USB charging cable
Standard AUX cable (3.5 mm)
Anker Premium Speaker Quick user guide
Anker's warranty card (valid for 18 months)
Anker's customer feedback card
Build Quality & Design
Anker products usually has a minimal build design material because that's how to cut cost without sacrificing sound quality. Still, this Anker premium speaker looks great. The front of the speaker is all grill, with a thin fabric covering it which gives it a nice grip in the hand and a retro feel. The nice design upgrade gives it a stylish look, than the previous square
cube-ish product. The nice rectangular design looks more like something you'd want to showcase in your living room, instead of hide it in a desk. So overall design is retro/modern mashup. On the  top are four buttons – a power button, play/pause, volume up & down. On the side it has aux in & power ports.
Connectivity

The Anker Premium speaker has Bluetooth 4.0 which comes with a standard range of 33 feet. Pairing is very simple and it also auto-reconnects to last device used, and that is a nice touch.  I don't have to dig through settings to reconnect to speaker. Anker premium speaker also has a wired connectivity option and comes with a 3.5mm jack.
To pair anker speaker with the Bluetooth device, all you have to do is , simply press the Play button for five seconds. Then scan for the speaker from your device's Bluetooth setting, you will get a sound notification once the pairing process is completed.
So you can connect it with PC, Laptop, Smartphone, Ipad, Iphone & other devices with Bluetooth or Cord.
Sound Quality


The A3143 Anker Premium speaker features some important hardware and software improvements over previous speaker models. On the hardware side, speaker boasts two passive subwoofers and dual 10W drivers that produces a combined audio output of 20 Watts.
MaxxBass technology is the highlight on the software front of Anker premium speaker. which is capable of transforming low-frequency signals into high-quality audio, improving the signal's frequency range. it make sure you never miss out on those ultra low frequencies.
So, whether you're partying, working out, or just roaming around the house, you will enjoy a full-range stereo sound with impressive volume.
Battery life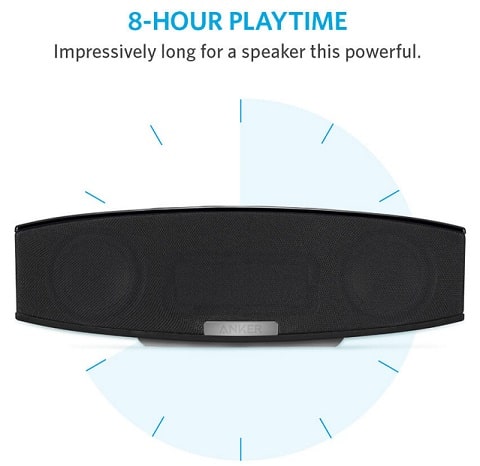 Anker Premium Speaker Boasts a 5200mAh lithium-ion battery. A powerful built-in battery lets you play up to 160 songs at mid-level volume on a single charge on a single charge. That's pretty impressive for a speaker this powerful.
THE GOOD 
THE BAD

Premium stereo sound
Excellent battery life
Built-in memory for easy pairing
Long-range
Minimalist design

No Mic – For Hands free calling
Anker Premium Speaker Review – Our Verdict
Other than the lack of a hands-free call function, it is hard to find faults with this Bluetooth speaker. The Anker Premium speaker gives a decent battery life & great listening experience with both wired & wireless options. It also offers 18 months of warranty.
Overall, this Anker Premium speaker offers an excellent price-quality ratio and definitely fits in the budget of mid-range Bluetooth speaker.

Faq's
1) What should I do if the Anker Premium Speaker can't connect to my device?
Answer – a. Enable Bluetooth. b. Make sure your device is within 3ft of the speaker. c. Un-pair the speaker on your device, then try to re-pair.
2) Is it possible to pair the Anker Premium Speaker with a second device?
Answer – Yes. To do so, disable the original device's Bluetooth or delete pairing record before attempting to pair with the new device
3) Can I use the Anker Premium Speaker to play music while it is recharging?
Answer – Yes.
4) How to reset the Anker Premium Speaker?
Answer – In standby mode hold Play/Pause for 3s to delete all previous pairing records.
5) What do the display colors mean?
Answer – Pairing: Flashing blue Working: Steady blue Power off: Off Battery Low: Flashing red Charging: Steady yellow power indicator Fully charged: Power indicator goes off
Good Read – Soundpeats Q29 Wireless Bluetooth Earbuds – Review