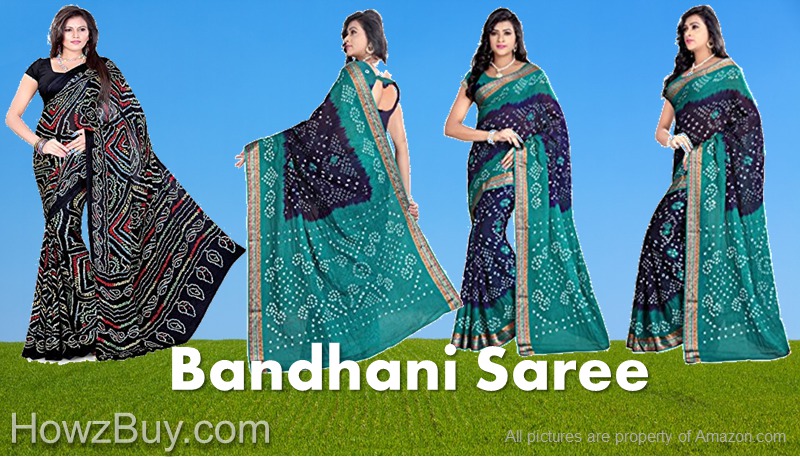 Bandhani is also known as Bandhej. This is nothing but the handicraft product, which is produced in Indian states Gujarat, Rajasthan & some parts of Uttar Pradesh. "Banda" is Sanskrit word which means "to tie". Bandhani Sari is manufactured by dyeing a fabric tied tightly with the help of threads at several points to produce Patterns.
Indian traditional Bandhani Saree Review and Online Buying Guide for you
History of Bandhani  Sari
Historical evidence of Bandhani is that Bandhani Sari worn first time at the time of Bana Bhatt's Harshcharitra royal family wedding. The Alexander wrote about the beautiful printed cottons of the India that was Bandhani. Boond means Bandhani dots founds in 6th century paintings of Ajanta Caves which depicted Buddha's life. In India, Khatri community of Gujarat started work on this handicraft. Jamnagar in Gujarat & Jaipur, Sikar, Bhilwara, Udaipur, Bikaner and Ajmer in Rajasthan are the well known centers manufacturing sarees and turbans of Bandhej. This is an ancient art which is still in practice.
Techniques of Manufacturing Bandhani
Actually Bandhani is a high skilled technique of tying & dying of fabric. First of all Workers print patterns on the cloth with help of wooden pattern drawing box & then this printed place of fabric is tightly tied with the help of threads. And then it takes for dyeing, that tied threads don't allow fabric to dye. As the dyeing is over worker removes knots & allow it to dry. Drying takes time as per weather condition, 6-7days in winter, 2 days in monsoon as well as some hours in summer.
The Bandhani patterns include Leheriya, Mothra, Ekdali and Shikari depends up on the type of the cloth has been tied. Bandhani work involves variety of symbols like dots, waves, strips & squares. Elaborate motifs are used, in this tie and dye art, which include flowers, bells, jalas and creepers. Knots are placed in figurative clusters each & everything comes with a different name, examples given below
Dungar Shahi – the mountain‐pattern
Chaubasi – in groups of four
Tikunthi – circles and squares appear in a group of three
Satbandi – in groups of seven
Ekdali – a dot
Boond – a small dot with a dark centre
Kodi – tear or drop shaped
Laddu Jalebi (after the name of Indian Sweets) – the swirling
Such figurative clusters results into patterns known as
Shikargah – mountain like
Jaaldar – web like
Beldaar – vine like etc.
Leheriya pattern is famous in Rajasthan that is pattern of waves, which is the symbol of water waves. Alternately two colors used with each other in a pattern of stripes arranged diagonally. The most probably colors used in Bandhani are bright like yellow, red, green and pink. All time favorite color in Bandhani is Maroon. Bandhani colors are also depends on in which religion that is going to used means In Gujarat Red & yellow combination is most famous as well as Maroon is also famous. Recently married girls or brides used Red colors, Mother wear Bandhani with yellow background.
Video – Bandhani, An Indian Tie Dye Resist Video with Jabbar Khatri.
Feme of Bandhani Sari
As Bandhani had history of 5000 years ago, but still it has its own fem in this 21st century. Still Bandhani is famous & girls used to wear it in functions, Parties & in Marriages. Bollywood actresses like Karina Kapoor, Vidya Balan, Dipika Padukon wear these handcrafted saris in different functions.
How to Take Care of Bandhani Sari
As this sari is made up of tie & dye method, do not wash it at home, Dry Clean Only.
Do not iron theses Saris.
And if you want to buy it in shop, all over India you will get Bandhani Saris everywhere in each store.
Features of Bandhani Sari
Sari comes with unstitched blouse with same pattern.
Length – 6mtrs (with blouse)
Material – Bandhani is available in Cotton as well as in Silk.
Printed Bandhani Saris are also available in the market; it will be detected in one sight. Sari manufactured by tie & dye method looks like wrinkled material & printed one looks plain so you can understand it.
As these Saris are colorful & found in dark combinations, they are itself looks gaudy, I pair this sari with imitation jewelry like single colored necklace with same color earrings it will gives trendy look & change for using same golden jewelry. Same colored plain glass bangles. Also you can choose matching colored jewelry with the sari. I attached knots back side of blouse with deep neck use hangings at the end of knots here I got simple but sweet blouse pattern.
I drape this sari properly in Guajarati style because theses saris are having circular patterns gives different look & it looks different if wore in Maharashtrian pattern. Wearing same sari in different pattern shows change in your personality as well as gives you different attire for different functions.
As per your choice you can wear & pair this sari by other way, here I share my way.
You will find videos on "You Tube" which will guide how to drape saris in Gujarati style.
How to drape a sari in Gujarati Style.