Conbrov DV9 HD Book camera
One of the biggest benefits of a home security camera is being able to know what's going on when you're not physically there. Whether you're checking on your kids, pets, jewel collection or if you want to catch someone in the act. A security camera is a great tool for keeping an eye on things. Most important feature of a hidden camera is to blend in its surrounding and do its work reliably. The modern-day spy cam comes in various shapes and size. Such as Clock, Radio, Music Player, small speaker, or even kid Toys have been used as a spy camera.
But what if a hidden spy camera comes in the shape of a Book ?? who would have thought that a book lying around can be a spy camera. Yes I am talking about Conbrov DV9 HD Book camera. This device is like a Rattle snake in the jungle, it blends in very well into its environment.
There's been a boom in wireless security camera or hidden camera in recent years. The spy camera's now available comes in nearly every shape & form, which resulted putting home surveillance into our own hands. When the company announced Conbrov DV9 HD Spy Book camera, it looked promising.
Conbrov recently provided a unit for us to test and I've been trying it out for the last few days to really get the measure of it. Before you head to the full review, here's the quick unboxing of the Conbrov DV9 HD Book camera.
Conbrov DV9 HD Book camera – Unboxing
One of the very first qualities I noticed of DV9 Book camera is an attractive — though discreet design. It's important for a security/ hidden camera to look like something you actually want in your home, but it should not stand out too much.
Conbrov DV9 HD Book Camera Specs

Best Buy

Conbrov DV9 HD

Battery
10000 mAh
PIR Detection Angle
60 degrees
PIR Detection Distance
5-8 Meters
Camera Angle
About 75 Degree
MAX PIR Stand-by Time
2 Years
Max Daytime Recording Time
About 30 Hours
Max Daytime Recording Time
About 9-10 Hours
Resolution
1080p
FP
30 FPS
Max SD Storage
32 GB
What's In The Box ??
1x Conbrov DV9 HD Book camera
1x Conbrov DV9 USB cable
Conbrov DV9 HD Book camera User Manual
Warning sticker
1x Pin for Resetting the Camera
USB Card Reader (Micro SD card not included)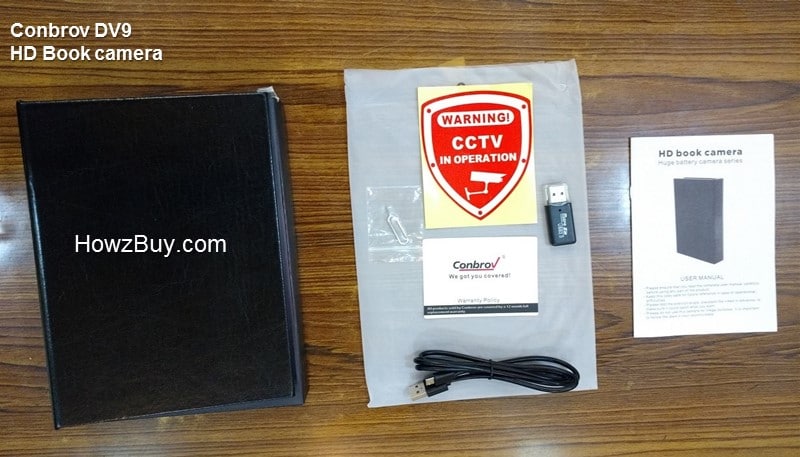 Conbrov DV9 HD Book camera – Design
Conbrov DV9 looks like a vintage book as you can see below but from inside it looks more like a file folder or book binder. The file folder kinda look gives it enough place to fit massive 10000 mAh battery & all other electronics.
Even if someone pics it & flip through the pages, they won't notice the setting buttons. Unless someone holds it very closely & observe, it's just too hard to notice with a glance. Company already added few pages to the folder but i would recommend to add few more to give it more realistic look.
Unlike regular security cameras which stand out easily, this book camera can easily be hidden in a bookshelf. And even if you place it on a table, it hardly attracts any attention thanks to the vintage look of the book camera.
Conbrov DV9 HD Book camera  – Physical Overview
There is a round glass cover at the top of the Conbrov DV9 that masks the Infrared LED. While in recording, the IR LED glows a dim Red, but It is barely noticeable. Only if you look very closely at the book then only you will  notice it.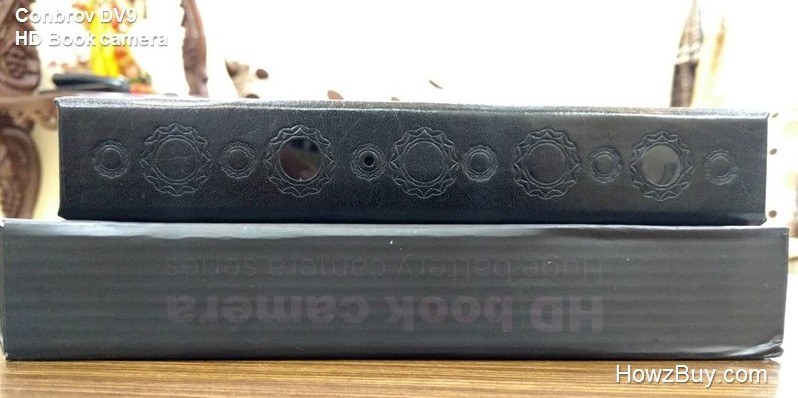 The camera lens is located below IR Led. Even though on amazon the mentioned resolution is 720p, the model I
received can record video's in 1080p. The camera has a 75 degree of video recording angle. The Conbrov DV9 camera records video in color at day time, but in black and white when the ambient light brightness is lower than 10 LUX. The camera quality of  Conbrov DV9 is good and meets all expectations and descriptions.
Further down there is a PIR sensor, PIR stands for passive infrared sensor.  The PIR sensor can detect motion & start recording automatically.
Conbrov DV9 HD Book camera – What's Inside ??
On the inside of the book camera, you will find microSD slot, reset button, micro USB port, notification LED &
toggle switches. Which includes an audio ON/OFF and Mode selection switch, the buttons on this device are adequate. The Conbrov DV9 supports upto 32Gb of storage. I would recommend to use a high-speed camera, as it makes recording & transferring more smooth. Here is my full review of Samsung EVO Select MicroSDXC Memory Card.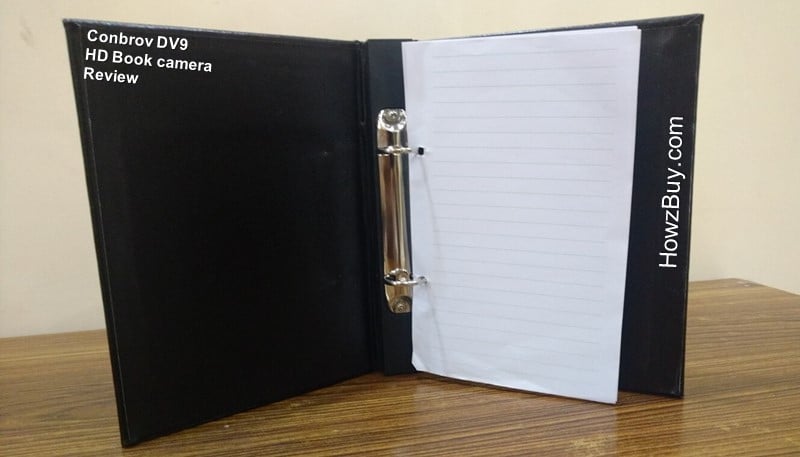 But wait there's more…
The Conbrov DV9 also comes with a USB port, so you can connect it directly to the computer. It is much easier option when you want to transfer file on daily basic or much more frequently. It saves all the hassle of removing SD card & putting it in card reader and then connecting it to the computer.
When the USB is plugged in & the camera is On, it will not charge the battery. This is a great feature when you have external power available near the point of camera use. So you can use battery power as backup to keep the camera up & running for longer.
Conbrov DV9 HD Book camera – Recording Modes
The Conbrov DV9 has two recording modes –
1) Continuous Recording (REC Mode)
2) Motion Detection ( MD Mode )
Continuous Recording (REC Mode)
To do a Continuous or Manual Recording, power on the Conbrov DV9 & slide button to the REC.  It records several 10 minute clip videos which are up to 1GB maximum per clip. The camera records in 1080P high-resolution and it's possible to see the details of the room and possible intruders. It can record up-to 5-6 hours of footage on a 32GB microSD card in continuous manual recording mode. This feature comes handy when you want to record a sudden incident or record a particular conversation.  So you can just turn on recording mode & keep it in book shelve or just
lying around on a table. It will do its work discreetly.
Motion Detection ( MD Mode )
In Motion Detection or MD Mode, recording starts whenever the PIR sensor detects any motion. It is an electronic sensor that measures infrared (IR) light radiating from objects in its field of view. Motion detection is one of the most essential feature in a security camera, when there's no one at home.
When a warm body like a human or animal passes by,  the sensor detects movement within the camera's field of view and trigger video recording. The detection range of Conbrov DV9 is within angle of 60 degrees and max range of 15-25 feet.
This is a great feature as it will prevent any false recording & also it will save battery. As it will only record whenever there will be A movement. In this way the battery will last for longer period of time.
Conbrov DV9 HD Book camera – battery Life
The massive 10000 mAh battery take few hours to charge fully but it does provide a very long standby time. Conbrov claims the 10000 mAh DV9 battery can last up-to 2 years in Motion Detection or MD Mode. Of-course we can't confirm that & also there's no battery indicator to know how much juice is left. But I will test the battery life & will soon update the Info. Manual continuously recording for day time is  up to 30 hours and night visual recording time up to 10 hours.
As most people use security camera for night-time, the huge battery & MD sensor will come in use. Burglars cut electricity before breaking into your home. A cameras that runs on battery power comes handy, so you won't lose any evidence.
Why Conbrov DV9 HD Book camera  ??
Most of the burglary happens at night. Before entering house, burglars also cut the power. Even if you use a surveillance system, it will be disabled. If the burglars want something, they're going to find a way to get in your house. That's what they do for their living & it became their lifestyle.
Burglars cut off the power from a house's meter box. They hide at safe distance to watch if there's someone at home. So if someone does attend to the box, they run away. Otherwise they will execute their plan & will steal your jewellery and precious item. They can also destroy your important documents which can be a disaster.
So how can the Conbrov DV9 HD Book camera will be helpful ???
Along with your current video security system, the DV9 Book camera will provide an additional line of defense for home, office or place of business. It will hep you keep an eye on precious items, sensitive documents, office supplies and equipment. If a burglary happens or any employee steals your office equipment's, now you will have solid evidence to prove them guilty.
In such many situations a hidden spy camera like DV9 comes handy which runs on battery & captures any movement if detects in the area of field. Very few surveillance system comes with battery backup & they cost a fortune. But the DV9 is very budget friendly & have 2 years of standby time. All you have to do it, charge it fully & hide it somewhere… where you have kept your precious items or Important documents.
This is how you can hide DV9 Book camera …. ( Click on image to enlarge )
Also the Conbrov DV9 HD Book camera is kind of unique product, as there are not many spy camera's in book shape. I searched online but didn't find any other book camera that is better than Conbrov DV9.  There are only couple of such camera's available, I check specs thoroughly & I think they are the same product with just different branding.
Finally, I'm dividing my review into Pro's & Con's of Conbrov DV9 HD Book Camera
THE GOOD
THE BAD

Great 1080P video Quality
Records Audio
Night Vision, PIR Motion Sensor
Great Battery life
Price

Maxx Storage 32Gb
No WiFi, Bluetooth or Live Stream
So, Should you buy the Conbrov DV9 HD Book camera ???
The DV9 hidden camera records video in 1080P & has great battery life. The camera requires very minimal to no installation and offer great flexibility. So whether you're looking for an easy way to keep an eye on your kids and pets or a sentinel to monitor for intruders, the  Conbrov DV9 HD Book camera is a perfect spy / hidden camera for you.
1080P Version USA, Germany, UK
Disclaimer – Both products have same hardware specs but the seller on amazon listed it as a 720P hd camera. But if you read buyer comments & the product we received was able to record in FHD resolution. Though on the box it says HD.
Good Read
Vava Voom 20 Portable Bluetooth Speaker Review
TaoTronics TT-BH23 Bluetooth Neckband Style Headphone Review
TaoTronics TT BH20 VS  Mpow M3 Wireless Bluetooth Headphone Review